Bikers have today protested in London and Belfast against the prosecution of a soldier who is due to face charges over Bloody Sunday.
The soldier, known only as 'Soldier F', is to be charged with murdering two people after troops opened fire on civil rights demonstrators in Derry in January 1972.
Relatives of the 13 killed have long campaigned for prosecutions for the killings. Many of the families say they are disappointed that not all of those responsible are to face trial, arguing that the prosecution of one soldier does not go far enough.
The decision to prosecute Soldier F came about because the PPS believes there is sufficient evidence to provide a reasonable prospect of conviction, and that prosecution would be in the public interest.
Soldier F will face charges for the murders of James Wray and William McKinney and the attempted murders of Joseph Friel, Michael Quinn, Joe Mahon and Patrick O'Donnell, Northern Ireland's Public Prosecution Service has said.
---
Timeline of events on Bloody Sunday
---
Shortly after the deaths, a public inquiry conducted by a senior judge was branded a whitewash by victims' families and a campaign was launched for a new public inquiry.
Relatives sought to right the wrongs of false claims that their loved ones had been armed. A fresh probe was eventually ordered by then prime minister Tony Blair in 1998.
A decade-long investigation by Mark Saville concluded that the troops killed protesters who posed no threat.
But those protesting today argue that Soldier F should not face trial.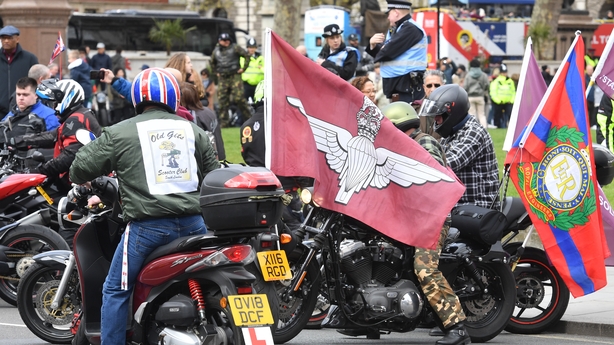 Organisers of today's event said that the immunity granted to members of the IRA under the Good Friday Agreement in 1998 should extend to British soldiers who fought in the conflict.
They claim that as many as 11,000 bikers met on Park Lane in London this afternoon, before riding to Parliament Square and on to Trafalgar Square.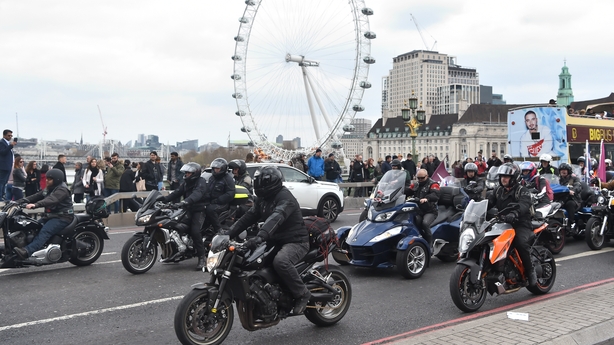 Many of the protesters are themselves armed forces veterans.
The British Ministry of Defence said the charges have been brought by the Northern Ireland Public Prosecution Service, which is independent of the government.
A government spokesman said: "We are indebted to the soldiers who served with courage and distinction to bring peace to Northern Ireland.
"Although the decision to prosecute was taken by the Northern Ireland Public Prosecution Service, which is independent from Government, we will offer full legal and pastoral support to the individual affected."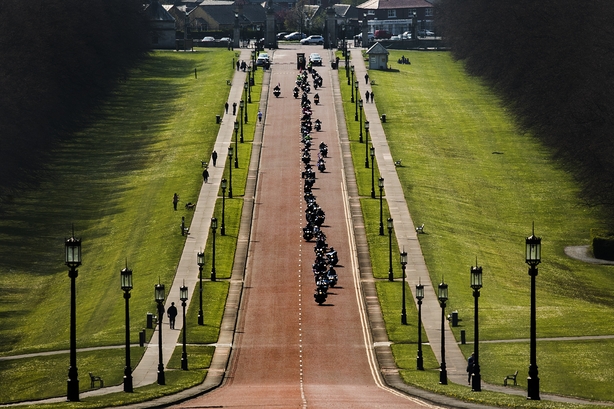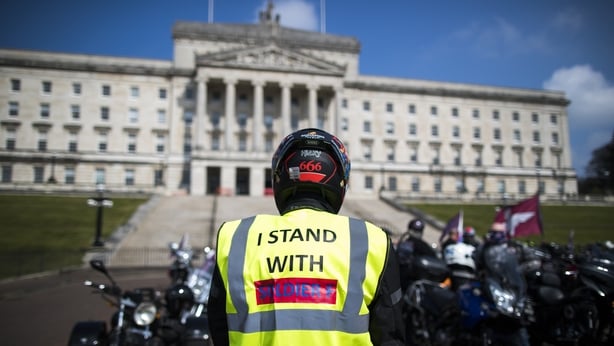 In Northern Ireland, around 80 veterans set off from the Cultra, Co Down, and arrived at Stormont, the seat of devolved government in Belfast, at around 1.30pm.
The organisers of the Rolling Thunder event said their action is directed against the British government rather than the victims' families.