Yesterday evening, millions of Ukrainians around the world observed Christmas Eve and sat down with family and friends to eat Holy Supper.
Worshippers of Eastern Orthodox Christianity – the largest religious faith in Ukraine – follow the Julian calendar, meaning Christmas Day falls on 7 January.
For many, it is their first Christmas away from home since the start of Russia's invasion of their country.
The war has accelerated a debate in Ukraine on whether Ukrainians should celebrate Christmas Day on the Gregorian date of 25 December to be in line with western European countries.
This year, the Orthodox Church of Ukraine - which broke ranks in 2018 with the larger (and similarly named) Ukrainian Orthodox Church - gave its congregation the option of celebrating Christmas Day on 25 December.
The Ukrainian Orthodox Church is affiliated with the Russian Orthodox Church in Moscow, whose patriarch has backed Russia's war in Ukraine. A survey by independent Ukrainian research group, Rating, found that 55% of Ukrainians living in Ukraine wish to continue celebrating Christmas Day on 7 January.
The number of Ukrainians open to moving the date to 25 December has jumped from 26% to 41% since a previous survey in 2021.
Ukrainians traditionally cook 12 dishes for Holy Supper: borsch, varenyki (dumplings), herring and possibly the most famous of Ukrainian Christmas dishes, kutia, are on the menu.
Kutia is a sweet pudding made from wheat, berries, poppy seeds and a good dash of honey.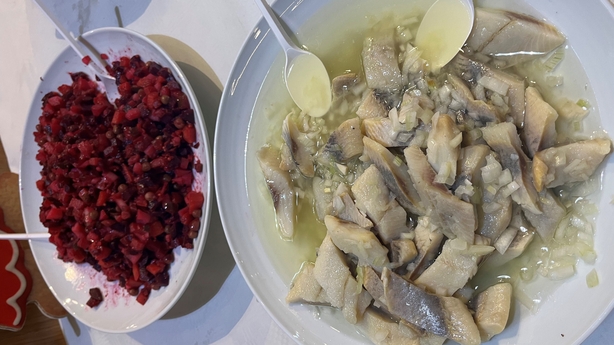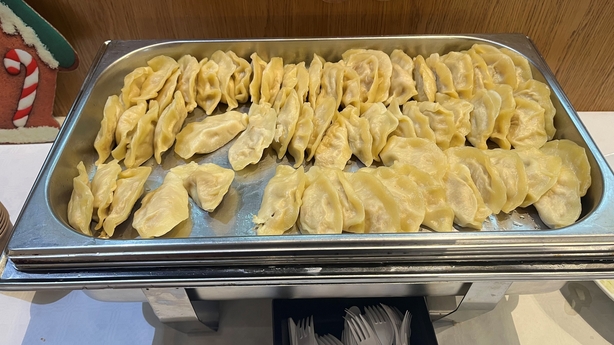 In Warsaw, Ukrainski Dom, a foundation which works with Ukrainian residents in the Polish capital, hosted Holy Supper for 500 Ukrainian refugees at Nowy Teatr, a modern theatre venue on the city's west side.
Three groups of musicians sang and played a fusion of Ukrainian folk and pop.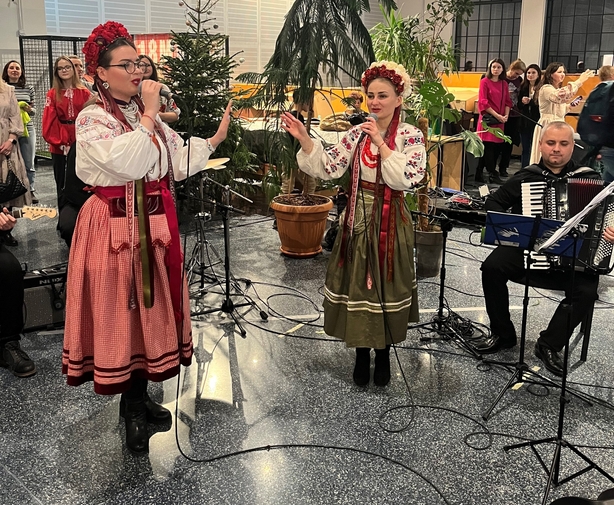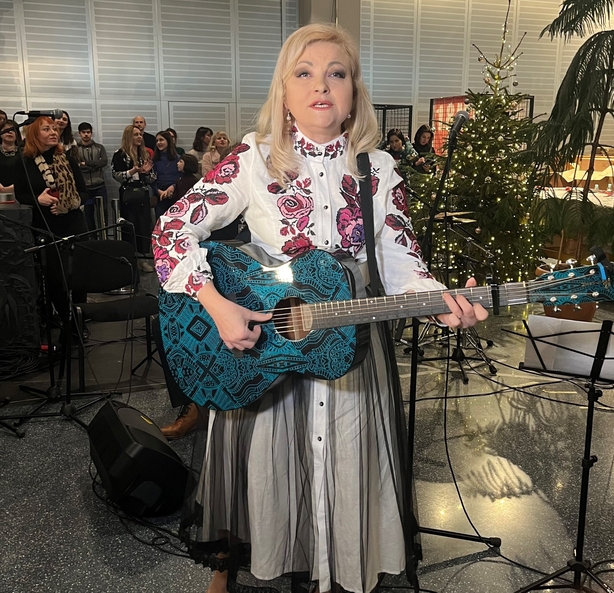 Among the artists was Maria Burmaka, a popular Ukrainian singer-songwriter who performed during the Orange Revolution of 2004 and the Maidan protests of 2013-14, known to Ukrainians as the Revolution of Dignity.
"We want to create an opportunity to feel at home," says Valeriia, a 23-year-old marketing graduate who works in communications for Ukrainski Dom.
Valeriia is from Kherson, the southern city liberated by Ukrainian forces on 13 November.
Earlier this week her father phoned her to say that her grandmother's house in the city had been damaged by a Russian missile strike. Russia continues to shell Kherson from its positions south of the Dnipro river.
Luckily, her 68-year-old grandmother, also named Valeriia (young Valeriia is named after her), was visiting her brother in the north-eastern city of Sumy when the attack occurred.
After the event, Valeriia planned to join her parents and two younger brothers for Holy Supper via video chat. Her family currently lives in Odessa.
"By speaking with them I'll bring a piece of my home to Warsaw," she says.
But her family will not cook the traditional 12 dishes this year, says Valeriia. They have opted to cook three or four dishes.
"It's hard to celebrate at the same level as before."
Maria, (not her real name) a 32-year-old from Prymorsk, a city on the Black Sea, is singing along to Maria Burmaka's music.
Earlier in the week I had spoken to her on a visit to Ukrainski Dom and asked her about her hopes for 2023. She had one wish.
"To win this war."
Prymorsk, once a popular seaside resort, is occupied by Russian forces and Maria worries about being identified.
"It's hard to feel that it's the [Christmas] holiday now," says Maria who adds that she and her partner decided to "celebrate it [Christmas] with Poland" for their two daughters.
But old habits remain. They are also celebrating this weekend on the traditional Eastern Orthodox date.
"We bought a small Christmas tree for the children. They are the future," she adds.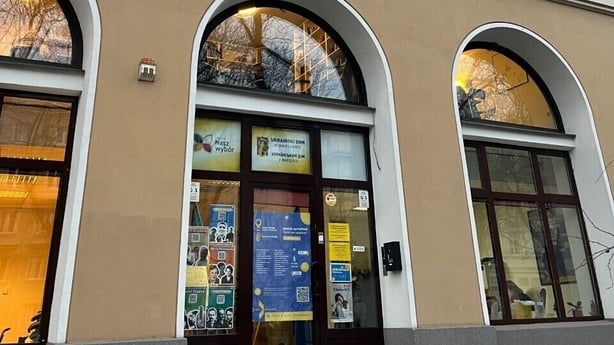 Ukrainski Dom estimates that its services - Polish language classes, women's groups, translation, school groups and art classes to name a few – are currently used by more than 100,000 Ukrainians in Warsaw. Latest figures from the UNHCR record that almost 7.9m Ukrainian refugees now live throughout Europe.
Almost five million are registered for temporary protection by the agency.
"I hope that Ukraine will win. And I hope that I will be able to come home and meet [my family] next Christmas in Kherson," says Valeriia.
That is the wish of so many Ukrainians this Christmas. To win this war of attrition and return to their homes.