Police in the UK say they are investigating claims that a group calling itself the IRA was behind a series of parcel bombs sent to addresses in London and Glasgow last week.
Gardaí believe the claim has been made on behalf of the so-called New IRA, the largest and most dangerous dissident organisation.
In a statement, the Metropolitan Police and Police Scotland said a claim was received by The Irish News in Belfast yesterday using a recognised code word.
Police said those claiming responsibility indicated five devices were sent, but so far only four have been recovered.
Three parcel bombs, all with Irish stamps, were sent to London's Heathrow and City airports and Waterloo train station on 5 March.
All the packages were A4-sized white postal bags containing yellow Jiffy bags and appeared capable of igniting a small fire when opened, police said.
The stamps appeared to be those issued by An Post for Valentine's Day 2018, featuring a heart motif and the words "Love Eire".
The senders' addresses were given as Dublin, with two having Bus Éireann added.
The following day, police in Glasgow carried out a controlled explosion on a device delivered to the University of Glasgow.
Gardaí say the devices along with the discovery of arms and ammunition and the car bomb in Derry in January illustrate the dissident group has stepped up its activities.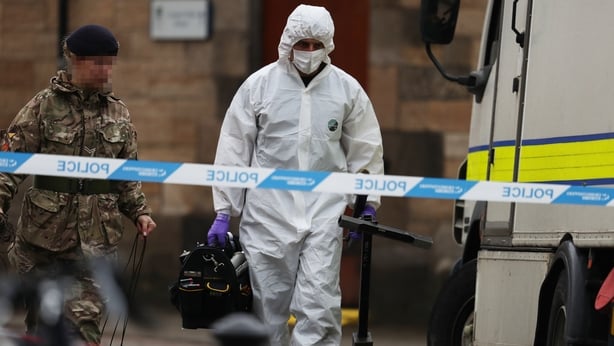 UK police said the parcel bombs were similar to devices sent in the past, which were linked to dissident groups in Northern Ireland, and officers "were already looking" at this line of inquiry.
Counter terrorism police are leading the investigation into the three packages received in London and Police Scotland is investigating the device sent to the university.
No-one was injured in the incidents and no arrests have been made.
Minister for Justice Charlie Flanagan said he is "deeply concerned" regarding the claims the IRA were behind the parcel bombs.
He said he has spoken to British Home Secretary Sajid Javid to convey his "utter disgust" at the actions "of those who are without any vision for a peaceful future on Northern Ireland".
Mr Flanagan said it was a reckless and cowardly act and "I condemn in the strongest possible terms the people who carried out this act".
Additional reporting Paul Reynolds