There is a brief recess in Parliament this week, giving the British Prime Minister perhaps the only positive news she has had in while.
It means that at least she does not have to face the questioning, and taunting, of opposition parties at Prime Minister's Questions in what has been a remarkable political week.
It also means of course Mrs May did not have to chair a Cabinet meeting this week. What a Cabinet meeting it would have been.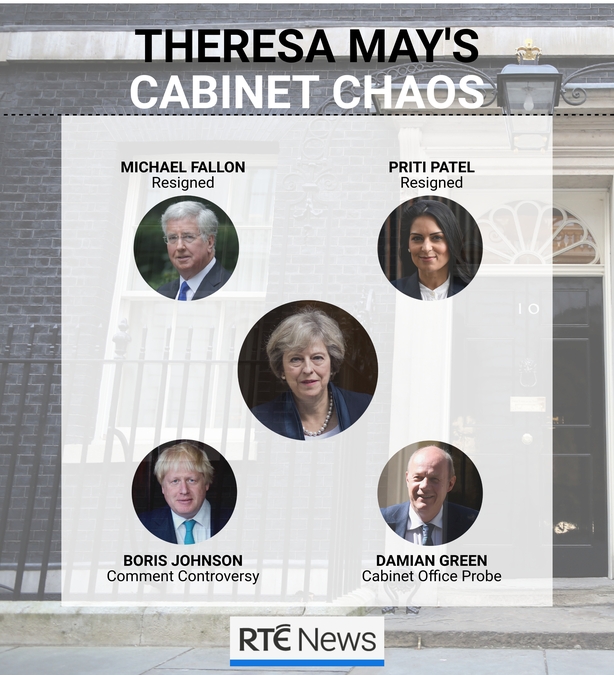 One senior Cabinet member went last week when Michael Fallon resigned amidst a growing Westminster sleaze scandal. The Defence Secretary stood down on the basis that his past behaviour had "fallen short" of what might have been expected of him.
A Cabinet Office investigation is ongoing into the First Secretary Damien Green over allegations that he acted inappropriately towards a female journalist.
There is also a suggestion that pornography may have been found on his computer some years ago.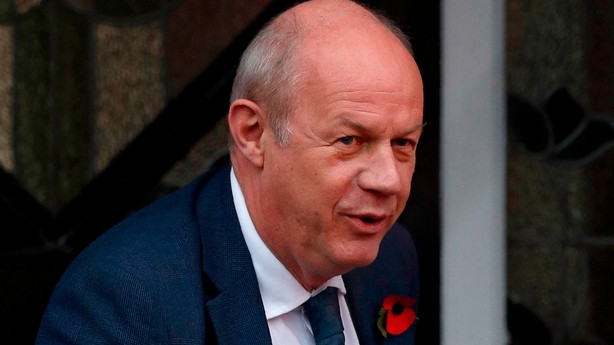 Mr Green strenuously denies all the allegations and the investigation continues.
Boris Johnson finds himself embroiled in a very serious controversy over comments he made last week about a British Iranian woman who is imprisoned in Iran.
A suggestion by the Foreign Secretary that Nazanin Zaghari-Ratcliffe was training journalists in Iran when she was detained has been vigorously denied by her employers and her family, who say she was visiting family.
Mr Johnson, who later said he "could have been clearer" in his comments, said he plans to travel to Iran in coming weeks.
But his comments risk doubling the jail sentence of the woman involved, drawing angry reaction from both opposition and government MPs.
As if that is not enough, the International Aid Secretary, Priti Patel has resigned after admitting holding meetings with Israeli officials during a private family holiday in August.
Ms Patel also met the Israeli Prime Minister Benjamin Netanyahu while in Israel, but chose not to tell anyone in either the Foreign Office or Downing Street.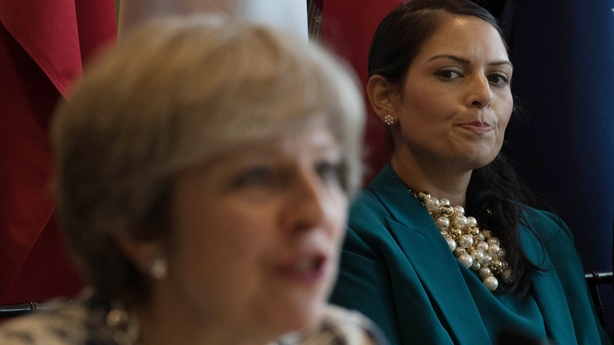 No British diplomats were present, which means there is no record of what the minister said, and even as Ms Patel apologised for her breach of protocol, more details are still coming out about the trip and subsequent meetings, which she chose not to share. She is now also reported to have visited the Golan Heights.
Whether you choose to view these events as incompetence or misfortune, they do not present an image of a stable government.
In any other time, any one of the above events would have warranted the sacking of a minister, but these could never be described as normal political times in Britain. Mrs May has fewer choices about how to control her cabinet, let alone admonish them.
In the wake of June's disastrous election result, she finely balanced her cabinet between pro and anti-Brexit politicians.
Her increasingly fragile leadership means that firing ministers leaves them on the backbenches, from where she might well expect them to cause her more problems and agitation. But leaving them in her cabinet makes her look as if she has chosen poorly and lacks control. Any questions about cabinet competency inevitably reflect on the prime minister who chose the team.
All of this is done against the backdrop of another looming Brexit deadline in Brussels in December.
A former chancellor of the exchequer Norman Lamont once described then Prime Minister John Major, weakened by internal party dissent over Europe, as "in office but not in power".
It is a description that seems to have found a fresh application in Number 10.