Residents remaining in four tower blocks evacuated over fire safety concerns in the wake of the Grenfell Tower disaster will be told they "must leave", Camden Council has said.
The ongoing effort to clear the Chalcots Estate in north London comes after the British government revealed 60 high-rise buildings in 25 local authority areas have failed fire cladding safety tests.
The number rose from 34 tower blocks across 17 local authorities.
The announcement came after Communities Secretary Sajid Javid revealed all of the buildings that have so far submitted cladding samples have failed combustibility tests.
Mr Javid urged local authorities and housing associations to continue to submit samples "as a matter of urgency" amid a nationwide safety operation launched after at least 79 people died when fire ripped through Grenfell Tower in north Kensington on 14 June.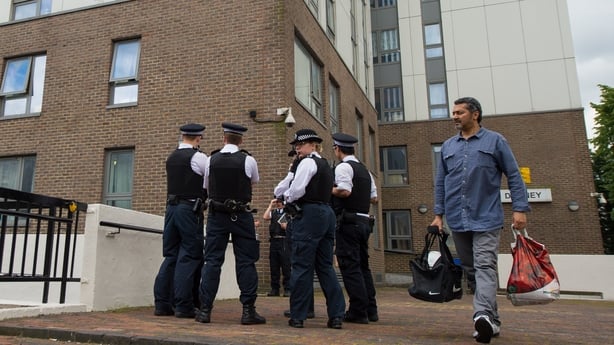 Some 3,000 Chalcots residents face weeks in temporary accommodation after Camden Council leader Georgia Gould said the authority took the "extraordinary action" to clear 600 flats because "we are really clear that those four blocks are not safe".
London Fire Brigade inspecting officers identified concerns over the combination of external cladding, fire doors, gas pipes and insulation, she added.
But despite being urged to leave by officials, around 20 households had refused to vacate their homes, in the four blocks in Camden, by yesterday evening.
Today, Ms Gould said: "This morning council staff will conduct further door knocking to ask those who remain to leave, and issue another letter reiterating to residents who are still remaining in the Taplow, Bray, Dorney and Burnham blocks, that they must leave.
"By remaining in the blocks these residents risk delaying the work that is required and that we are undertaking to make these homes safe.
"It is not safe to remain in these blocks and our residents' safety will continue to be the council's number one priority."
Nearly 200 offers of accommodation have been made to the displaced residents, most of which have been accepted, she added.
Ms Gould committed £100,000 of council funds to pay for food and essential items residents may need, with the council having already spent £500,000 on hotel rooms for residents.
The council said it could take two to four weeks for the four blocks to be made safe.
Refurbishment of the Chalcots Estate was overseen by Rydon, the company involved in the refit of Grenfell Tower, according to the Rydon website.
The site said the Chalcots project was a £66m refurbishment which lasted 191 weeks.
The work included external thermal rain screen cladding on five towers, new aluminium thermally broken windows on five towers, and an overhaul of external roofs.
It added that 711 flats were modernised with new wiring, heating, kitchens and bathrooms.