Some 34 high-rise buildings in 17 local authorities across the UK have failed fire cladding safety tests in the wake of the Grenfell Tower disaster, the British government has said.
The announcement came as around 3,000 residents of the Chalcots Estate in Camden, north London, face weeks in temporary accommodation after four tower blocks were evacuated.
Communities Secretary Sajid Javid said testing of potentially combustible cladding "is running around the clock".
"So far the cladding from 34 high-rise buildings, in 17 local authority areas, has failed the combustibility test," he added.
Manchester, Camden, Plymouth, Hounslow, Portsmouth, Barnet and Brent were named as having buildings that had failed tests by Mr Javid.
But in the statement he stressed "cladding itself is not dangerous" and that a failure in testing does not necessarily mean a building will be evacuated.
"The decision by Camden Council to evacuate four of the five towers on the Chalcots Estate was because the failed testing of the external cladding was compounded by multiple other fire safety failures which the fire inspection team found within the buildings," he said.
Mr Javid praised the "calm and stoicism" which residents showed when asked to leave their homes at short notice yesterday, in what he called a "distressing experience".
Earlier, British Prime Minister Theresa May said the government is making sure Camden Council can do "what is necessary" to ensure the 3,000 people evacuated have somewhere to stay, and work is done to make the buildings safe.
She added: "We are making sure that the authority has the ability to do what is necessary to ensure people have somewhere to stay and that the work is done so that those tower blocks will become safe for them to return to in future."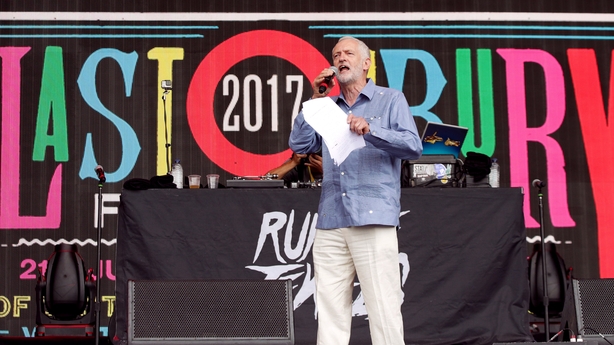 Labour Party leader Jeremy Corbyn received a warm welcome when he attended the Glastonbury festival in England today.
Addressing the crowds, he said: "Not so long ago we saw Grenfell Tower, a towering inferno in the middle of the richest borough in the country.
"People living in poverty, living in danger, in a place that simply went up in smoke. Not one of those people should have died. That fire was wholly and totally preventable."
He said tenants who tried to raise safety concerns were "utterly ignored because they were tenants, because they were poor people, because they were working class".