Police fear they may not be able to identify everybody killed in the Grenfell Tower disaster.
Six bodies have so far been recovered from the gutted 24-storey tower, while 11 have been located inside but cannot be removed.
The death toll from the blaze is 17, but that figure is expected rise significantly.
"We do believe that that number will sadly increase," said Metropolitan Police Commander Stuart Cundy
He said the six bodies which have so far been recovered from the scene were found outside the building.
Mr Cundy said: "It may be - and I just don't know - it may be that ultimately some victims remain unidentified.
"I won't know that until we've gone through the full recovery from Grenfell Tower and we know exactly what we've got and I anticipate that is going to take a considerable period of time.
"Not just the immediate recovery of the bodies we have found but the full search of that whole building we could be talking weeks we could be talking months - it is a very long process.
"There is a risk that sadly we may not be able to identify everybody."
Mr Cundy's voice at one stage cracked as he spoke to reporters about the emotional toll the disaster had taken on him.
While refusing to speculate on whether the total number dead would reach triple figures, he said: "From a personal perspective, I really hope it isn't, for those of us that have been down there, it's pretty emotional, so I hope it is not triple figures, but I can't be drawn on the numbers."
His comments came as Prime Minister Theresa May ordered a full public inquiry into the disaster.
Her demand for the "terrible tragedy" to be "properly investigated" echoed calls from London Mayor Sadiq Khan and Labour leader Jeremy Corbyn for answers after the blaze left residents in the residential tower block fleeing for their lives.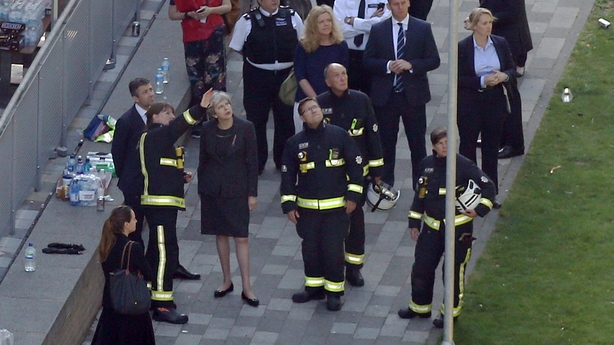 Mr Corbyn, during a visit to the scene in west London, said the "truth has got to come out and it will".
---
Read More:
---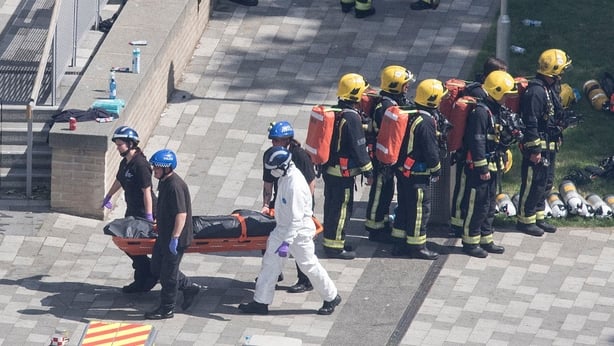 Earlier, emergency services leading the operation in north Kensington warned that the death toll was likely to rise further - with specialist search and rescue teams expected to enter the devastated building imminently.
Police in London say the investigation will be a 'long and lengthy process' pic.twitter.com/LUVorrloqR

— RTÉ News (@rtenews) June 15, 2017
London Fire Commissioner Dany Cotton said the search could take "weeks", adding: "I want to be realistic - this is a very long process."
Explaining the nature of the investigation, Ms Cotton said: "This is a large building, there will be a large amount of building work required internally.
"Before we do that, we are going to utilise some specialist dog training teams that we have, that will go through the building and the surrounding area looking for any identification of people.
"The benefit of using those dogs is clearly they are much lighter than people and they can cover a greater area in a very short space of time.
"I anticipate that London Fire Brigade will be on scene here for many days to come, working with our partners to ensure that we do the best for the people who are waiting for news of their loved ones."
She said "a good half" of the building had yet to be searched in detail, adding: "It is the upper floors which will be more challenging and will need some additional shoring up for us to be able to get in there."
She said the search could take "weeks", adding: "I want to be realistic, this is a very long process."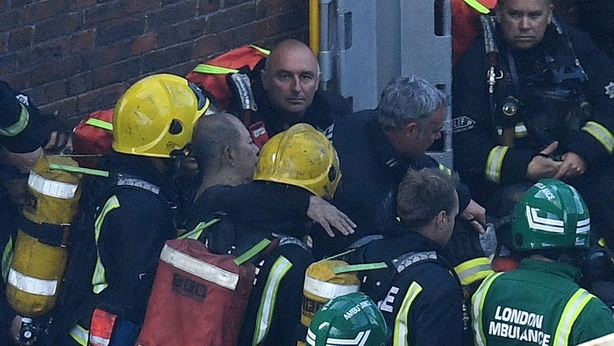 Ms Cotton added: "This will be a detailed fingertip search.
"Obviously this will be a very slow and painstaking process."
Speaking from the scene, as family and friends of Grenfell residents continued the desperate search for information about the whereabouts of their loved ones, Mr Cundy said: "There are still a number of people who are receiving treatment in hospital.
"There are 37 people receiving treatment, of which 17 are still in critical care.
"Like we explained yesterday, our absolute priority for all of us is about identifying and locating those people that are still missing.
"It would be wrong for me to get into numbers that I do not believe are accurate."
The London Fire Brigade said a ruptured gas main in the block had to be isolated before fire crews were able to put the blaze out and bring it under control by 1.14am - more than 24 hours after the alarm was raised.
Ms Cotton said the number of people who are unaccounted for is still unknown as some may have got out by themselves or gone into other flats.
The cause of the fire is still being investigated.
Detective Chief Inspector Matt Bonner from the homicide and major crime command has been appointed to lead the investigation.
A Scotland Yard spokesman said: "This is a complex and protracted investigation.
"It is standard procedure that detectives from the homicide and major crime command lead inquiries into a major incident that requires a large amount of specialist investigation expertise.
"These detectives are highly-experienced in dealing with serious, demanding and complex cases.
"The involvement of the command should not be seen as indicating the nature of the investigation."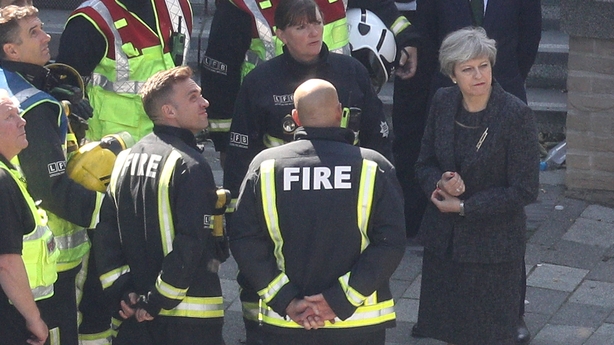 Mrs May visited the scene this morning, speaking with firefighters and police officers inside the vast cordoned-off area around the fire site.
She was driven away shortly after 10am without speaking to reporters.
More than £1m has been raised to help those affected by the fire, while volunteers and charities helped feed and shelter people who could not return to their homes overnight.
Many people remain unaccounted for
A number of people have been reported missing following the Grenfell Tower fire including artist Khadija Saye, 24, who was in her flat on the 20th floor, with her mother Mary Mendy, who is thought to be in her 50s.
12-year-old Jessica Urbano is still missing following the fire at the block. Her aunt said the young girl lived on the 20th floor. She said there had been unconfirmed sightings of her outside but the family has had no news of her whereabouts.
Rania Ibrham, believed to be a mother of two small children, uploaded a harrowing Facebook Live video as she appeared to be stuck at the top of the tower block, and has not been heard from by friends since.
Stevan Racz shared a post seeking information about his uncle Dennis Murphy, whom he said had called while trapped on the 14th floor of the building.
"We haven't heard anything since. Can anyone with any information contact me please," he said.
Abdulaziz Wahabi, wife Faouzia and children Nurhouda, Yassin and Medhi lived on the 21st floor of the tower, according to Mr Wahabi's sister.
Hana Wahabi told reporters: "I rang him and the fire had not reached the top of the block at that point.
"He said he had been told to stay inside, stay in one room together and put towels under the door.
"I told him to leave. He said he was going to come. Then I called him and he said there was too much smoke.
"The last time I saw him they were waving out the window. The last time I spoke to his wife, he was on the phone to the fire brigade."
Mohamednur Tuccu is missing along with his wife Amalahmedin and his three-year-old daughter after visiting relatives in Grenfell Tower, his employer said.