Theresa May's joint chiefs of staff Nick Timothy and Fiona Hill have both resigned after the Conservative Party failed to win a majority in the UK General Election.
In a blog post on the Conservative Home website, Mr Timothy said: "I take responsibility for my part in this election campaign."
Earlier, former minister Anna Soubry called on Mrs May to sack Ms Hill and Mr Timothy, after she complained about their central roles in the campaign.
Mrs May's former communications chief Katie Perrior, who left Downing Street when the election was called, hit out at their "rude, abusive, childish behaviour".
Writing in The Times she said: "Mrs May condoned their behaviour and turned a blind eye or didn't understand how destructive they both were."
Mrs May, whose authority as prime minister has weakened following the election, is attempting to shore up her position in Downing Street by completing her cabinet. 
She had limited room for manoeuvre after her campaign saw the Tories shed seats and fall eight MPs short of a Commons majority.
Mrs May has made clear she wants support from her "friends and allies" in Northern Ireland's Democratic Unionist Party to secure her minority administration and talks are expected to begin with days.
But criticism within the Tory ranks continued, focusing on the way she had worked as premier and party leader, and the influence of her inner circle.
The damage to Mrs May's standing makes it less likely she will risk alienating colleagues by carrying out an extensive reshuffle as she cannot afford to have disgruntled former ministers sniping at her from the backbenches.
After speculation the prime minister would use a solid win in the election to move Philip Hammond from the Treasury, he and other potential successors as Tory leader, Foreign Secretary Boris Johnson and Home Secretary Amber Rudd, remained in place.
With Brexit Secretary David Davis and Defence Secretary Michael Fallon also staying put, there were suggestions changes could just centre on replacing the eight ministers who lost their seats as the Tory Commons tally fell to 318.
There was also unease within the party about the link-up with the DUP, which strongly opposes same-sex marriage and abortion.
Full coverage: UK Election 2017
Amid reports that senior Tories were sounding out potential replacements for Mrs May, prominent Conservative MP Heidi Allen said the prime minister had six months at most left in Downing Street.
But Transport Secretary Chris Grayling sprang to Mrs May's defence, insisting she needed to stay in office for the national interest and former leader Lord Hague said the situation did not warrant a leadership contest.
Mr Grayling told BBC Question Time: "Not only must she not resign, she has to not resign in the interest of the country because we need to move forward, we have got to go into the Brexit negotiations."
Asked if Mrs May should lead the Tories into the next election, Mr Grayling said: "The next election is a question for her. My view is we need her to stay as prime minister and stay as prime minister for the foreseeable future."
A strong showing for Labour in the election was capped when the party snatched the final seat to declare, Kensington, by just 20 votes.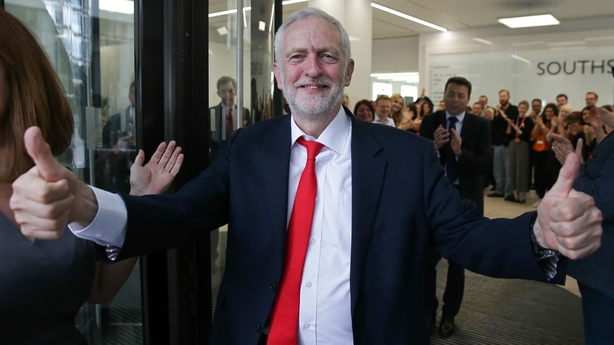 The win took Labour's tally to 262 MPs as Jeremy Corbyn's party soared to a 40% share of the popular vote.
Mr Corbyn called on Mrs May to stand aside and let Labour form a minority administration in light of the election results.
The Liberal Democrats gained four seats to stand at 12 MPs, but saw former deputy prime minister Nick Clegg ousted from the Commons.
The SNP saw its tally fall from the 56 seats it secured two years ago to 35, while UKIP leader Paul Nuttall quit after a disastrous showing for the party.