Theresa May looks set to be backed by the Democratic Unionist Party as she attempts to run a minority government following her General Election disaster.
Downing Street said an outline agreement on a "confidence and supply" arrangement had been reached which will be put to the Cabinet for discussion on Monday.
The 10 MPs from the Northern Irish party could prove crucial in supporting the Conservatives on key votes after Thursday's election saw Mrs May lose control of the Commons.
We need your consent to load this rte-player contentWe use rte-player to manage extra content that can set cookies on your device and collect data about your activity. Please review their details and accept them to load the content.Manage Preferences

A Number 10 spokesman said: 'We can confirm that the Democratic Unionist Party have agreed to the principles of an outline agreement to support the Conservative Government on a confidence and supply basis when Parliament returns next week.
'We welcome this commitment, which can provide the stability and certainty the whole country requires as we embark on Brexit and beyond.
"The details will be put forward for discussion and agreement at a Cabinet meeting on Monday."
Earlier, Theresa May sent her Chief Whip Gavin Williamson to hold talks with the DUP as she seeks to shore up her position following Thursday's election that saw her party lose its majority.
The Prime Minister has made clear she wants support from her "friends and allies" in Northern Ireland to secure her minority administration ahead of the Queen's Speech on 19 June.
A Downing Street spokesman said: "The Chief Whip is in Belfast holding talks with the DUP on how best they can provide support to the Government. We will not be providing a running commentary."
It is understood Mr Williamson was meeting the DUP's Chief Whip Jeffrey Donaldson.
Sinn Féin has accused the DUP of betraying the interests of Northern Ireland by agreeing to support Theresa May's minority government.
The republican party's leader at Stormont, Michelle O'Neill, predicted the confidence and supply deal between the Tories and the DUP would "end in tears".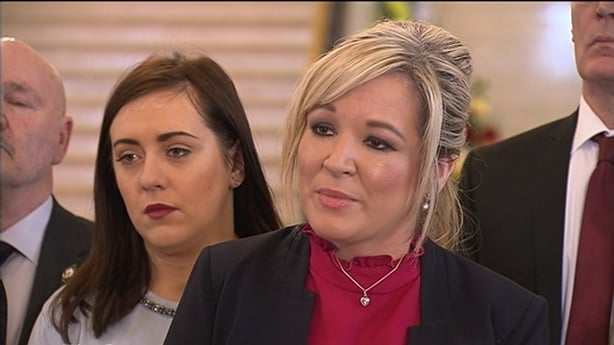 Highlighting Conservative austerity cuts and its stance on Brexit, Mrs O'Neill claimed the DUP link-up with Mrs May would spell bad news for Northern Ireland, a region that voted for Remain.
"It is no surprise that the DUP has agreed to prop up the pro-Brexit and pro-austerity Tory government of Theresa May," she said.
"They have once again betrayed the interests of the people of the north by supporting a Tory party which has cut funding to our public services year on year to the tune of hundreds of millions of pounds.
"Experience shows us that unionists have minimal influence on any British government.
Also today, Scottish Conservative leader Ruth Davidson said she received assurances from Mrs May over gay rights should the Tories do a deal with the DUP.
Ms Davidson, who is gay, spoke out after the Conservative leader outlined a plan to seek a deal with the socially hardline party - which has ten seats in the Commons - to prop up her minority administration.
In an apparent criticism of the plan, Ms Davidson yesterday tweeted a link to a speech she made in favour of marriage equality, with the message: "As a Protestant Unionist about to marry an Irish Catholic, here's the Amnesty Pride lecture I gave in Belfast."
Ms Davidson, who became engaged to partner Jen Wilson in May 2016, later told the BBC: "I was fairly straightforward with her (Mrs May) and I told her that there were a number of things that count to me more than the party.
"One of them is country, one of the others is LGBTI rights."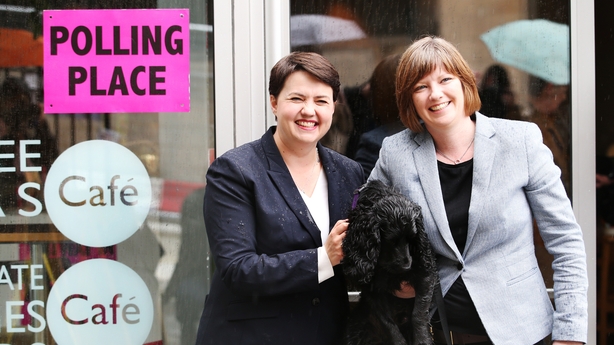 "I asked for a categoric assurance that if any deal or scoping deal was done with the DUP there would be absolutely no rescission of LGBTI rights in the rest of the UK, in Great Britain, and that we would use any influence that we had to advance LGBTI rights in Northern Ireland.
"It's an issue very close to my heart and one that I wanted categoric assurances from the prime minister on, and I received (them)."
Same-sex marriage remains outlawed in Northern Ireland.
The DUP has repeatedly used a controversial Stormont voting mechanism - the petition of concern - to prevent the legalisation of same-sex marriage, despite a majority of MLAs supporting the move at the last vote.
Defending her party's stance on gay marriage in a recent interview, leader Arlene Foster insisted those who characterised the DUP as anti-gay were wide of the mark.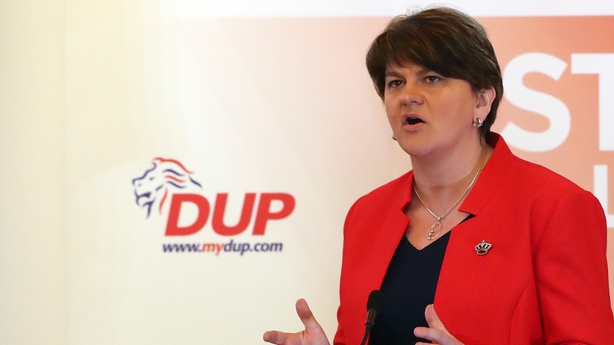 "They are wrong and they need to understand why we take those positions from a faith point of view and why we want to protect the definition of marriage," she said.
"I could not care less what people get up to in terms of their sexuality, that's not a matter for me, when it becomes a matter for me is when people try to redefine marriage."
An online petition in objection to the Tories and DUP forming a minority government has gathered more than 300,000 signatures.
Full coverage: UK Election 2017
Former United States Special Envoy for Northern Ireland Richard Haass yesterday expressed concern, saying with Brexit and the DUP going into government, the political future of Northern Ireland was "suddenly highly uncertain".
With DUP going into govt (which all but precludes govt role in talks) & Brexit, pol future of Northern Ireland suddenly highly uncertain

— Richard N. Haass (@RichardHaass) June 9, 2017
The DUP, Northern Ireland's largest political party, has been repeatedly at odds with the region's LGBT community.
While the party insists it is protecting the "traditional" definition of marriage, critics have denounced its stance as homophobic.
In the past, former first minister Peter Robinson's wife Iris, then an MP, described homosexuality as an "abomination", while Ian Paisley Jr said he felt "repulsed" by homosexual acts.
A party councillor in Ballymena reportedly claimed Hurricane Katrina, which killed more than 1,500 people in the US, was God's revenge for New Orleans hosting an annual gay pride event.
Former DUP Stormont minister Edwin Poots once hit out at a gay rugby team in Belfast, accusing it of introducing a sporting "apartheid" against heterosexual players.
Mr Poots also ended up in court for upholding a ban on gay men giving blood and, in a separate case, objecting to gay couples adopting. In the former case an appeal judge overturned a finding that he was motivated by bias.
In the 2015 general election campaign, DUP health minister Jim Wells resigned amid a controversy about remarks he made about same sex couples.