British Prime Minister Theresa May's election gamble has backfired, with her Conservative Party losing its Commons majority.
Mrs May had called the election three years earlier than necessary in an attempt to increase her party's majority and strengthen her hand ahead of Brexit negotiations.
Early polls had indicated a clear victory for the Conservatives, but they narrowed in recent weeks as Jeremy Corbyn's Labour Party grew its support.
With one constituency yet to declare, the party had taken 318 seats - 12 fewer than in 2015 and eight shy of the number required to hold a parliamentary majority.
However Mrs May has said she will now press ahead and form a government having secured the backing of the Democratic Unionist Party.
With no clear winner emerging from yesterday's election, a wounded Mrs May has signalled she would fight on.
Support from the Democratic Unionist Party could allow her Conservatives to reach the 326 seats needed for a majority in parliament.
The election result will be seen as a win for Jeremy Corbyn, despite the fact that his party still trails the Conservatives by more than 50 seats.
Labour has picked up 29 seats on its 2015 tally, with its share of the vote rising by 9.5%.
Mr Corbyn called on the prime minister to resign, saying she should "go and make way for a government that is truly representative of this country".
After winning his own seat in north London, Mr Corbyn said Mrs May's attempt to win a bigger mandate had backfired.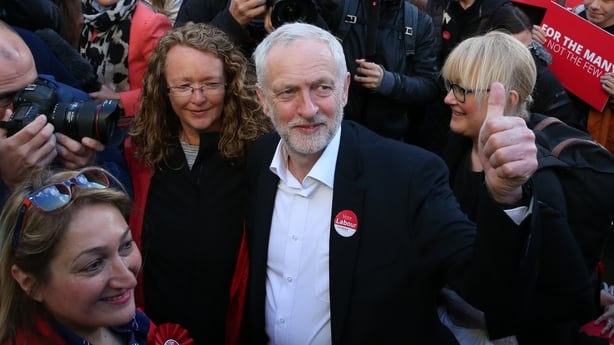 The mandate she's got is lost Conservative seats, lost votes, lost support and lost confidence.
"I would have thought that's enough to go, actually, and make way for a government that will be truly representative of all of the people of this country."
---
---
SDLP and UUP wiped out as DUP and Sinn Féin make gains
In Northern Ireland the Democratic Unionist Party and Sinn Féin increased their respective MP counts, taking seats at the expense of the Ulster Unionist Party and the SDLP.
Both the SDLP and the UUP lost all of their seats, with the DUP gaining two seats and Sinn Féin picking up three.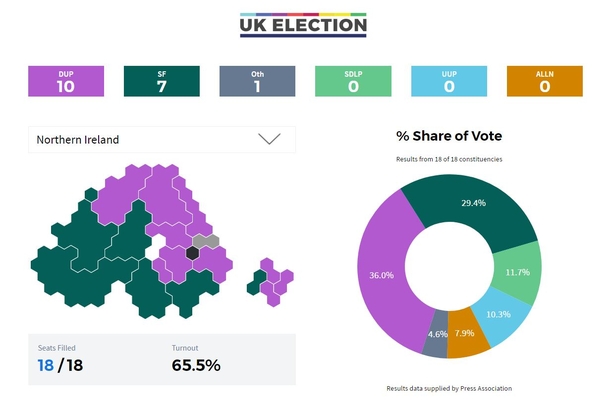 That includes Sinn Féin's gain in Foyle, which came at the expense of former SDLP leader Mark Durkan, while DUP candidate Paul Girvan took the South Antrim seat previously held by the UUP with a 10% swing.
With the party in a position to hold the balance of power at Westminster, senior MP Jeffrey Donaldson said the DUP would be "serious players" in the hung parliament, telling the BBC: "This is perfect territory for the DUP because obviously if the Conservatives are just short of an overall majority it puts us in a very strong negotiating position and certainly that is one we would take up with relish."
Mr Donaldson's comments came as Sinn Féin President Gerry Adams made clear there was "no danger whatsoever" of his party ditching its abstentionist policy, even if its seats become crucial in the final shake-down.
The only Northern Ireland seat that has remained out of the hands of the two big parties is North Down, which was held by independent unionist Sylvia Hermon. However, her majority was cut from around 9,000 to 1,200 by the DUP's Alex Easton in the process.
SNP has 'thinking to do' - Sturgeon
The Scottish National Party was another big loser of the election, with the party dropping 21 seats - including one held by former leader and Scottish first minister Alex Salmond.
Labour, the Conservatives and the Liberal Democrats all benefited from their slump, which saw the SNP's seat share fall to 35.
SNP leader Nicola Sturgeon said the results of the election were disappointing for her party but were disastrous for Theresa May.
"Clearly it's a disappointing result, we've lost some tremendous MPs," Ms Sturgeon said.
This is a disaster for Theresa May, she called an election clearly very arrogantly thinking that she was going to crush the opposition, sweep everybody aside and cruise to a landside majority, her position is very, very difficult.
Ms Sturgeon said she would think about her demands for a second Scottish independence referendum after her party lost seats to the Conservatives, Labour and Liberal Democrats, which all want to preserve the United Kingdom.
"There is clearly uncertainty around Brexit and independence which clearly will be factor in tonight's results - you know a lot of thinking for the SNP to do," she said.
UKIP suffers slump in votes
Meanwhile the UK Independence Party suffered a collapse in its vote, with party leader Paul Nuttall announcing his resignation following a failed bid to win a Commons seat.
The party's vote share fell almost 11% from 2015, when Nigel Farage led the party to secure 12.6% of the vote but just a single MP.
Mr Nuttall could only finish a distant third in Brexit heartland Boston and Skegness, with the Tories holding the seat.
Elsewhere, the UKIP vote seemed to disappear, splitting between Labour and the Conservatives.
The UKIP leader's performance in Boston and Skegness saw him secure just 7.71% of the vote, down 26.08% from the party's performance in the seat in 2015.
The humiliation in Boston comes after he failed to win in the Stoke Central by-election in February.
An indication that it was going to be a difficult night for his party came in Sunderland, which a year ago provided an early sign that the European Union referendum was going to result in Brexit.
In Houghton and Sunderland South, UKIP's vote was down 15.78%, in Sunderland Central it was down 14.25%, and in Washington and Sunderland West it was cut by 12.85%.
Former party leader Mr Farage insisted that UKIP could benefit if the country faces a hung parliament.
He told LBC Radio: "If the result of this tonight is that we finish up without a government with a clear majority pushing for Brexit, then a huge gap opens in the political landscape for UKIP once again."
---
---