By Legal Affairs Correspondent Orla O'Donnell
'The lead investigator has done acts which are extraordinary....'
The senior prosecuting counsel got to his feet slowly, cleared his throat and spoke in his distinctive tones. "... erm... a significant issue has arisen...," Paul O'Higgins told the Dublin Circuit Criminal Court.
It was Tuesday 5 May 2015, the day after a bank holiday weekend.
Heads turned, and eyebrows were raised, as everyone waited for Mr O'Higgins to continue.
It had been a gruelling few weeks in court. The lead investigator into allegations that Sean FitzPatrick misled the auditors of Anglo Irish Bank about the extent of multi-million euro loans to him and to people connected with him, had just finished in the witness box after six days.
Kevin O'Connell from the Office of Director of Corporate Enforcement had been cross-examined exhaustively, in the absence of the jury, as Mr FitzPatrick's defence team tried to show that the investigation was flawed and the trial should be stopped.
The jurors had yet to hear one word of evidence, despite having been sworn in three weeks previously.
There had been serious difficulties over the disclosure of documents - thousands of pages were still being given to the defence relating to an investigation which had been going on for six years.
But there had been some hope that the trial would start properly soon - that was quickly dashed by what Mr O'Higgins had to say.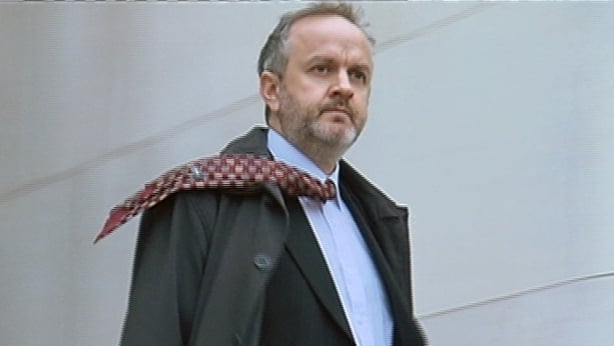 Mr O'Connell was "unwell" he said, but "not physically". He told the court that Mr O'Connell returned to his office the previous Friday and had discovered further documents that should have been given to the defence.
He had gone to his boss, Director of Corporate Enforcement Ian Drennan, and given him these 16 handwritten pages, before returning to his office.
At some stage afterwards, he found more notes. "Under significant mental pressure," Mr O'Higgins outlined, "Mr O'Connell damaged the documents, in circumstances in which it is unlikely we can recover them..."
Mr O'Higgins said they didn't know what the documents were - they seemed to be handwritten notes.
Mr O'Connell couldn't give evidence at present, Mr O'Higgins said.
No one knew when the trial could begin. Sean FitzPatrick's defence counsel Bernard Condon was quickly on his feet. "The lead investigator," he said, "has done acts which are extraordinary...."
---
Read more:
---
'No malintent, but inexperience'
Kevin O'Connell is a legal advisor to the Office of the Director of Corporate Enforcement.
Small, nervy, softly-spoken but extremely precise, he has worked for the ODCE since 2002.
He had been investigating Anglo since the ODCE learned Sean FitzPatrick had resigned from the bank, while they were enjoying a Christmas lunch in December 2008.
He had never been involved in a criminal investigation like this before. And until the investigation into Sean FitzPatrick's loans, he had never taken statements from witnesses to be used in a criminal trial.
Most ODCE matters before the economic crash, he later explained, were dealt with at district court level.
He wasn't quite sure how it had come about that he had become responsible for taking statements from crucial witnesses in this case, rather than the gardaí seconded to the ODCE's office from the then Garda bureau of fraud investigation.
Sean FitzPatrick's legal team claimed, that mainly because of Mr O'Connell's inexperience, the entire investigation was flawed, the trial was "beyond redemption" and should be stopped.
They claimed two key witnesses from Anglo Irish Bank's auditors, Ernst & Young - now called EY - had been coached, their statements had been compiled "by committee", lawyers had been overly involved and there were multiple drafts of their statements flying backwards and forwards between EY, their solicitors, A&L Goodbody and the ODCE.
There was no way of knowing what the witnesses would have said if they had just been asked straightforward questions without solicitors interfering.
The ODCE investigators dealt with this criminal trial as if it was a civil action in the Commercial Court, Mr FitzPatrick's lawyers claimed, giving white collar crime some kind of special treatment.
They'd prejudged the investigation and had failed to investigate issues like the adequacy of the audit because they were afraid EY would stop co operating with them.
Mr FitzPatrick's lawyers said EY was being sued by the former Anglo Irish Bank - now known as the Irish Bank Resolution Corporation - and had "50 million euro riding on this trial".
Now, in this "shocking act", senior defence counsel Bernard Condon said, the chief investigator had taken documents that could potentially be relevant to all these issues, and shredded them.
Mr Condon, told the then judge, Mary Ellen Ring, he didn't want to be "over dramatic" but the trial was unfair to Mr FitzPatrick and should be stopped immediately.
'Unknown unknowns'
The following day, the court was told Mr O'Connell was awaiting admission to hospital.
He had written an email to Mr Drennan about what he had done. In it, he said he didn't know what was in the now shredded documents.
He remembered at least one page was a short handwritten note, he believed the others were too.
He wished he could describe them. He said what "impelled" him to put them in the shredder was "their mere existence, in the context of the sense of panic and alarm" he felt when he found them.
He said he had a fear that "unknown unknowns" were going to continue to torment him in this case.
Mr O'Connell told his boss that he felt a sense of professional and ethical shame and distress. What he had done was not just wrong but stupid too.
'An enormous crisis'
What the defence did not know in 2015, was that Mr O'Connell had almost refused to give evidence at the trial at all.
He first learned the defence was going to raise very serious concerns about the way his investigation was conducted when Bernard Condon outlined his objections in an application to the judge before the trial was due to start.
The legal teams then began what is known as a trial within a trial, where the evidence is put before the judge and he or she has to make decisions about whether the jury should hear it.
Mr O'Connell was due to begin his evidence on 22 April.
But that morning he became "extremely upset" and wrote to the two prosecuting senior counsel, Úna Ní Raifeartaigh and Paul O'Higgins as well as prosecuting solicitor, Henry Matthews.
He later explained that he had discovered that a decision had been taken not to reveal to the defence, what he believed was a crucial email.
This email, sent by him to Mr Matthews, in the DPP's office, in May 2012, outlined how a supplementary statement from one of the EY auditors, Vincent Bergin, was being prepared.
Mr O'Connell said he felt this email "touched very considerably" on the question of who knew about how the statements were being taken by the ODCE and how he had been operating this way for so long.
He said he asked the prosecution lawyers to reconsider withholding this document from the defence.
This caused an enormous crisis he said. He didn't disagree when it was put it to him that he was concerned he was going to be hung out to dry.
The fact that the prosecution had withheld this document caused him very grave concern and upset, he said, and he fell ill. He described it as something of a tipping point.
The decision not to release the email was not reversed, but Mr O'Connell was persuaded to get into the witness box on 23 April and managed to withstand days of very robust cross examination by Sean FitzPatrick's senior counsel.
When his ordeal ended and he returned to his office on Friday 1 May he was in a "state of elation" he said, until he spotted a blue tray of papers, lurking behind his desk...
The blue tray
Mr O'Connell told the Circuit Criminal Court that he felt fright, shock, alarm and dismay when he found a number of papers related to the Anglo investigation in this blue tray.
He began panicking and felt he was breaking down, he said.
He found 16 pages of what he described as jottings. He knew they should have been disclosed.
He remembered just holding them and being devastated by the fact that they were there.
At some point he rang Ian Drennan. The two men phoned the DPP's office, scanned the documents and sent them by email.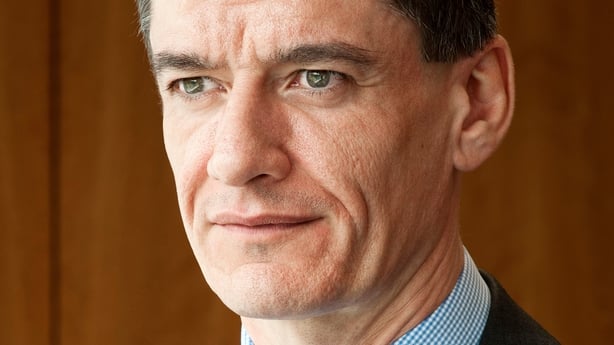 Mr O'Connell said he knew at this stage he would have to get back into the witness box after the bank holiday.
Eventually Mr Drennan went home. Mr O'Connell remained in his office. He decided he should have another look at the documents in the blue tray.
He found what he said he now believes to be around four or five documents, all handwritten, similar to the previous 16.
He said he was overwhelmed with panic and decided to shred them.
It was a decision made in panic and adhered to in panic, he said. He told the court he was under extraordinary levels of pressure and breakdown.
He denied there was anything special about these documents that made him destroy them instead of sending them to the DPP with the others.
The court was shown CCTV footage of Mr O'Connell heading towards the shredding room with a tray of documents, later that evening.
At the door of the room, the footage shows him speaking to one of his garda colleagues.
He agreed with Mr FitzPatrick's lawyers that he could be seen turning over the documents on top of the tray as his colleague - Garda Gary Callinan - spoke to him.
When the garda left, Mr O'Connell went into the shredding room.
He emerged around six minutes later, heading back to his office, with an empty document tray.
He seemed to be almost jauntily swinging his arms.
Mr O'Connell went home for the weekend.
But by Monday, he said he realised what happened on Friday "could not be denied".
He said he would not be able to come back into court and give false testimony. He rang his mother. And then he rang Ian Drennan, and told him what he had done.
Aftermath
The shredded documents caused chaos. There was legal argument about whether the trial within a trial should continue at all.
Judge Ring ruled it could. The EY auditors, Vincent Bergin and Kieran Kelly, gave their evidence and stood over their statements.
Judge Ring ruled the difficulties surrounding the way those statements had been taken, could be dealt with by appropriate warnings to the jury and refused to rule out the evidence or halt the trial.
But Mr O'Connell's illness and continuing absence meant that the jurors had to be discharged and a new trial arranged.
In August 2015, Mr FitzPatrick's lawyers made another attempt to halt his trial - this time in the High Court.
There, Mr Justice Michael Moriarty refused to stop the trial but ruled that because of the highly critical comments made and evidence given about Mr FitzPatrick in another case involving former Anglo executives, his trial should be postponed.
The new trial was scheduled for September 2016. All the while, hundreds more pages of documents were gradually disclosed to the defence.
'Too few people trying to do too much'
Because the previous trial had collapsed, the arguments made by Mr FitzPatrick's lawyers about the inadequacy of the ODCE's investigation had to be made again with the new jury waiting in the wings.
Bernard Condon added the "shocking" shredding of possibly relevant documents to the list of reasons as to why the EY auditors' evidence should be excluded and the trial stopped.
Mr O'Connell, who had returned to work, was back in the witness box.
But his exchanges with Mr Condon, over 11 days, were very different this time.
Again and again, Mr O'Connell admitted he now had to accept that the investigation should not have been run in the way it was.
He said he didn't think he had any dealings with EY in which their solicitors, A&L Goodbody, were not present.
He regretted he had never simply asked Vincent Bergin and Kieran Kelly to come in and give statements. He acknowledged the "enormous consequences" of this failure.
He accepted that if the ODCE had taken statements from the two men in a normal way, rather than liaising with their solicitors, many of these difficult matters could have been avoided.
He fully accepted he was inexperienced. He acknowledged that he had given assurances to Government on behalf of the ODCE that the office did not need more resources but that in hindsight this was wrong.
There were too few people trying to do too much, he said.
He said his garda colleagues were working "flat out" on the other investigation being carried out by the ODCE – into the alleged provision of illegal loans by Anglo to buy shares in the bank.
He agreed he had expected the investigation into Mr FitzPatrick's loans to take "centre stage" eventually, but that did not happen.
The process was wrong but people could have stopped it
The tension between Bernard Condon and Mr O'Connell seemed to ease as the defence team realised the lead investigator wanted to get a number of things off his chest.
Mr O'Connell was keen to emphasise that other people knew how the investigation was being conducted.
The Minister for Enterprise, Trade and Innovation received a report in March 2011, outlining the progress of the investigation, and noting that the extent to which witnesses required the assistance of legal advisers was unusual and uncommon in the experience of the gardaí.
There was a preliminary report for the DPP in December 2010, which Mr O'Connell agreed showed the DPP's office was aware of the manner in which statements were taken, to some extent.
He told the court that the ODCE had changed its practices since he gave evidence in 2015, despite the fact that this controversy had not yet become public.
All statements in criminal cases being brought by the office were now to be taken by the gardaí seconded from the National Economic Crime Unit.
Mr O'Connell said he was taken aback by a garda report compiled after the shredding of the documents, in which the gardaí denied having any involvement in drafting witness statements.
He said this was inconsistent with the record of communications in the office and the attendance of members of An Garda Síochána at certain meetings.
Shambles
Mr O'Connell finally gave evidence before a jury in January.
He was comprehensively cross-examined by Mr FitzPatrick's lawyers. And he repeated his evidence about the manner in which he had conducted his investigation.
As Mr FitzPatrick's lawyers ploughed methodically through the sequence of events, Mr O'Connell seized the first available opportunity to tell the jury about the shredding of the documents before he could be questioned about the issue.
He told the jurors he had made "a calamitous error" under enormous pressure.
He admitted the gardaí had never investigated his destruction of the documents and he had never been subjected to any disciplinary proceedings.
The jury was told the DPP did not intend to use anything he said at the trial in any criminal proceedings against him.
Mr O'Connell denied he or the ODCE had been motivated by a desire to "produce Mr FitzPatrick's head" or that they had been under political pressure to get a result.
Bernard Condon put it to him that the investigation was a shambles, he should take no pride in it, and it should never be repeated by the ODCE.
Mr O'Connell said he took no pride in the "manifold ways" in which he had made mistakes.
After seven days of cross examination, he finally left court.