The main investigator into allegations that former Anglo Irish Bank Chairman Sean FitzPatrick misled the bank's auditors has said he shredded documents related to the investigation.
Kevin O'Connell, from the Office of the Director of Corporate Enforcement, said he made a calamitous error and shredded a small number of documents that should not have been shredded.
Mr O'Connell was being cross-examined by lawyers for Mr FitzPatrick about the manner in which he took witness statements from the auditors from auditing firm EY.
He told Senior Counsel Bernard Condon that there was an unusually detailed chronicle of notes in this case.
But he admitted that unfortunately at a later stage in the investigation he had shredded a "very small" number of documents that should not have been shredded.
He agreed that he had done this just after he had been cross-examined by Mr FitzPatrick's lawyers during Mr FitzPatrick's first trial in 2015.
Mr O'Connell said in a time of enormous pressure he made a dreadful mistake which he had acknowledged and admitted.
He said the notes destroyed mainly related to conversations with EY's solicitors A&L Goodbody.
Mr FitzPatrick has pleaded not guilty to 21 charges of making misleading, false or deceptive statements to the bank's auditors about multimillion euro loans to him and people connected to him.
And he has denied six charges of furnishing false information between 2002 and 2007.
Lawyers for Mr FitzPatrick put it to Mr O'Connell that the manner in which the statements were taken from the two witnesses from EY was "absolutely unheard of" in a criminal investigation in this jurisdiction.
Mr O'Connell has already accepted that solicitors for the two auditors for EY were "overly involved".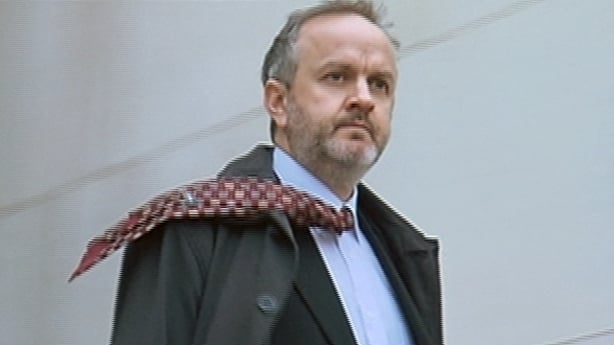 Mr O'Connell also accepted there had been meetings with the witnesses and EY's solicitors A&L Goodbody at which the proposed statements of the witnesses had been discussed.
He admitted there were meetings at which portions of the statements were moved around, added or changed.
He said he now accepted this was a most unhelpful way of going about this and said it was due to his inexperience.
He said, however, that concern was never expressed to him by his garda colleagues or anyone else about the way he was carrying out the investigation.
Mr O'Connell said a report on the investigation had been sent to the Director of Public Prosecutions in December 2010, and this did not give rise to any observations.
He said his approach was not mentioned by anybody.
The court heard details of an email sent by another solicitor in the ODCE's office, sent in 2010, expressing concern about the extent of the information being given to EY about the investigation in 2010.
Mr O'Connell said he had completely forgotten about this email, as had the man who sent it.
He said he did not know why this was only given to the defence in September last year, despite being found in August 2015.
Earlier, Mr FitzPatrick claimed the bank's auditors made a mistake by using the wrong documents in their audits of the bank between 2002 and 2007.
Mr FitzPatrick's lawyers asked Mr O'Connell why the way the auditors carried out their duties, had not been seriously investigated, when it seemed they had made "a clanger".
Mr O'Connell agreed EY had used a template for the letters of representation that Anglo had to sign in relation to directors' loans that should have been used for ordinary companies, not banks, to whom different rules applied.
Mr O'Connell said he and his colleagues did not see themselves as having a role in investigating EY.
He said the ODCE had no role in supervising auditors.
And he said the ODCE's position was that statements made to auditors should be truthful, and it did not matter whether or not those auditors were good, bad or otherwise.
Mr Condon, for Mr FitzPatrick, said the use of the wrong document had called out for serious investigation into EY.
He said the ODCE was trying to prosecute one man on foot of what EY had produced and EY had "made a clanger".
Mr O'Connell rejected an allegation that the only explanation for the "extraordinary" series of mistakes made by the ODCE in Mr FitzPatrick's case was that they were sensitive to political interest in the investigation.
He said it was not the case that they were driven to produce the goods and produce a "head" - in this case Mr FitzPatrick's.
Mr O'Connell was asked if he thought that the ODCE had not been fit for purpose during the investigation into Sean FitzPatrick's loans.
He said the way the office was now organised and the substantial restructuring that had taken place in recent years meant the office would in the future be much better fit for purpose than it had been.
He said it had become clearer to him that the way in which it was organised at the time of the investigation, was not optimal.
He said the ODCE did not have a complete set of capabilities and he tried to paper over the cracks.