One week on from the announcement of the Commission of Investigation into an alleged smear campaign against garda whistleblower Sergeant Maurice McCabe, TDs and members of the Government are left wondering 'Who knew what and when?'
Tánaiste and Minister for Justice Frances Fitzgerald and Minister for Children and Youth Affairs Katherine Zappone will be facing tough questions from the Opposition over the McCabe controversy.
Here is a look back at the story so far:
7 February
The Government agreed to establish a Commission of Investigation on foot of a recommendation by a judge in a report prepared for the Minister for Justice in 2016.
The report contained information about the protected disclosures made by garda whistleblowers. The inquiry is to investigate claims of a campaign by senior gardaí to discredit Sgt McCabe.
Independents4Change TD Clare Daly called for Garda Commissioner Nóirín O'Sullivan to stand aside for the duration of the inquiry.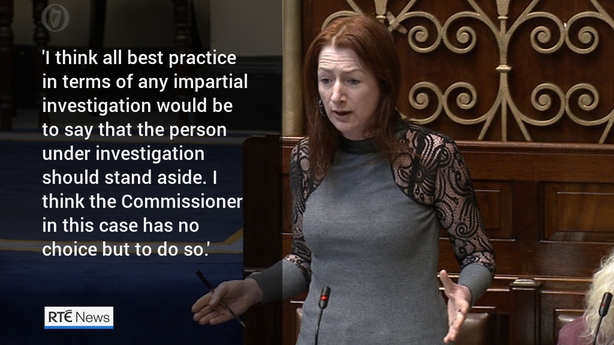 Minister Fitzgerald said she could not comment on this ahead of the draft order setting up the commission.
Supreme Court Judge Peter Charleton was announced as the head of the Commission of Investigation.
8 February
The terms of reference for the Commission of Investigation are published by the Government.
Speaking under Dáil privilege, Labour Leader Brendan Howlin said a journalist alleged to him that Commissioner O'Sullivan made very serious allegations of sexual crimes about Sgt McCabe to journalists in 2013 and 2014.
Sgt McCabe called on Commissioner O'Sullivan to make a public statement to see if it was true or false that she had contacted journalists about him.
The Garda Commissioner said she "refutes in the strongest terms the suggestion that she has engaged in the conduct alleged against a serving member of An Garda Síochána."
Mr Howlin also called for Commissioner O'Sullivan to step aside for the duration of the investigation.
Taoiseach Enda Kenny said that the Garda Commissioner was entitled to the Government's full support.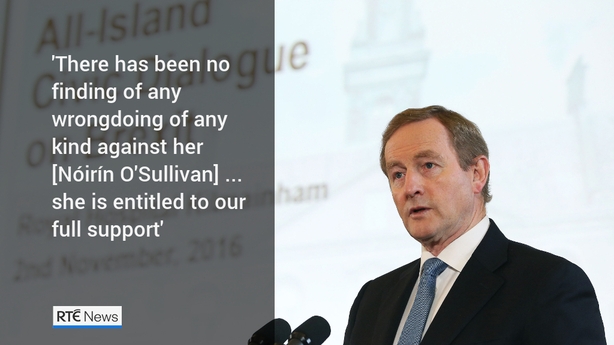 9 February
Frances Fitzgerald agreed to broaden the terms of reference for the inquiry, following calls for an expansion by Fianna Fáil.
Sinn Féin, Social Democrats, Independents4Change TDs Clare Daly and Mick Wallace and Government backbencher Michael D'Arcy all called for the Garda Commissioner to stand aside during the inquiry.
The Taoiseach repeated the Government's support for Ms O'Sullivan.
It was revealed on RTÉ's Prime Time that that an "administrative error" led to false sex abuse allegations being made against Sgt Maurice McCabe.
Tusla, the child and family agency, sent a file containing false allegations of sexual abuse against Sgt McCabe to gardaí in 2013. He was not aware that the Tusla file contained the allegation.
10 February
Tusla Chief Executive Fred McBride issued a written apology to Sgt McCabe.
Mr McBride denied that there was any sort of collusion between the agency and gardaí against the whistleblower. Mr McBride said Tusla would conduct an internal review.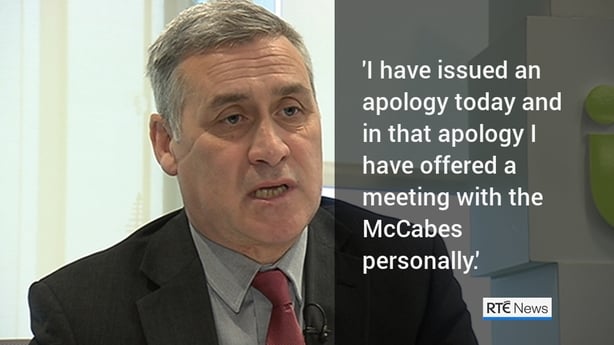 A solicitor for Sgt McCabe said he intends to take a case against the State for "all the damage" done to him.
It emerged that Sgt McCabe met Minister for Children Katherine Zappone in January. Minister Fitzgerald said that Ms Zappone informed her about the meeting, but was not informed about "any details in relation to confidential records".
A Government spokesperson said Ms Zappone told the Taoiseach that she was going to meet Sgt McCabe before the January meeting took place.
A spokesperson for Ms Zappone said the minister informed "relevant Government colleagues" of circumstances of the case involving Sgt McCabe and Tusla since she first heard about it in January.
The minister did not discuss the issue at Cabinet on 7 February.
It was revealed that Tusla's apology was sent to Sgt McCabe's next door neighbour in error.
11 February
The Health Service Executive issued an apology to Sgt McCabe and his family. In a statement, it said it was satisfied that "correct procedure was followed once the error [false sex abuse allegations] was brought to the attention of the National Counselling Service".
It said that it was making arrangements to offer its apology formally to Sgt McCabe.
Sinn Féin said it will table a motion of no confidence in the Government over its handling of the controversy.
Fianna Fáil said that it would not withdraw support for the minority Government.
12 February
Minister Fitzgerald insisted that she did not know about a file by Tusla containing false allegations of child sex abuse against Sgt McCabe until the night of 9 February.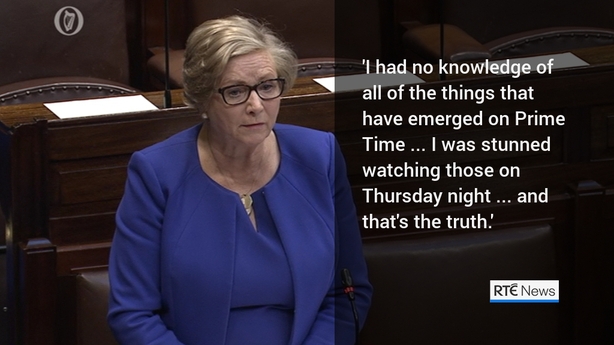 Fianna Fáil leader Micheál Martin said his party's justice spokesperson Jim O'Callaghan made Ms Fitzgerald aware of the claims on 8 February.
Enda Kenny said that he was not ruling out a criminal investigation over the McCabe controversy, saying that there has to be evidence of criminality.
He said that he knew that Ms Zappone was meeting the McCabe family, but he was not aware of any of the details because she met them in a "personal capacity".
Sgt McCabe rejected the statement of apology by the HSE. Both he and his wife said that they wanted no further direct engagement with the HSE or Tusla in the wake of the apology.
13 February
Fianna Fáil's Jim O'Callaghan said he was '100% certain' that he mentioned the Tusla file on Sgt McCabe to Minister Fitzgerald on 8 February.
In a statement, the Garda Commissioner said her position "remains unchanged". She also said a campaign of "false accusations, repeated and multiplied, do not make me guilty of anything."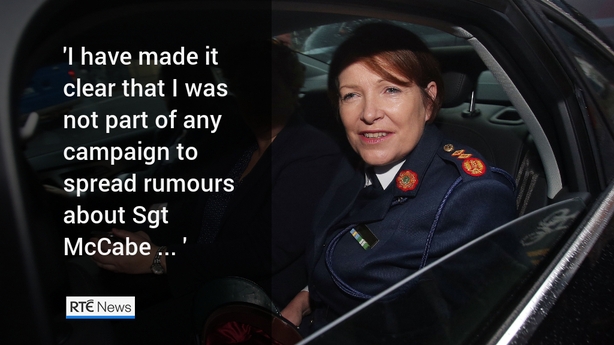 Minister Zappone contradicted the Taoiseach and said that they had discussed the allegations involving Tusla. She announced an independent statutory investigation to look at how Tusla manages allegations of child abuse.
In a statement, Sgt McCabe said that he was "strongly opposed" to any inquiry being held in private.
The Taoiseach said that he may consider holding the investigation in public. He also said he would discuss the matter with Micheál Martin.