RTÉ's Fran McNulty joined those queuing to say goodbye to Madiba
The resolve of the South African people is admirable. In the face of adversity they continue to smile. Their outlook is almost always positive. It's a refreshing take on handling challenging situations.

This morning I spent several hours in Pretoria.
Walking among the thousands of people queuing for buses to take them to view Nelson Mandela's remains, the queue went on for what seemed like an eternity.
I didn't follow it to its end. 

Fountains Valley, a forest park on the edge of Pretoria is usually a place of recreation, with families eating outdoors, cyclists, music.
Think Killykeen in Cavan or Boyle Forest Park. 

But today here it is different. Thousands of people have been here since the early hours of the morning.
One woman with her young son, just a few months old, waited seven hours just to board the bus to Union Buildings.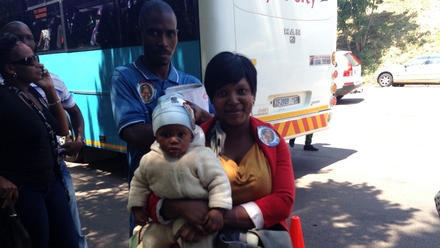 "He's the next Mandela" she smiles as she boards the bus.

The park and ride facilities all over this city were packed to capacity yesterday. Today is the last chance to see Mandela's remains. The crowds are bigger, the weather hotter, it's going to be trying.

But the people here continue to smile. Even after their marathon wait to see their hero's remains they will have to walk miles back to their cars, roads leading to the park and rides are heavily congested.

The rush to see Madiba one last time is as hectic as expected.
Hours before the park-and-ride facilities close, the public has been asked to stay at home.
The GCIS, Government Communication & Information System issued the following statement; 

'People are advised not to go to the park-and-ride facilities as they are already at full capacity. Even people already in the queues are not guaranteed access to the Union Buildings.'

So those who are in now will get to experience this piece of history. The hundreds still turning up will be disappointed.
When the cortege leaves Union Buildings this evening it will be the last public involvement in the ten days of mourning in South Africa.

Nelson Mandela's body will be flown north by the South African Airforce and will land in Umthata where it will be brought by slow procession to Qunu.
He will be buried there on Sunday during a private ceremony.

The celebration and joy and dance of recent days is gone, there was no singing in Fountains Valley today, no clapping.
A quiet murmur of talk was all that could be heard.
Not even the street sellers or ice cream sellers were shouting, instead they marked their spot by ringing a small bell.

The reality that Mandela is gone has sunk in. The sadness many people expected is now here.
On Sunday South Africa will say goodbye, in the privacy or their own homes, watching Qunu on television.

'A great light has been extinguished'