RTÉ's Fran McNulty travels to Nelson Mandela's ancestral home
Reading Long Walk To Freedom for the first time many years ago I immediately formed an impression of Qunu and Mbvezo. Quiet, beautiful villages, populated by people who work the land and live a humble, basic, wholesome life.
Stepping into the home of an elderly Xhosa lady I could see that impression come to life.
Dinner was on the stove, her daughter and grandchildren sat on small stools. Some dogs hugged a two-bar heater, as the cold and wind and cloud wrapped around the Qunu hills. Their two room home was basic, their laughter infectious.
They spoke no English, but welcomed us in.
In broken Xhosa and broken English I asked, they answered. Smiling, recalling Mandela, the lady herself not much short of his 95 years.
Her words mattered little, the passion and pride in her face as she mentioned "Madiba", "Madiba" over and over again.
An offer of food, another stare at the mop of red Irish hair, the traditional African handshake. I was back out in the cold again, driving onwards to Qunu village.
The journey from Johannesburg to Qunu is long. Passing the beautiful beaches along the Indian Ocean, small clusters of huts (known as locations), animals grazing on the roadside. Mandela posters hanging on almost every available electricity pole.
Then crossing over what was the old Transkei/South Africa border. Underneath, the Great Kei river.
The poignancy of that spot cannot be easily ignored. The Great Kei forms after two other rivers join, the Black Kei and the White Kei.
You travel south onto the Eastern Cape, the homeland of Mandela, the heartland of the ANC.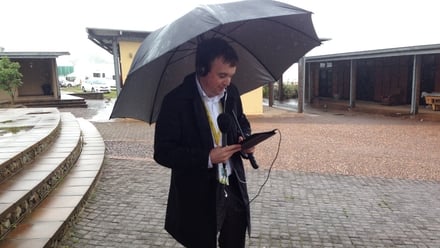 The further towards Qunu and Mthata you travel the more mealie sellers you meet.
Predominantly women, the cook maize on the roadside and sell it for around 10 rand. They line the road sides and rush to halting traffic. At junctions they race to cars, their barrel fires burning, cooking the food.
If you ever doubt that this is the heartland of the ANC, or if it managed to escape you, a billboard in the middle of Dutywa is a blatant reminder.
This is the home town of South Africa's second democratically elected President Thabo Mbeki. On the middle of Main Street a smiling Mbeki, beams from a permanent billboard, the slogan, 'HOME OF LEGENDS'.
En route I'm reading one of the regional newspapers the Daily Dispatch, and it's commentary on the booing of Jacob Zuma at the FNB stadium earlier this week.
Perfectly timed, I look up to the next road sign, it reads 'Collywobbles'. It summed up the saga. Mandela is looking down!
Interestingly, the road leads to a hydro electric power station, which for some years was run by a Waterford man.
Around Qunu and its hills, apart from electrification and local washrooms in many respects little has changed for these people since Mandela grew up here.
Yes a hospital train pulls into nearby towns a few times a year, the standard of education is better and living conditions are marginally better. But, in the main, these are a hard working and poor people.
Imagine then that this place produced one of the most iconic figures of our time. "The greatest living human that ever walked the earth" as one enthusiastic Sowetan man told me earlier in the week.
One local said to me, "look at this place, most people wouldn't come back here. Mandela is for everyone".
Fitting so that he should return to where he began. It was his dying wish to be buried there, and to die there. One of those wishes comes true this weekend.
His choice, says a lot about the man, and his people say that. They are honoured and humbled that he has chosen his final resting place among them.
His presence is to be felt everywhere - good schools, a museum in his honour, the footprints of a Mandela are everywhere to be seen in Qunu.
Those footprints are about to grow even more. It may be a private burial site on his family land, but that won't stop people turning up in Qunu to visit. A neighbour predicts Qunu will become a shrine.
In Long Walk To Freedom, Mandela describes Qunu as, "a narrow, grassy valley criss-crossed by clear streams, and overlooked by green hills".
It's there the man who revolted against white supremacy in South Africa will rest.