Members of the public are being advised not to get too close to a dead whale that has washed up on a Dublin beach.
The whale was spotted by people visiting Dollymount Strand in north Dublin this morning, and pictures were posted online.
The whale is believed to be the same whale that died in Dublin Bay earlier this week.
That whale had been identified as a fin whale, around 25 feet in length and was thought to be a juvenile.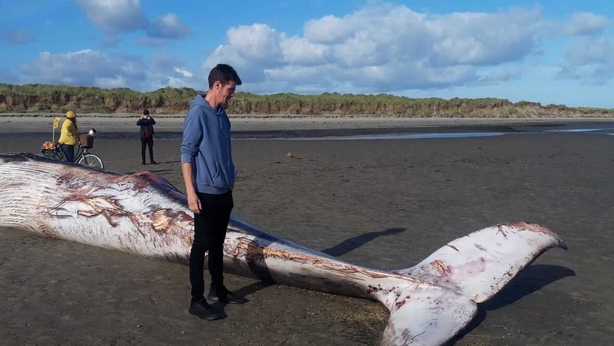 The Irish Whale and Dolphin Group said that it was unusual for a fin whale to enter shallow waters, and said this suggested the whale was sick, disorientated and stressed.
It was first spotted in the River Liffey, but Dublin Port workers later discovered the whale had died.
It is understood the whale's remains were brought out to the bay and that it has now washed ashore.
Today Sibéal Regan from the IWDG said people should not get too close to the whale.
She said if anyone has touched the remains, they should wash their hands thoroughly, as it is likely to be carrying various parasites.
The removal of the whale is the responsibilty of Dublin City Council.
Additional Reporting Conor Hunt