A whale, which was spotted earlier this week in the River Liffey, was found dead this morning in Dublin Bay.
It has been identified as a fin whale, around 7.62m (25ft) long, and thought to be a juvenile.
It was found by Dublin Port workers earlier today close to where it was first spotted.
Mammal experts brought in by Dublin Port are now assessing the situation.
It is thought the whale's remains will be left in the sea and will not be removed.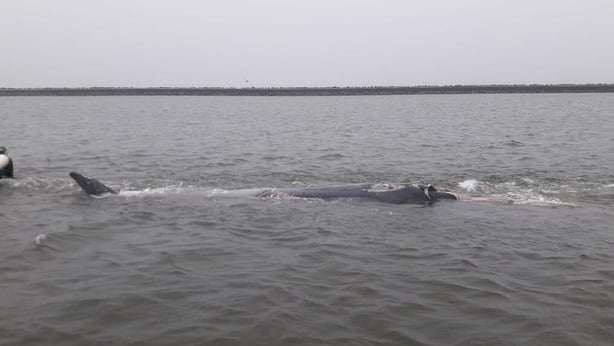 What is believed to be a whale has been spotted at the Stena berth in Dublin Port | Read more: https://t.co/4ehcvrFw3C pic.twitter.com/wDWwnQrRQ9

— RTÉ News (@rtenews) October 2, 2019
Sibéal Regan from the Irish Whale and Dolphin Group said it is very unusual for a fin whale to come in to such shallow water.
She says they are oceanic mammals, who normally feed on herring in much deeper water further out at sea.
Ms Regan said the fact that the whale came in to the port suggests it was sick, disorientated and stressed.
The IWDG first got a report that a whale was spotted off Sutton, she said, and presumed it to be a minke whale, but when she saw the video it was clear it was a fin.
Fin whales are the second biggest species on Earth after the blue whale and can reach up to 24m (80ft) in length.