With human rights issues around the LGBTQ+ community and labour conditions blighting the run up to World Cup 2022, the West is preparing for Sunday's opening game between Qatar and Ecuador with a critical eye.
But, inside Qatar, the atmosphere is somewhat different. Vast swathes of the migrant population are employed in some capacity relating to the tournament.
Thousands of labourers who built the stadiums have returned home, replaced by FIFA supporter guides at airports, bus stations, stadiums and fan zones. Others work in the bars, hotels and retail shops across Doha, the country's capital city. Residents are feeling positive about the coming month and the trade it will bring to the area.
One enthusiast is 26-year-old YouTuber Botirjon Khamdamov, originally from Uzbekistan. He's currently in Qatar providing accommodation for fans.
"Qatar is not the negative country portrayed in the media," Mr Khamdamov told Prime Time.
"People are very friendly. Just because you are from a foreign country people want to talk with you, they want to interact with you and make friends with you, as long as you respect their culture and abide by their codes of conduct."
Those codes of conduct include a zero tolerance for drinking beer in public places.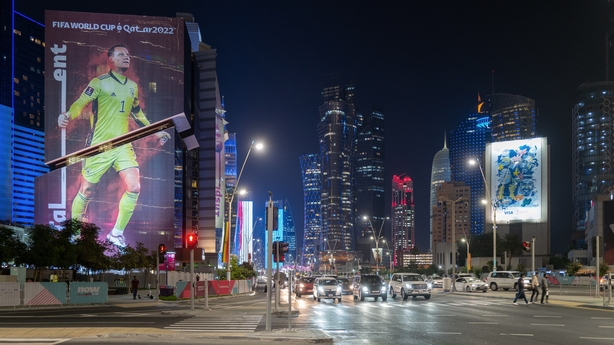 While alcohol is not part of Qatari culture, it is sold in bars and clubs often contained within hotels, making them a magnet for Western workers. But a night out isn't cheap, with a glass of beer costing around €20.
Until Friday, alcohol was supposed to be sold within the ticketed perimeter surrounding each stadium. But FIFA said that authorities from the host country have made a U-turn, banning the sale of beer around the stadiums.
However, there will be alcohol sold at the FIFA fan festival in central Doha, with Budweiser selling for around €14.
Mr Khamdamov doesn't feel this should give supporters a licence to flout local customs and laws.
"That doesn't mean they have to behave like they are in their home country. They still have to respect and abide by Qatari law," he said.
"If they are feeling too drunk, they shouldn't show up, they shouldn't be around public places or bothering people."
In a country made up of 89% migrants and only 11% Qatari citizens, it is used to a multitude of nationalities descending on its capital city. Only this time, it won't be for work.
Some 2.5 million fans are expected to arrive over the course of the tournament, which lasts until 18 December. All eight of the stadiums are within a 70 km radius, making this effectively a one-city event – unlike previous World Cups.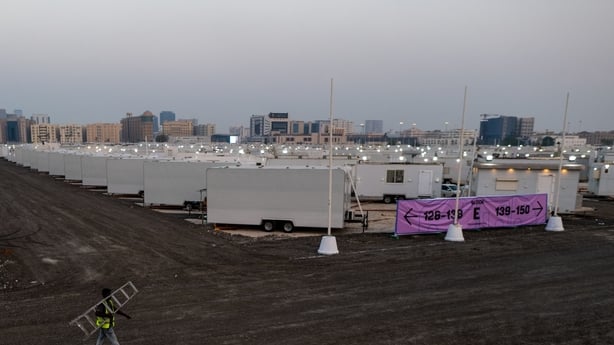 Rather than lament the fact it won't be a nationwide World Cup with multiple cities hosting matches, residents point to the ease with which people holding a fan ID card will be able to travel between games on free public transport.
Mr Khamdamov doesn't foresee problems arising from the fact that the supporters of all 32 teams will share the same accommodation facilities, including a 6,000 prefab cabin fan village near the airport and several cruise ships, including the MSC World Europa at Doha Port, which has 22 decks and will host more than 6,700 fans.
"Qatar is a very diversely populated country. You can find a lot of nationalities here, so I don't think there will be a problem with fans coming from different parts of the world," he said, noting that law enforcement works well in the country.
In his book 'Inside Qatar: Hidden Stories from one of the Richest nations on Earth', anthropologist John McManus studied how ordinary people live in the country. The author feels they are sometimes unfairly portrayed in the West.
"I think it's one of the most misunderstood places. Images of the place are not always that close to reality. So, for me, the first World Cup in the Middle East is a great opportunity to demolish some of those stereotypes," he told Prime Time.
"I'm very much pleased the World Cup is coming to the region," he said.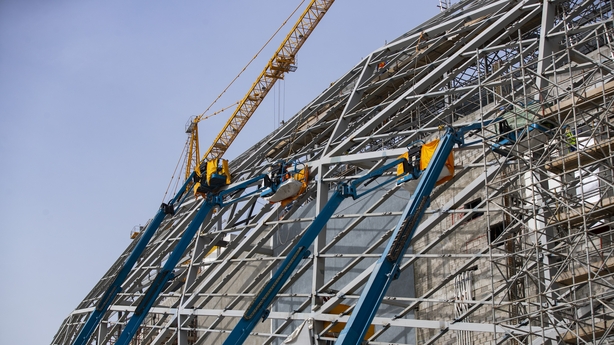 But, at the same time, Dr McManus believes the tournament is a chance to shine a light on areas where Qatar needs to improve, including LGBTQ+ rights. Currently, homosexuality is outlawed in Qatar and punishable by up to three years in prison.
"I think it's absolutely right and valid to highlight concerns with Qatar around worker welfare and the rights of LGBT people," he said.
"There are opportunities for exchange and dialogue at the same time as being able to hold a candle to some of those issues and improve the situation because of the focus on the tournament."
Another area where Qatar has received much criticism is around the rights of low-paid workers from counties like Nepal, India and Bangladesh.
Until recently, labourers have travelled to Qatar under the kafala system, a sponsorship system that legally binds workers to their employers. Passports are routinely confiscated, preventing labourers from leaving the country or changing jobs without authorisation from their employer.
New labour laws introduced in 2020 ended the kafala system, allowing Qatar's two million-strong workforce to switch jobs without their employer's permission. But it hasn't ended the exploitation of some of the most vulnerable in society, such as construction and domestic workers.
"They have changed the laws and many of the more egregious elements of the system," Dr McManus said.
"Some of these things have been dropped in the law along with a minimum wage being introduced."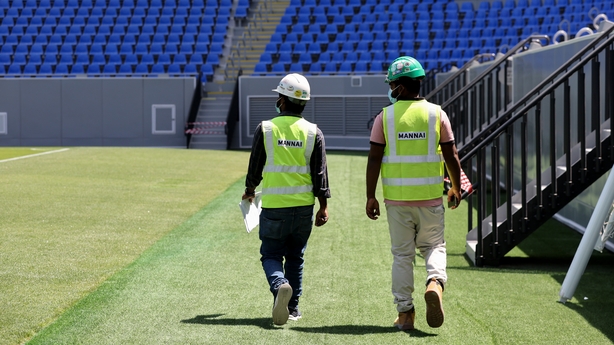 However, Dr McManus said that the problem lies with enforcement.
"There are employers who are not abiding by these new regulations," he said.
For those from the poorest regions of the world, the potential to be contracted by an unscrupulous employer in Qatar – one who provides substandard, overcrowded accommodation and withholds your wages – is still a reality.
"One of the most common complaints I heard from people across the hierarchy was they are often not paid on time. This could be a case of receiving money a few days late all the way through to having wages withheld for months at a time," Dr McManus said.
But not all are scarred by their time in Qatar working in the poorer paid jobs. It often comes down to luck, and if you find the right employer, it can be life changing, particularly for those from places like South Asia who are sending money back home to extended family.
"If you have the fortune of having a good employer who treats you well, pays you on time, then you can earn what is, for you, very substantial money and transform the lives of your family back home," Dr McManus said.
"That is an important part of the Qatar story as well."