Towards the end of June, as the city of Severodonetsk fell into Russian hands, Bryce Wilson remembers it as something akin to a scene from an apocalyptic movie.
A haphazard convoy of all types of vehicles fled the city on a passable route. Waste collection trucks carrying soldiers, construction vehicles, civilian cars old and new, all abandoning a place once home to more than 100,000 people.
"It was like a scene from Mad Max and there were all sorts of vehicles thrown into the mix to evacuate people as quickly as possible" Mr Wilson explained to Prime Time.
For most present, it was a one-off scene never to be experienced again. But for Australian Bryce Wilson, it was the latest in a series of towns and cities he has witnessed first-hand being reduced to rubble as its citizens were forced to leave.
But while most are trying to get away from the horrors of war in eastern Ukraine, he's chasing it.
As a photojournalist, Wilson documents the devastation caused by the Russian military to civilian infrastructure, petrol stations and bombed homes. But most importantly, he captures lost lives.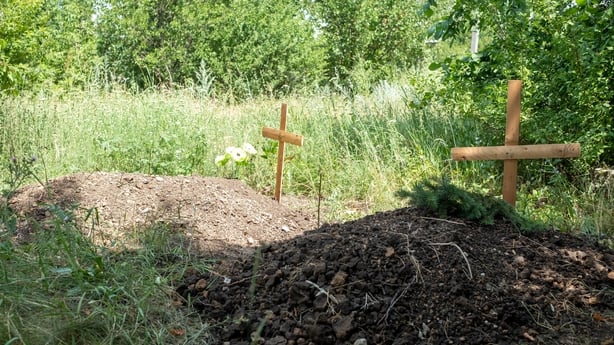 "Many places in eastern Ukraine have largely been abandoned. I was working in a small town called Siversk. I took photographs of graves that others had dug when they buried neighbours in front of their apartment."
Yesterday in Siversk, Mr Wilson reported that many people are now living in shelters or basements because of the intense shelling around the town, and the level of destruction caused to buildings. In recent days, he has been trying to deliver water, bread and basic needs to locals who have had no clean water for weeks.
Providing humanitarian aid has nearly cost him his life. On one trip to the town alongside French correspondent, Guillaume Ptak, the pair had tried to help evacuate some locals in their car, but later got caught in the middle of a two-way artillery firing range between Ukrainian and Russian forces.
"Driving around Ukraine at the moment is certainly dangerous in some places. When we were leaving Siversk there were Grads (a type of rocket) and artillery coming in around us as we were driving out of the town."
But driving in dangerous areas is a necessary hazard when you are a war photojournalist. To get to the frontlines of the Donbas region safely in a car requires local knowledge. Mr Wilson has been based in Ukraine for several years and knows the local terrain.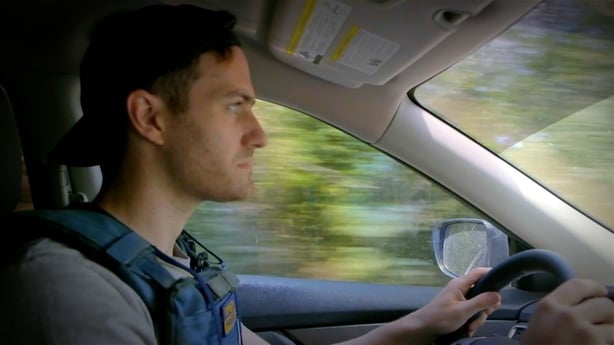 "There are certainly places in eastern Ukraine where it's incredibly dangerous to drive because the roads are exposed to artillery. There are a few safe passages into the east of the country like highways that are still open and accessible. But many roads closer to the frontline are incredibly dangerous and often at risk of being struck by mines as well."
A video he posted of himself and his colleague on Twitter driving out of Siversk amidst the chaos was later discovered to have been taken by a Russian telegram channel with 150K subscribers and re-branded with a watermark put on the footage, and false captions underneath used for Russian propaganda purposes.
Mr Wilson regularly livestreams on Instagram from various parts of Ukraine and updates followers with images and videos from the frontlines to keep them informed. But on occasion he has found his material misappropriated without his consent.
The level of filmed material emanating from Ukraine makes it hard to contain where a clip may ultimately end up. But equally it has allowed him to bring viewers closer to the frontline, particularly when a clip goes viral.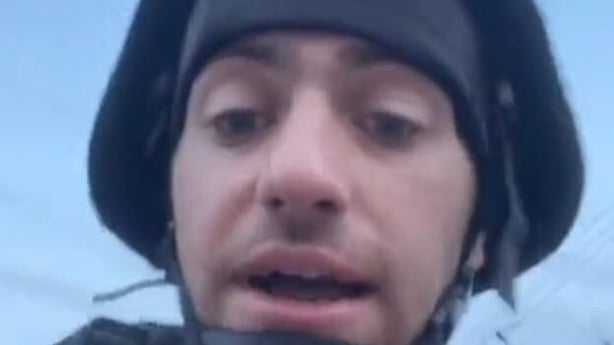 "I think this is the first truly internet-broadcasted conflict in human history. The level of media and access is unprecedented. The fact that throughout Ukraine there's still active mobile networks with 4G and 5G signal.
"People have been streaming gunfights. On the first day of the invasion I was live streaming on Instagram and a Russian Kalibr cruise missile flew over my head. Scenes like that have been recorded because of the internet and smartphones."
Despite the war with Russia now well into its seventh month, Mr Wilson believes morale is still high among members of the Ukraine armed forces. He has many Ukrainian friends deployed across the country. He believes the more atrocities Russia commits by bombing civilian infrastructure, the greater the desire by Ukrainians to liberate territories occupied by Russia.
They are in it for the long haul.
"I don't believe the fighting is going to end in a month or in three months. Certainly, Ukraine is preparing for the war to continue through the winter. Many people are adjusting to the idea that this war could continue for a very long time."