Across Amsterdam, a new model for living has taken hold. It will potentially change the way locals shop, eat, travel and build.
Known as the "circular economy", it prioritises reusing raw and other materials over and over again in a variety of sectors across the Dutch capital.
Take housing, for example. Since 2022, all new urban developments must prioritise sustainable products.
A floating neighborhood in the north of the city is a testament to its vision.
Schoonschip, the neighbourhood, consists of 46 homes, many laced with solar panels. A series of jetties run between the houses, allowing the 144 residents to socialize.
The walkways also connect the houses to the quay. With each home stationed on water, the homes are essentially embracing the potential threat of rising sea-levels.
"It's been developed in really close collaboration with the community that wanted to live there," said Gerard Roemers, an executive at Metabolic, a venture hoping to accelerate the transition to more a more sustainable world.
Mr Roemers, who helped create Schoonschip, said the neighbourhood was designed to be like nowhere else in Europe.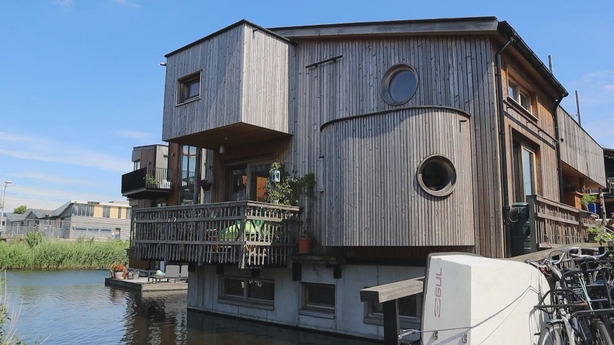 "They had the aspiration to create the most sustainable neighbourhood at the time," he said, noting that the houses capture rainwater and generate as much solar energy as possible.
A key component of the floating village is that it feeds into the wider circular economy.
"We've paid close attention to the materials we use, working with wood, circular materials – both reused and recycling."
It's one of many new developments in Amsterdam that takes advantage of circular principles.
Another, in the east of the city, is Strandeiland, or Beach Island, as it's commonly known, which aims to build some 8,000 homes on land reclaimed from the water using imported sand.
Crucially, developers here provide a "materials passport".
Mr Roemers told Prime Time that such a passport details what materials were used in the construction of a property.
"You can also see how it's been connected to other building materials and elements and how you could possibly deconstruct it again," he said.
This idea – of reusing materials for building – feeds into the wider circular economy, where the basic rule is to avoid waste and do more with less.
So, instead of using products once and disposing of them, in a circular economy materials return to the "circle" to be repurposed.
"The whole point of the circle economy is to create a loop," said Andrea Orsag from Mission C, which helps companies across Amsterdam adopt circular economy ideas.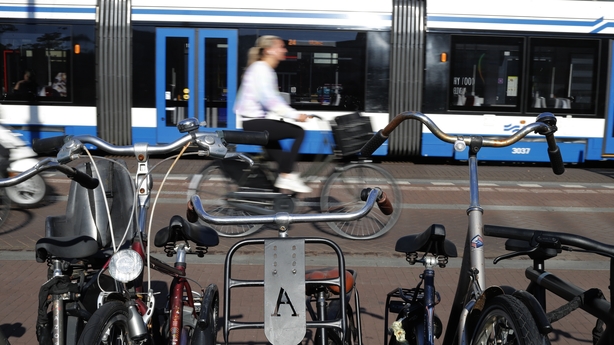 "These days we're throwing away a lot of resources in the products we consider at the end of their life that can still have a lot of value in them."
As part of Amsterdam's circular economy strategy, the city has committed to reducing food waste by 50% by 2030. It will also reduce the use of raw materials by 50% by then, too.
Fashion brands across the city have adopted the new circular model by signing up to the Denim Deal. Signatories of the deal have committed to producing at least three million pairs of jeans with a minimum of 20% post-consumer recycled (PCR) content.
The House of Denim foundation in Amsterdam has initiated the deal. It's a denim innovation campus where students, consumers and industry figures meet and learn about craftmanship and sustainability. There's also an emphasis on repairing jeans using recycled materials.
"We work here with fabrics from the most sustainable mills and weavers in the world. The fabrics we have here are 20% PCR denim and we don't throw away anything," the foundation's co-founder, Mariette Hoitink, told Prime Time.
She's also concerned about the mass production of cheap clothing in society, and would prefer an emphasis on people buying a smaller number of quality clothing items that are repaired locally and re-used over a longer period.
"If we are talking about fast fashion, then I always compare it to fast food. You can have super cheap food, but then, after you eat it, it doesn't feel nice," she said.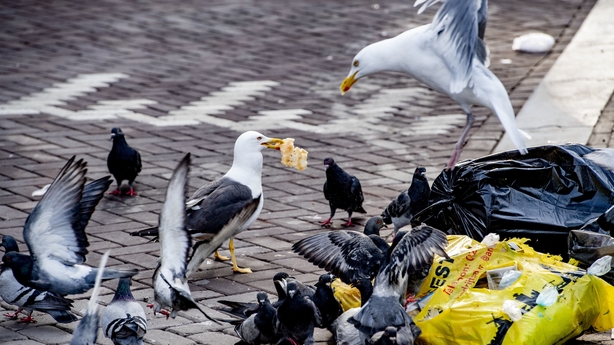 "Yes, you have super cheap jeans, but it's not the same quality. A lot of brands here in Amsterdam are completely transparent about their production process."
Amsterdam's aim is to be 100% circular by 2050.
For this aim to be reached – for waste to be reduced to an absolute minimum and for the city's resources to be in constant rotation – Amsterdam will need buy in from the public.
Local vlogger and cycling enthusiast Tycho Sanne Kroner believes it has helped from the outset that the Dutch already have such a positive attitude to the environment.
"If you want to park your car in the city centre, it costs €7.50 per hour and because it is so expensive, hardly anyone is parking their car in the centre. People take public transport or the bike," he said.
Cycling lanes are getting wider and wider in the city, he said, noting that everything was designed to make the city "more bike friendly and less car friendly".
But, for the circular economy to become a phenomenon in all facets of city life, Mr Sanne Kroner believes it requires a fundamental shift in attitude.
"Everywhere here in Amsterdam people just get this mindset," he said.
"It is not extraordinary to think about making the planet a better place."