The consequences of Russia's war in Ukraine are difficult to predict. While much has been made of how President Vladimir Putin's invasion has united the West, it has also disrupted the global order and fractured long-standing economic ties.
On the one hand, that could complicate international cooperation on climate change, which has always been described as a global fight.
On the other, the spike in energy prices has escalated the case for ending fossils fuel imports and a faster shift to renewable energy.
Europe, for instance, relies on Russia for about one-third of its oil – and around 40% of its natural gas.
The Department of Environment, Climate and Communications told Prime Time that the crisis in Ukraine, combined with the recent report from the Intergovernmental Panel for Climate Change, was now galvanising action under the Climate Action Plan 2021.
The plan, which the Department described as "ambitious" and "transformative", aims to reduce greenhouse gas emissions by 51% by 2030 – and to net-zero by 2050.
"The Ukraine crisis could be a catalyst for the kind of disruptive change deemed necessary" by the report, which was produced by a group of experts convened by the United Nations, said Dr David Styles, Associate Professor in Agri-sustainability at NUI Galway.
Energy
In May, the European Commission is due to publish a proposal to phase out the use of Russian fossil fuels in the European Union by 2027.
In a joint statement with US climate envoy John Kerry, Frans Timmermans, the EU's climate commissioner, said last week that the war had "strengthened the imperative of staying on track and accelerating the clean energy transition".
Under the Climate Action Plan, 80% of Ireland's electricity should be generated from wind and solar energy by the end of the decade – up from the current level of 43%.
In recent weeks, the Oireachtas Committee on Environment and Climate Action has been trying to determine whether that is actually achievable.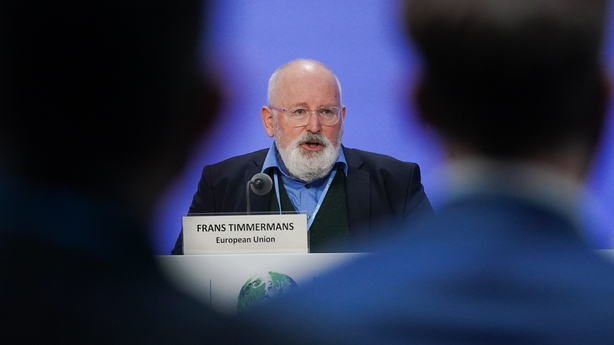 What has emerged is that wind and solar energy firms believe the target is in jeopardy unless several key Government agencies – such as An Bord Pleanála, Eirgrid, and the Commission for Regulation of Utilities – are better resourced.
It's also clear that, in some respects, our targets aren't ambitious enough.
Pat Keating, the CEO of the Shannon Foynes Port Company, said analysis by his company concluded that Ireland's Atlantic seaboard could produce 80GW of offshore wind energy per year.
The Climate Action Plan has a target of just 5GW of offshore wind energy per year, and, even in the long term, the Programme for Government references the potential for just 30GW of offshore wind energy.
Agriculture
Cutting our Agriculture emissions – our largest emitting sector – by up to 30% under the Climate Action Plan is widely considered to be one of our biggest challenges.
Tom O'Dwyer, from Teagasc, a state agency that researches the agri-food sector, told Prime Time that recent events had not impacted on the sector's climate action strategy.
He said, however, that less than half of the target will be met using existing strategies, such as a reduction in fertliser use and the early slaughter of animals. The rest will come from technical solutions "still under development".
However, Dr John Garvey, a lecturer in risk management at the University of Limerick, said that recent events should be a "wake up" call. Our existing strategy, which is hugely reliant on the export of dairy products, is neither good for our climate goals nor for food security, he said.
"All the data is pointing to extreme disruption to Ireland's agri-food system in the coming years. Our existing strategy is not fit for purpose, as it is focused on generating economic value from food exports," he said.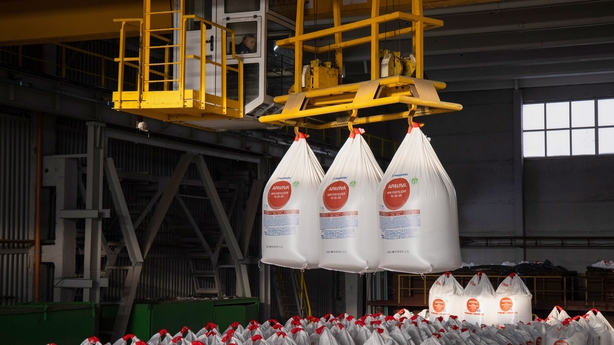 "Research activity needs to focus on building the technical skills to grow crops and provide the training for farmers to improve crop productivity for the national population, not for animal fodder," Dr Garvey noted.
To improve the country's food security, he said, the Government must provide farmers with "volume/price guarantees for several important crops". The Government should also emphasise supply chain efficiencies, he said.
But recent initiatives by the Department of Agriculture, launched in response to concerns about fodder and fertiliser shortages – which are traditionally imported from Ukraine and Russia – are likely to assist the sector in reaching its climate goals, Dr Styles said.
A €10m tillage incentive scheme and a plan to encourage the use of red clover swards instead of synthetic fertiliser will help cut emissions, he said.
"Reduced fertiliser use reduces emissions of nitrous oxide. For every 100kg of nitrogen saved, almost 1 tonne of CO2-equivalent emissions are avoided."
Transport
Under the Climate Action Plan, Ireland is hoping to cut our transport emissions by up to 50% by 2030.
The plan hopes that more people will walk, cycle, use electric cars, or ditch cars altogether in favour of public transport.
Recent fuel spikes have shown us that higher costs are one of the most effective ways of reducing the number of car journeys, said Professor Brian Caulfield, who researches transport emissions at Trinity College Dublin.
"I suppose you could say that increasing fuel costs, AKA "the stick", has been shown to work," he said.
He notes that, before the Ukraine crisis, the National Transport Agency reported in February that traffic levels had returned to pre-Covid levels.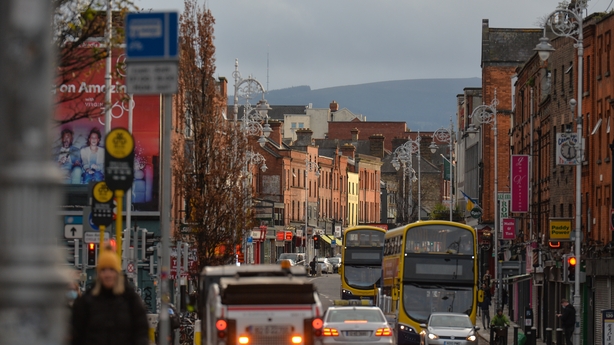 But, in March, when fuel prices shot up, car journeys dropped. Between 13 March and 20 March, there were 800,000 fewer car journeys, Prof Caulfield said.
"This is the type of decrease in driving that is stated must happen in the Climate Action Plan," he said.
Recent pandemic-related supply chain issues have also complicated the target to put 845,000 electric vehicles on our roads, Prof Caulfield noted.
Complications in car manufacturing and a shortage of lithium for batteries are both to blame, he said.
As a result, electric vehicles are unlikely to reach price parity with their petrol and diesel counterparts before the end of the decade, something that would be a "game changer" for their uptake.
Global context
While the shock to food and energy prices and the recent report may galvanise climate action both here and abroad, there's concern that the emergence of a changed global order and a new "Cold War" may have a counter-balancing negative effect.
"There is no doubt that a cooperative, benign international order would be better for global climate action," said Dr Diarmuid Torney, who researches climate change politics at Dublin City University.
The Intergovernmental Panel for Climate Change highlights that "international cooperation is a critical enabler for achieving ambitious climate change mitigation goals", said Marie Donnelly, the chairperson of the Climate Change Advisory Council.
And while this is true, Dr Torney said there is still hope for positive action despite the changed global order.
"Many countries around the world, including big emitters like China," he said, "are moving away from fossil fuels – albeit not fast enough – because it makes sense domestically, not because the global community tells them to do so."
This is the first in a series of articles from Prime Time focusing on Ireland's Climate Action Plan and how the country can achieve its climate goals. Watch Prime Time's special programme on climate change on Thursday at 9:35pm on RTÉ One and RTÉ Player.