Amid a record surge in Covid-19 cases, they should not be a rare commodity. But it felt like a big achievement to spot a pile of antigen tests in an unassuming basket near a cash register in SuperValu in Dún Laoghaire, Co Dublin, on Wednesday.
At eight other retail outlets in the coastal town – Lidl, Aldi, Tesco, Boots, three different pharmacies and a shop – there was not a single antigen test to be found.
The tests in SuperValu were retailing for €5, and there was no limit on how many could be purchased.
Dún Laoghaire is not an anomaly. Across the country, retailers, one of which is selling tests for €9, say they're doing their best, but supply is tight and intermittent.
On Thursday, in Thurles, Co Tipperary, a truck pulled into the car park of a quiet business park on the outskirts of the town.
Its payload of antigen tests was carefully transported into a small warehouse where it was scanned, logged and then almost immediately dispatched on to companies and pharmacies around the country.
CoviSal, which owns the warehouse, told Prime Time that it spotted a gap in the market 18 months ago to import antigen tests. Now business is booming.
"We sold 100,000 tests just yesterday," director Arthur Griffin said.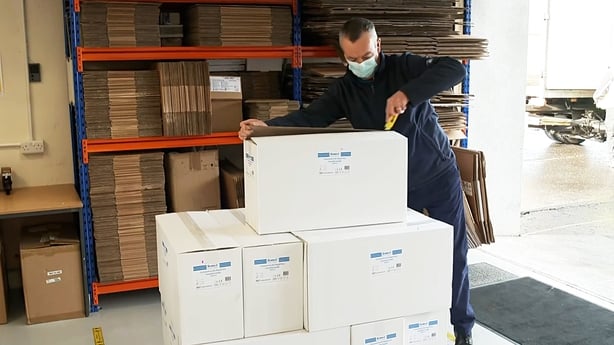 Over the next three days, the company will take delivery of a further 100,000 Romed antigen tests. They had been transporting the stock over land and sea from Holland – but, since demand exploded, the consignments are being flown into Shannon Airport.
"We're just increasing our ordering constantly. We are lucky enough that we do have a supply because we've been at this for so long," he said.
"It's a proven product. We haven't had any product recall issues."
Mr Griffin said demand is being driven by "real practical issues".
And, amid a national shortage, he told Prime Time that his customers, such as a short-staffed nursing home, are greeting his deliveries with immense relief.
"The director of nursing had been working since 4am. She nearly hugged me because the tests meant she would have staff," he said.
CoviSal supplies an education institute that is planning to ask its student to take antigen tests before sitting forthcoming exams.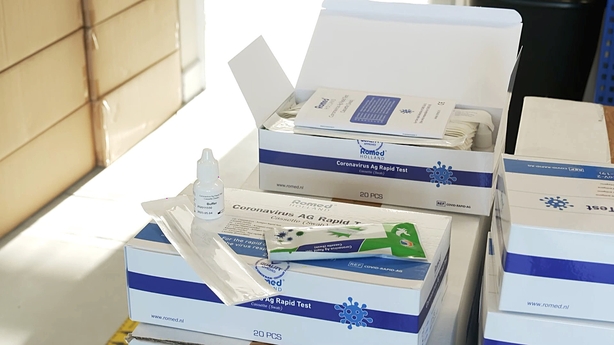 "They can't put off the exams because they don't have tests – it would be impractical," he said.
The HSE, which supplies free antigen tests in a number of circumstances, said current demand is for over 400,000 test kits, which include five tests, a week. It said it has a stock of 1.16 million kits on hand, with orders of a further 3 million kits scheduled for delivery in January and February.
The HSE described its supply chain as "highly reputable and well established".
While Arthur Griffin also has supplies for the next few weeks, he cautions that further ahead there are "real concerns" about the ability to meet future demand.
"There is a genuine concern because people are beginning to understand the need for antigen tests and how they should use them. Then it becomes stressful if they are not available," he said.
So can anything be done to improve supplies or the price?
In November, Minister for Health Stephen Donnelly acknowledged the €8 that retailers had been charging for antigen tests was unaffordable. But he said that the market had reduced the price and that Government subsidies were not required.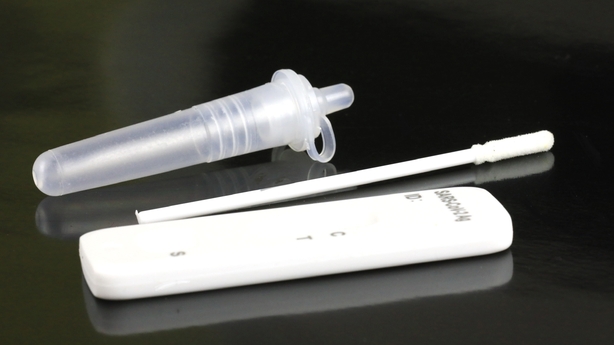 Despite the €9 price tag on some antigen tests, Government sources told Prime Time that subsidies are not being reconsidered, primarily because it is not believed that they will solve the current price issues.
But there is another potential lever: a price cap on antigen tests.
Under the Consumer Protection Act, a temporary price ceiling could be introduced if the Government was of the opinion that abnormal circumstances prevail in relation to the supply of tests.
It's not without precedent. In France last year, the government there legislated to introduce a price cap of 95 cent per face mask.
However, a Government spokesperson said a similar move was not on the cards here, noting that it could have an adverse affect on supply.
"The Government will continue to engage with retailers to ensure adequate supply of antigen tests at an affordable price," the spokesperson said.
Mr Griffin said prices are cheaper than they were six months ago, but cautioned that he could see a scenario where prices rise again.
"Market forces," he said, "will determine pricing."