"Would you mind moving outside the gate, please?"
The three high-vis wearing individuals were polite, but insistent. Mullen Park housing estate in Maynooth, Co Kildare, is still private property and we, unknowingly, had strayed from a public path onto the private development.
The gates of the estate were locked behind us, and the irony of the situation wasn't lost on the person we were there to interview, 32 year-old Peter Melrose.
"I'm standing outside here locked out of this estate. It's a nice metaphor. Very fitting," he said.
The teacher and his fiancé had hoped that one of the houses under construction in Mullen Park would one day be their "forever home".
"We looked at the photos and the videos and we thought that this could be the one for us."
The couple missed out on the first phase of the development but were registered as interested in future phases of the 170-home estate.
But last week a bombshell arrived by email. The rest of the development was no longer for sale to private buyers. Round Hill, a multinational investment company, is in discussions to buy 115 homes.
"It was such a kick in the teeth to get that email," Peter told Prime Time.
"I immediately replied expressing my disgust that this is being allowed to happen - that a foreign investment company could come in and take homes off potential first-time buyers."
Peter said that he and his fiancé cannot compete with investment companies like Round Hill.
"It feels like every step we try to take the ladder just keeps getting pushed away from us," he said.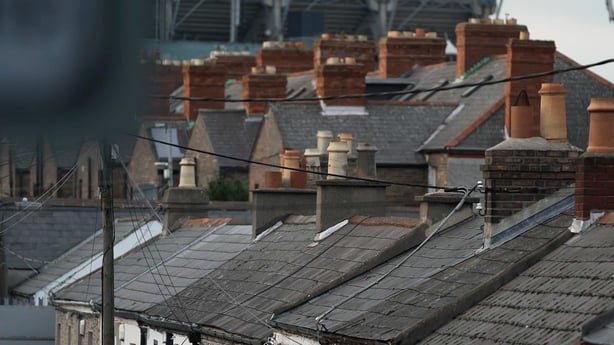 Peter is furious, and he isn't the only one.
Local TD Catherine Murphy told Prime Time that her constituents are "absolutely enraged."
She said there is significant demand in the local area from first-time buyers who can't compete with institutional investors.
"We have to take the financial advantage away that has been given to the international investment funds. That has to happen. And it could happen very quickly if there was a political will to do it."
The deal to sell homes in Mullen Park to Round Hill is not complete, and there will still be 25 homes for social housing on the estate, according to a person with knowledge of the matter.
If the company does buy the Maynooth homes, they will be added to a growing property portfolio.
---
Watch on RTÉ Player:
RTÉ Investigates: Land of Hope and Homeless
---
Just last week, Round Hill bought 112 homes that are under construction in Hollystown, west Dublin. Like Mullen Park, the first phase of the Bay Meadows development was sold to individual private buyers.
Round Hill told Prime Time it was "committed to investing in Ireland to increase the supply of quality homes available to rent, working alongside local developers and agents."
Deputy Murphy said that, aside from renting homes to private tenants, investment companies are now also potentially leasing properties in bulk to local authorities for social housing.
Instead of acquiring the homes, local authorities end up paying rent to these companies for decades.
That is "very, very poor value for money", Deputy Murphy said, since the State is left with no assets at the end.
After being locked out of the housing estate, the Prime Time crew was later permitted into Mullen Park to interview Damien Dillon, an agent with Dillon Marshall Property Consultants, which is working with the developer.
"Institutional landlords are being painted as big vulture funds that are coming in, but they're trying to help the housing crisis," he said.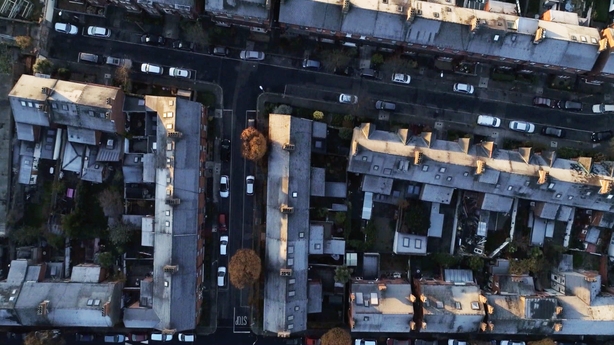 Mr Dillon said that developers struggle to get finance to complete developments and institutional investors can be a pragmatic option.
"You have two mainstream banks here. They will only allow you to build if you have an end-user lined up, especially for an apartment building," he explained.
He argues that institutional investment funds have replaced the smaller, domestic landlords.
"Traditionally, at any scheme, you always had about 25% of domestic, private landlords supporting the new development. They're now exiting the market in droves," he said.
"If the funds weren't here, the housing crisis in Ireland would be in a lot worse situation than it is in today."
He said that a mix of privately owned, rented and social housing is what's desirable in new housing estates.
"It's really finding a balance within a development," he said.
"We have to start adapting to the times we are in. Not everybody wants to own a home," he added.
But for would-be buyers like Peter Melrose, what's happened at Mullen Park is a worrying development.
"We're used to disappointments at this stage like being outbid and not having the supply and the locations that we want.
Calling for changes to Government policy, Peter said investment funds, which own roughly five per cent of housing units, were not a "small portion" of the market.
"They are availing of these corporate tax incentives and tax breaks. And they are doing it for profits.
"This just feels so insidious and to the detriment of people who are working hard and want to own a home."