It's less than 200km east of Dublin and yet, in terms of restrictions, feels a world removed. With a population of around 85,000 people, the Isle of Man has managed to suppress Covid-19 almost entirely.
With only 25 active cases on the island on Tuesday, the local government continues to allow its citizens freedoms most nations would envy.
As Ireland faces Level 5 restrictions until at least 5 April, pubs, restaurants and shops on the Isle of Man reopened at the beginning of February following a January "circuit breaker" style lockdown. They have been operating at full capacity since.
"Since we reopened, it has pretty much been a boom. People are really bursting to get out into the community," Ray Carty, who manages two bars on the island, including O'Donnell's in Douglas, told Prime Time.
"Every Wednesday, we have a traditional session and it's great for the performers – because they're not able to do it when the bars are closed, obviously."
Strand Street, the main thoroughfare in Douglas, the capital of the Isle of Man, is busy with shoppers again, and mask wearing is not mandatory. Carty credits the local government for acting decisively in response to outbreaks.
"Whenever we shut down, we know there will be light at the end of the tunnel. We're given three weeks for a circuit breaker, which may go to four weeks," he said.
"But we know at the end of the day, when the figures go down the government will relax restrictions."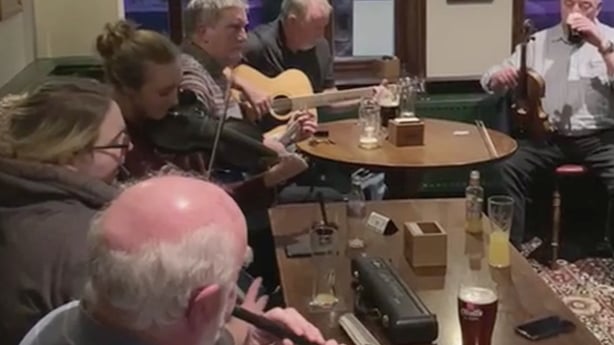 It's a different story for Sadb Nic Fhionnbhairr in Munich, Germany who has found that restrictions there are similar to those imposed in Ireland.
Bars and nightclubs are shut. Cafes offer takeaway service only. But it differs from Ireland, in that, rather than a unified national approach, there are some regional variations.
"In Germany you have different regulations depending on where you are living and how high the incidence of corona is in your area. In Bavaria, it has been quite strict all the way through since the beginning," Sadb told Prime Time.
As she walked around the centre of Munich on a Saturday afternoon, areas once packed with tourists and reserved for beer gardens were filled with empty chairs, stacked together in rows.
"This area would normally be really busy no matter what time of year. Everyone would be sitting outside having beer, sausages and pretzels, but today everything is closed," she said.
"There's no life around here, there's a few people walking around but not much else is allowed."
In mid-February, Germany closed its borders with Austria and the Czech Republic in a bid to stifle the impact of new variants. Over 1,000 police officers have been mobilised to ensure strict border checks, recalling the early days of the pandemic when EU countries closed their frontiers to each other.
---
---
The number of virus cases in Germany has risen in recent days, just as schools have reopened in 10 out of 16 federal states. Sadb said that the concerning rise in cases has put more pressure on the schools to vaccinate.
While large swathes of Spain maintain strict lockdowns, Madrid has defied the rest of the country and loosened restrictions, in part by opening non-essential retail stores.
Joey Tinley from Maynooth lives close to Gran Via in the city centre and has seen footfall on the streets rise in recent weeks, with a 10pm curfew for bars recently having been pushed out to 11pm.
"All of the restaurants are open. I've been to museums, I've been to galleries. Madrid has been very much at odds with what Spain as a whole wants to do. Some places like Valencia and Barcelona they have a lot stricter restrictions there," he told Prime Time.
He has also noticed an upsurge in tourists visiting the region, particularly from France, where cultural venues are still largely shut and the urge for some Covid respite in Madrid has proven too alluring to resist. The main requirement is that masks must be worn in all public spaces, indoor and outdoor.
While other parts of Spain have been critical of the Madrid approach, locals see the tourist economy as vital to the sustainability of the region. Joey believes that Madrid is determined not to let its financial woes get any worse.
"The numbers are still quite bad and so the easing of restrictions might be seen as a little bit premature perhaps," he said.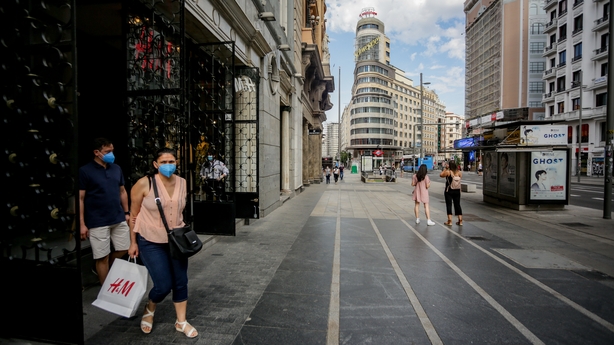 "But it is known that Madrid is the financial powerhouse, the core of the economy, and because of that, there's been a big drive to keep it as open as possible."
Sweden took a controversial approach to Covid-19 back in 2020 when it avoided a nationwide lockdown at a time when the rest of Europe was closing down in the grip of the first wave.
Some 12,713 people have now died in Sweden against a population of 10 million, or around 124 deaths per 100,000 people.
Neighbouring Nordic countries like Denmark, Norway and Finland have had significantly fewer numbers of deaths.
In Ireland, 4,181 people have now died against a population of around 4.9 million, or around 85 deaths per 100,000 people.
Patrick Reilly, originally from Drogheda, is now based in Malmo, in southern Sweden. On Monday afternoon he took a trip through Malmo's pedestrianised shopping streets, where he filmed cafes, bars and restaurants open, along with non-essential retail outlets.
"The Swedish approach has always been that this is more sustainable in the long-term," he told Prime Time.
"Whereas locking things up and down leads to this pandemic fatigue – and then people will rebel against it."
But he has seen legislation slowly start to shift, with gatherings of up to 50 people now reduced to 8 and the sale of alcohol in restaurant and bars now prohibited after 8pm.
On Tuesday, Sweden's Chief Epidemiologist, Anders Tegnell, said that the country was preparing new measures to curb the surge in Covid-19 cases in recent weeks.
However, in other areas of life, the state still puts the onus on the citizen to adhere to guidelines, rather than enforcing them with fines or penalties.
"Mask wearing is only a recommendation. It's not mandatory. For example, on public transport, you're encouraged to wear masks at peak times in the morning and in the afternoon," he said.
"But again, there's no fines if you don't."