People who want to use a bicycle to get around Dublin during Pope Francis's visit will be allowed to cycle in and through the area around Dublin city centre and the Phoenix Park which is to be cordoned off with no access for private cars.
However, cyclists will face some restrictions. Gardaí say where there is a risk to pedestrian/cyclist safety in any area, cyclists will be required to dismount.
The route the Pope will travel on Saturday afternoon in his popemobile from the Pro Cathedral on Marlborough Street and along Dame Street to the Capuchin Day Centre on Bow Street will be closed to all traffic.
On Sunday, cyclists will not be allowed to travel along the designated walking routes from transports hubs to the Phoenix Park.
They will not be allowed to cycle or to walk with their bikes because gardaí expect the volume of people walking along those routes would make that dangerous.
Also, bike parking along those routes will not be allowed for the same reason.
There are seven walking routes converging on the park and they are marked on the map of the closed zone.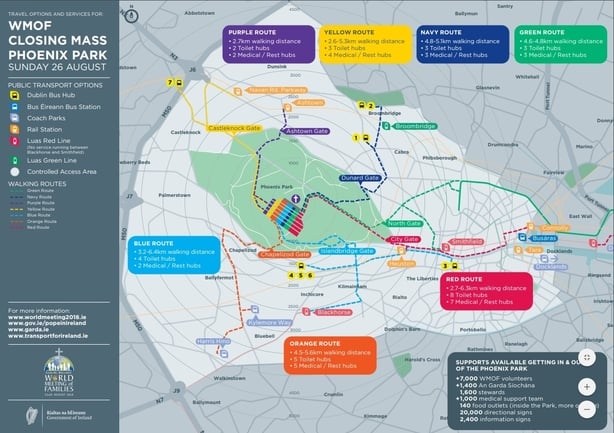 Cyclists will not be allowed to use bike stands on some streets in the city centre on Saturday and bikes left at those stands will be removed. Notices have been attached to these stands.
For those who want to use bike sharing schemes Dublin Bikes says around 30% of its stations will be closed over the weekend. It is taking this action at the request of gardaí.
The closures apply from midnight on Friday and run until 10pm on Sunday.
---
Read more:
How to get from A to B while Pope Francis is in town
Pope Francis in Ireland
---
Stations around Heuston Station and Phoenix Park and across the south city through James Street to Dame Street will be closed as will stations at Collins Barracks, Smithfield and Cathal Brugha Street.
A full list is available at the Dublin Bikes Website.
For people who want to use a bike to get to the Papal Mass in the Phoenix Park on Sunday, they will be allowed to cycle to designated areas outside the park but will not be allowed to cycle into the park.
Special event bicycle parking will be provided at the DIT Grangegorman Campus and at Scoil Bhríde (Cailíní), Blanchardstown, and also at the Amphitheatre at Dublin Civic Offices with a total capacity of over 2,000 bikes.
They will be free and will operate on what is being described as cloakroom basis.
Cyclists will be given a numbered wristband which will match a tag on their bicycle- they will have to present the wristband to retrieve their bike.
The DIT site is a 3.6km walk to the Papal Cross and Scoil Bhríde (Cailíní) is a 4.9km walk. Walking distance from Wood Quay to the Papal Cross is 4.2km.
Gardaí are also saying that some traffic restrictions will continue to apply around the Phoenix Park on Monday as the site is cleared, Chesterfield Avenue will be closed during this time.
Separately, the Air Corps has said that temporary restricted areas have been set up in relation to the operation of drones this weekend.
The restrictions will take effect around Dublin city and Knock on Saturday and Sunday.
The Air Corps says that drones are not allowed in the areas, and anyone who breaks the restrictions will have their drones confiscated and face prosecution.