Whether you are planning to see Pope Francis when he visits Ireland or whether you are intending to avoid the whole affair, there will be major traffic restrictions in Dublin and Mayo that are likely to affect a significant amount of people.
So here is what you need to know if you are planning to be out and about next weekend.
---
Saturday - Pope Francis arrives in Dublin
Pope Francis will arrive at Dublin Airport at 10.30am. From there he will travel to Áras an Uachtaráin to meet President Michael D Higgins.
There will be rolling traffic restrictions as the pope visits a number of locations during the day including Dublin Castle and the Capuchin Day Centre in the city centre.  
No formal permits will be issued for local residents and members of the workforce who will need to enter and exit the zones but gardaí will aim for minimum disruption in how they permit access, in the same way that they did during the centenary commemorations of the 1916 Easter Rising.
A full list of road closure times and locations, as well as parking restrictions, in Dublin city is available here.
On Saturday evening, 25 August, Pope Francis will attend the Festival of Families event in Croke Park stadium.
The event starts at 6.30pm and doors open at 4pm for the 70,000 people attending.
The two-hour festival, billed as a "celebration of family life", will include music and dance as well as a keynote address by Pope Francis.
---
Sunday morning - Knock pilgrims urged to arrive as early as 4am
On Sunday morning, the pope will travel to Knock where he will publicly recite the Angelus prayer at Knock's main Marian Shrine at 9.45am.
Pilgrims are being encouraged to travel by bus, private coach or in car pools.
Garda Superintendent Tom Calvey said pilgrims should be prepared for a standing-only event and possibly a significant walk if they go by car.
Organisers of the Knock visit have warned the 45,000 people with tickets that they face, at a minimum, a 3km walk both to and from the shrine if they travel by car.
This is the distance from the nearest designated car parks to the venue.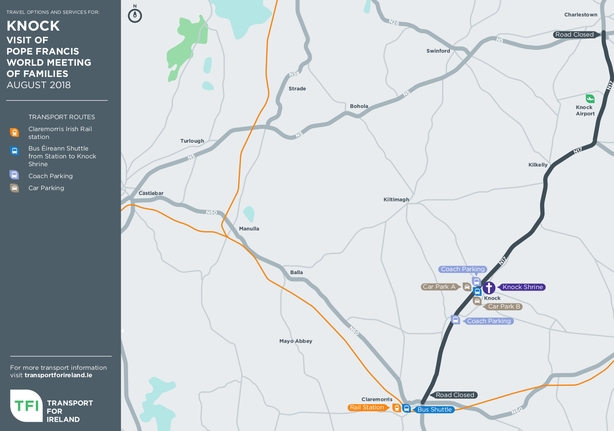 The shrine's Rector, Fr Richard Gibbons, said "the message is bus, bus, bus".
A shuttle bus service will be in operation from Claremorris Train Station to the shrine, which will be free for those with tickets for the event.
In order to cater for anticipated demand, Bus Éireann will operate additional services from Swinford to Claremorris and from Athlone to Westport.
Fr Gibbons said that only ticket-holders would be admitted to the shrine and they should arrive as early as 4am or 5am and between 7.30am and 8am at the latest.
He added that everyone with tickets to Knock will see the pope on the day but there will be no opportunity to see him at Ireland West Airport - his point of arrival in and departure from Co Mayo.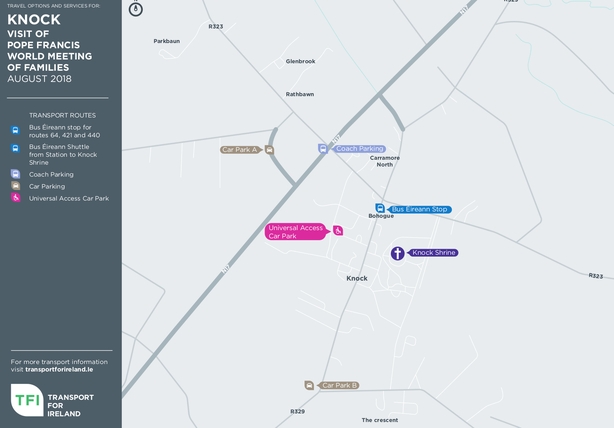 Brenda Drumm of the World Meeting of Families 2018 said tickets for the Knock event are being sent in the post this week and that only hard copies will be accepted at the shrine.
She said each one will show the area in the venue assigned to the ticket holder. 
There will be a number of road closures in Mayo for the visit, including the closure of a 30km stretch of the N17 from midnight on Saturday.
Full details of the road closures can be found here.
---
Sunday afternoon - 500,000 expected in Phoenix Park
On Sunday afternoon, Pope Francis will travel back to Dublin where he will hold mass in the Phoenix Park at 3pm.
More than 500,000 people are expected to attend the mass and they are being urged to use public transport.
Gardaí have advised people not to try to drive to the city centre venue, pointing out that a number of park-and-ride hubs are being set up to facilitate the crowds.
These are at the UCD campus in Belfield, Leopardstown Racecourse in south Dublin, Fairyhouse Racecourse in Co Meath and Maynooth University in Co Kildare.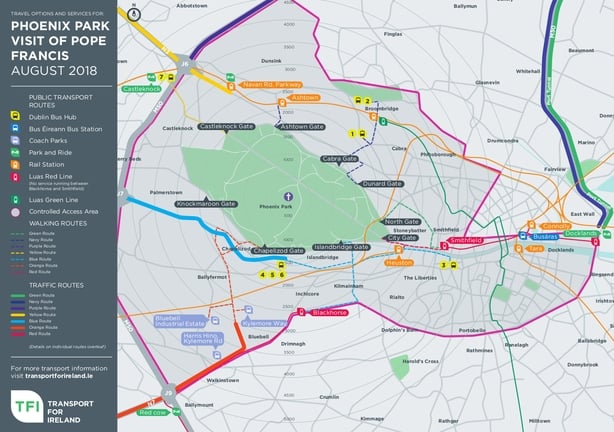 Public transport journeys in Dublin on Sunday will be free for people who have tickets for the Phoenix Park mass, to encourage people to avail of these options.
Taxis will not be allowed into the traffic exclusion zone (pictured above), according to the National Transport Authority.
More than six entrances to the Phoenix Park are being widened to cope with the large volume of pedestrian traffic at the mass.
People travelling to the mass will be allowed to cycle to bike parks, which will be set up beside the park, but they will have to walk from there into the park and to the mass.
It is expected there will be enough parking for around 2,500 bikes.
Garda Superintendent Thomas Murphy said: "It simply will not be possible to accommodate all the people who have indicated they want to travel by car to the mass.
"Therefore, we are urging people to go by train, bus, coach or Luas to this event. While walking is inevitable, you will be minimising your walk to and from the event by taking public transport or private coaches."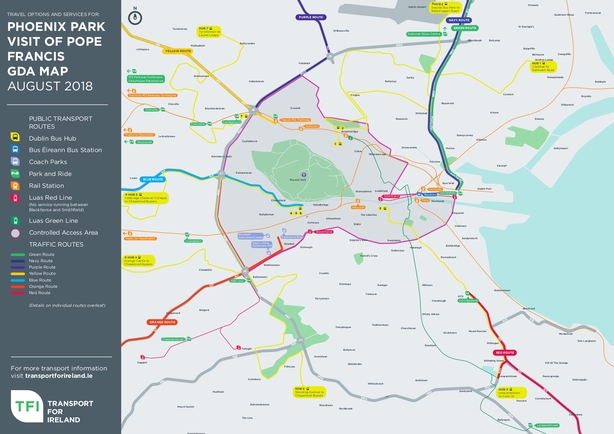 Bus Éireann will operate a normal weekday service nationwide to bring people to the capital, while Dublin Bus has created seven dedicated 'transport hubs' near the gates of the Phoenix Park.
Luas services will also operate on a six-ten minute frequency on the day and travel will be free for ticket-holders.
Iarnród Éireann said that advance booking of Intercity train travel is mandatory for the mass, as tickets will not be available for sale on the day. 
There will be a number of road closures and diversions in the city from 6am to 11pm on Sunday 26 August.
A full breakdown of the closures in Dublin city is available here.
Fingal County Council has further details of road closures around the Phoenix Park, available here.
Pilgrims are advised to allow plenty of time for their return journey home after the mass. Public transport will be operating at full capacity but delays are still likely considering the numbers of people on the roads.
---
Local residents and businesses
Even if you are not going to be out on the roads this weekend, there will be a knock-on effect for local residents and businesses who live or operate near the venues. 
A Business and Community Liaison team has been put in place by the Office of Public Works to assist with those affected.
A package of information is being sent in the post that will outline the potential road closures, traffic diversions as well as some advice on access during this weekend.
The OPW is operating a helpline from Monday 20 August - Monday 27 August from 9-5pm on 01-2228888.