The Catholic Archbishop of Washington DC, Cardinal Donald Wuerl, has pulled out of next week's three-day World Meeting of Families where he was due to deliver Wednesday's keynote address.
A spokesperson for the World Meeting said that the Cardinal, who is at the centre of a number of controversies about his role in church cover-ups of clerical child sexual abuse, would not be travelling to the three-yearly event.
She referred all further queries about the matter to his Archdiocesan office in the US capital.
Cardinal Wuerl was to be the principal speaker at the main arena of the RDS on Wednesday afternoon and he was slated to address the theme "The Welfare of the Family is Decisive for the Future of the World."
Cardinal Wuerl's withdrawal comes three days after the publication of a Grand Jury report detailing systemic cover-ups of rapes and other sexual crimes perpetrated in six Pennsylvania dioceses by 301 clerics on at least 1,000 children over the past 70 years.

Between 1988 and 2006, Cardinal Wuerl had charge of Pittsburgh, one of the dioceses in the state prosecutor's spotlight.
The Grand Jury said he had approved transfers for known priest abusers rather than removing them from ministry; that he had overseen inadequate church investigations; and that he had concealed information when priests were reported to law enforcement authorities.
The report also says he advised parishes not to publicly announce or acknowledge complaints, and offered financial support to priests who were accused of child sexual abuse and later resigned.
The findings triggered a chorus of calls from survivors for Cardinal Wuerl to be dismissed.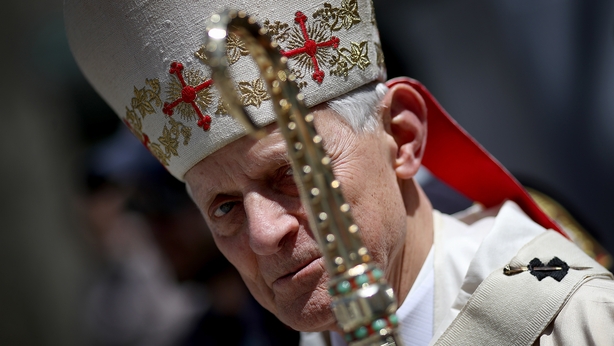 Yesterday week, in an open letter to Dublin's Archbishop Diarmuid Martin, the host of the WMOF18, Ending Clergy Abuse (ECA), a global organization of survivor leaders, activists and experts, had called on Wuerl and two other Cardinals to be dis-invited from next week's gathering in Dublin.
The other two Cardinals that ECA wants dis-invited are Dubliner Cardinal Kevin Farrell and Cardinal Maradiaga of Honduras, both of whom have rejected ECA's claims that they covered up for priest abusers.
Wednesday's Grand Jury report which took two years to compile, has also and emboldened complainants who complained that the Cardinal knew more than he was pretending about the sexual abuse of minors and young seminarians perpetrated by his predecessor in Washington DC, Cardinal Theodore McCarrick.
Earlier this month, McCarrick became the first cleric to resign from the elite College of Cardinals over what the New York diocese said were credible and substantiated charges that he had sexually bused an altar boy while serving as a priest in his native city.
Second Cancellation
The withdrawal reduces the number of Cardinals who will address the three-day pastoral congress from fifteen to thirteen.
It follows Wednesday's cancellation by the Cardinal Archbishop of Boston, Sean Patrick O'Malley whose diocese said he had to personally attend to the establishment of an investigation into allegations of sexual harassment and bullying at his diocese's main seminary, St John's.
Pope Francis' appointee as the inaugural Chair of the Pontifical Commission for the Protection of Minors, the Franciscan prelate was due to moderate an unprecedented televised discussion at the RDS on the protection of minors and vulnerable adults in the Catholic Church.
One of the panelists at next Friday's workshop is the Irish abuse survivor Marie Collins who resigned from the Pontifical Commission citing obstruction of its proposal, which had been approved by Pope Francis, to create a tribunal for trying bishops who cover up abuse.
Ms Collins accused the Vatican's most powerful department, the Congregation for the Doctrine of the Faith, of smothering the initiative.
Other members and former members of the Commission are scheduled to participate in the discussion but no substitute has yet been announced to take the moderator's chair.
Meanwhile, the Taoiseach, Leo Varadkar, has said he believes the Pope should meet victims of child clerical abuse during his visit to Ireland, and Church authorities should hand over any relevant files to investigators.
Speaking in Drogheda, Mr Varadkar said: "What we need is truth and justice and healing for the victims. And yes, that does involve making available any information that the State asks for."
Asked if would he raise clerical abuse with the Pope next Saturday, Mr Varadkar added: "I have no doubt he is going to want to address the issue of child sex abuse... I think we should listen to what he has to say."
However the Taoiseach declined to say if he would seek the Pope to apologise, saying: "I think out of courtesy and protocol I should have that meeting with him first. But you will certainly hear [afterwards] what I had to say."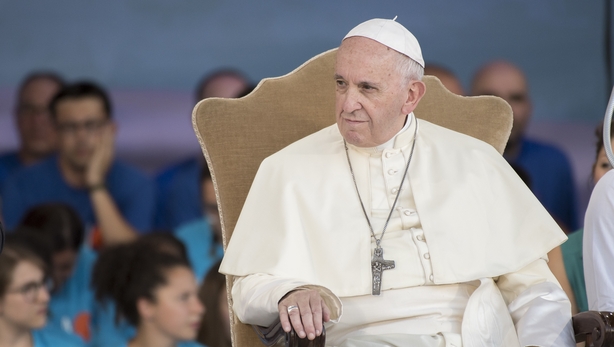 More than 140 Catholic theologians, educators and lay leaders in the United States have called for all their country's bishops to submit their resignations to Pope Francis as an public act of penance and a "willing abdication of earthly status".

In a posting on the Daily Theology blog, published before Cardinal Wurel's cancellation of his visit here, the group said tendering the resignations would be a public act of penance and a "willing abdication of earthly status".
They compared the proposed move to the decision by all Chile's 34 Catholic bishops to offer their resignations in May after revelations by a Vatican investigator of cover-ups of hundreds of cases of clerical child sexual abuse and corruption.
So far, five of those offers have been accepted by Pope Francis including that of Bishop Juan Barros who Pope Francis defended against allegations of cover-up last January, accusing the survivors who made the allegations of spreading calumnies about the bishop.
The Pope subsequently apologized personally in the Vatican to each of the survivor-advocates and said he had been misled by Chilean bishops.