What does it take to cater for more than half a million people?
Dublin's Phoenix Park is to host Europe's largest public gathering this year, and a major logistical operation is in place to cater for it.
Planning for the event began in November 2017, and building work in the Phoenix Park got under way on 23 July.
The clean-up operation afterwards is not expected to be complete until early September - truly an event of biblical proportions.
Gardaí have urged people to prepare for the same physical challenges they would face climbing Croagh Patrick.
Much like The Reek, the event is not seated, meaning that people may spend up to eight hours on their feet over the course of the day.
However, temporary seating is allowed into the event - which has naturally been noted by local entrepreneurs.
"[Papal] hats, [Vatican] flags and cardboard chairs," may well be the refrain on the streets around the Dublin park.
---
500,000 tickets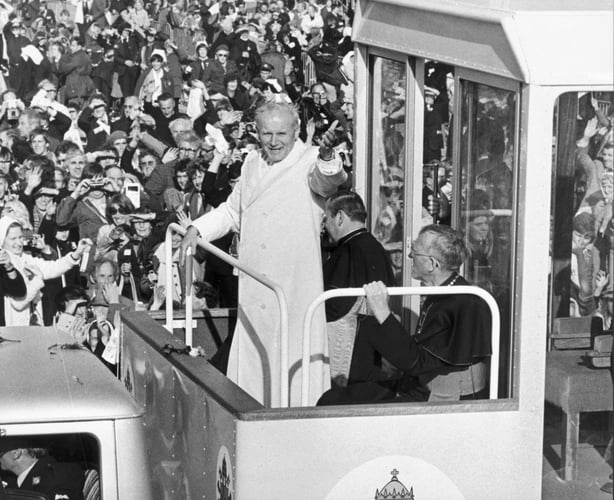 Pope Francis is in Ireland for two days for the conclusion of the World Meeting of Families (WMOF).
The pontiff will attend a Festival of Families event at Croke Park on Saturday 25 August, as well as a number of other engagements around Dublin.
On Sunday 26 August, he will travel to Knock Shrine in Co Mayo before returning to the capital for the main event - mass in the Phoenix Park.
According to the organisers, 500,000 tickets have been booked for the Phoenix Park event, where a choir of 3,000 people and more than 2,000 Eucharistic ministers will be involved in proceedings.
The event, which is being managed by promoters MCD, takes place in the same location as the famous mass by Pope John Paul II on his visit to Ireland in 1979.
That event is widely believed to have been the largest ever gathering of Irish people in one place.
MCD says it began working on the project late last year, with building work in the park getting under way earlier this summer.
The clean-up operation, which will spring into life as the final pilgrims leave the park, is scheduled to be finished by 7 September.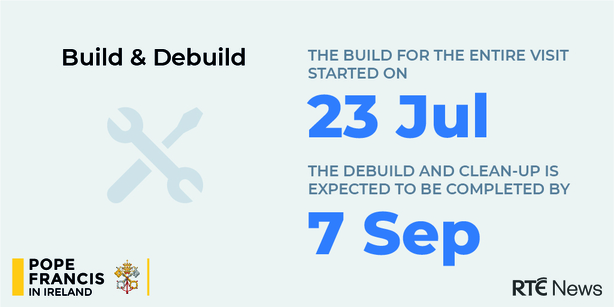 ---
Preparing the park
A new stage has been constructed around the Papal Cross - erected for the visit of Pope John Paul II - ahead of the event.
The stage was designed by Johnny Donnelly, a former member of the Saw Doctors who is involved in managing events such as the Galway Arts Festival.
He said the design was partly inspired by the Claddagh ring in order to reflect Pope Francis' image of the family as a vine encompassing all its members.
It is one of a number of changes made to the park ahead of the visit.

At least six of the entrances into the park have been widened to cope with the amount of people coming in and out of them.
Studies were completed to demonstrate the rate of flow of people entering and leaving the venue, according to Garda Assistant Commissioner Pat Leahy, adding he was confident the entrances would be adequate for the crowds.
More than 100km of fencing will be used over the two days of the visit, while 8,000 posts and 35km of rope will be erected to organise attendees into areas at the venues.
45 large screens will be used during the visit - laid out side-by-side these would cover three acres - while 35km of fibre cable will also be used.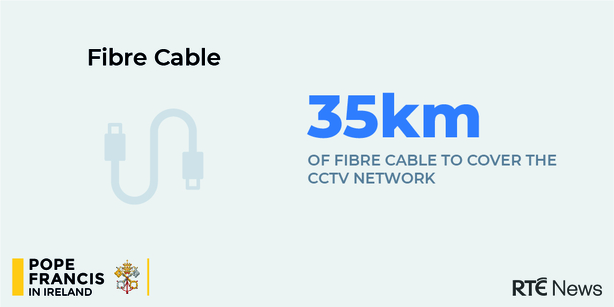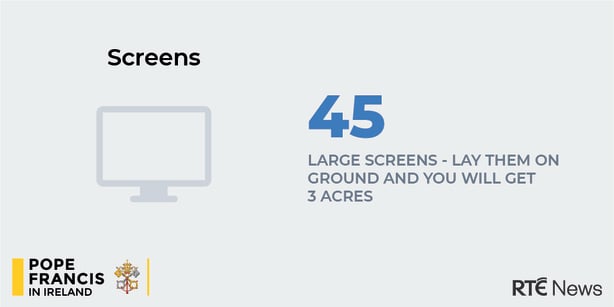 ---
Trains, buses, cars and bikes
A major traffic-management operation has also been planned by gardaí and the National Transport Authority.
Four park-and-ride facilities are being set up in an effort to alleviate some of the inevitable gridlock.
These are at Leopardstown Racecourse and UCD in south Dublin, Maynooth University in Co Kildare, and Fairyhouse Racecourse in Co Meath.
People will be transported from these four locations to the park by a fleet of 100 double-decker buses, which have been contracted from the Northern Ireland transport company Translink.
Public transport journeys in Dublin on Sunday 26 August will be free for people who have tickets for the mass, to encourage people to avail of these options.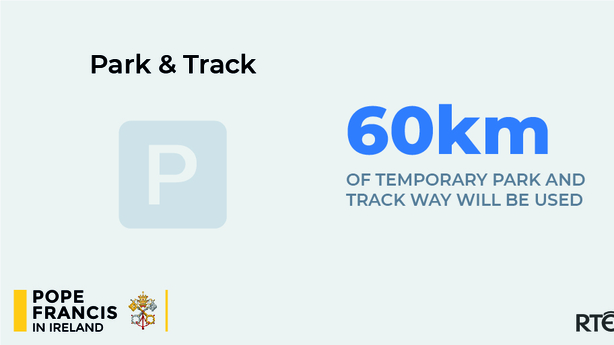 The NTA say this is to minimise the risk to passengers by preventing queues, or indeed crushes, as people attempt to board buses and trams.
Dublin Bus has created seven dedicated "papal transport hubs" near the gates of the Phoenix Park.
1,000 Dublin Buses will be in operation on the day of the event, 360 of which will be used to service the transport hubs.
From these hubs, attendees will have to walk 4-7km to and from the Papal Cross venue.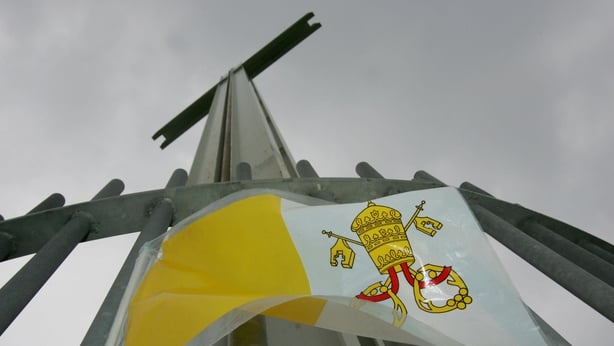 Bus Éireann is also operating a full daily service, with 350 bus drivers working on the day to bring people to the capital from across the island.
Iarnród Éireann has 250 train services scheduled for Sunday 26 August, stopping at 130 stations around the country.
On top of the public transport, more than 1,500 private coaches have been hired to transport pilgrims to the Phoenix Park. There are four dedicated coach parks to facilitate for these.
People who wish to cycle to the event can avail of cycle parks which will be available near the park and will have capacity for nearly 3,000 bikes.
An additional 160 double-decker buses and coaches will bring 12,000 staff into the park by 6am. This does not include the choirs and other people involved in the mass itself.
---
Plan ahead and take care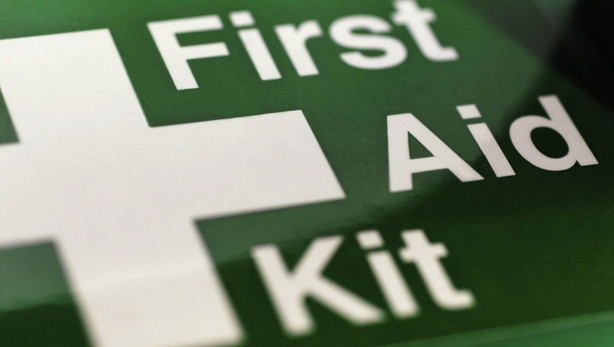 The event is not seated and people have been warned that they may spend up to eight hours on their feet, although temporary seating is allowed into the venue.
People have been urged to wear comfortable clothes and shoes, and, given it is Ireland, to prepare for all weather eventualities. A light jacket wouldn't go astray, and warm clothes.
More than 1,000 medical providers are set to be on duty in and around the park, from doctors to community first responders.
At least 26 first aid posts will be set up along the pedestrian routes into the venue and also within the park itself.
An on-site medical assessment centre, staffed by emergency department staff, will be provided to cater for the needs of pilgrims.
This centre will be in contact with the main Dublin hospitals and ambulances are being provided to transport people to hospital if needed.
---
Loaves and fishes
As well as first aid centres, there will be a number of other facilities located on the routes into the park.
150 food and drink outlets will be located in ten service areas outside of the mass location, staffed by around 800 people.
There will be more food and drink outlets at the transport hubs to allow people to fortify themselves for their onward journey.
The organisers say that if only half of the attendees have a cup of tea or coffee more than 31,000 litres of milk will be used.
On top of this, about 25,000 sliced pans are expected to be used for sandwiches. Details of the expected contents of said sandwiches have not yet been made available.
There will also be rest zones, toilets and baby-changing facilities on the routes to the park, and within its walls.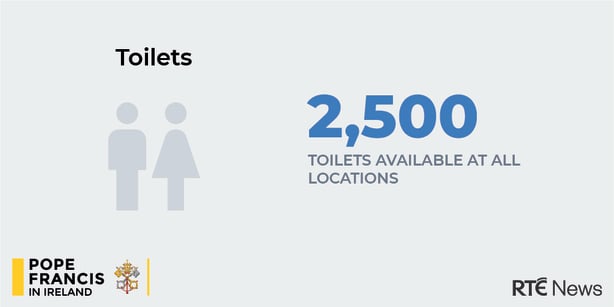 Outside of the park 600 stewards will line these routes, in addition to gardaí, while another 1,000 stewards will be on duty inside of the park.
7,000 WMOF volunteers will also be involved in helping to get people to and from the mass.
With so many people congregating in one place, organisers are keen to ensure there is as small an environmental impact as possible.
As a result, 150,000 green bags are to be provided to people as they arrive at the venue, while 800 bins will be used in the site. A number of waste lorries will be on site to empty the bins.