A piano installed at Pearse train station in Dublin will be out of service for at least a week after it was extensively damaged by "mindless" vandals.
The piano was installed at the station in Dublin city centre in 2017, with members of the public encouraged to play the instrument.
However, Iarnród Éireann spokesperson Jane Cregan said the main mechanism has been "pulled out" of the piano, which will need to be repaired.
It has been sent to tuning and repair expert John Murphy, who curates five train station pianos around the country, as well as the piano in Dublin Airport, for repairs.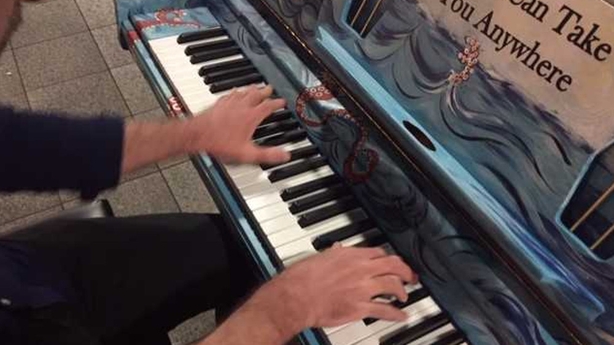 Ms Cregan said it would be out of commission for about a week.
She also said the company would be reviewing CCTV footage to see if it can identify those responsible for the damage.
---
Listen: Public piano lifts spirits of commuters at Dublin's Pearse Station
---
The #pearsepiano has to make a visit to the workshop. I'll have it back in action as soon as possible. #musiccantakeyouanywhere @IrishRail https://t.co/RXvdmvTMY8

— Murphy Piano Tuning (@irishpianotuner) November 28, 2019
The piano in Pearse Street is one of five such pianos in train stations around the country.
The others are located at Heuston and Connolly stations in Dublin, Plunkett Station in Waterford and Kent Station in Cork.
Speaking after it was installed at Pearse Street in 2017, Mr Murphy said the aim of the project was to encourage people who have played music in the past to return to the instrument.