Fine Gael TD Neale Richmond has said he is "honoured and humbled" to be appointed as Minister of State with responsibility for Employment Affairs and Retail Businesses.
He replaces Damien English who resigned yesterday after it was revealed that he had misled Meath County Council over a planning issue.
Mr Richmond is a TD for Dublin Rathdown.
Speaking to reporters today, Neale Richmond said he was aware his appointment was not in ideal circumstances, but he said "that's outside my control".
He said he looked forward to "hitting the ground running" in what was "a really important portfolio and a really important department".
"We have some of the highest employment figures in the state at the moment but we have to maintain that in a very difficult global environment. Secondly, a lot of the work I would have done on the Brexit beat was in terms of preparing businesses particularly retail for the implications of checks in terms of import/export. So those are things I really want to build on in this new role."
Minister Richmond responded to criticism from Aontú's Peadar Toibín, who said every TD in his constituency on the southside of Dublin is now a minister, while there are ten counties in the country with no minister at all.
The three-seat constituency of Dublin - Rathdown will now be home to Minister Richmond, Minister for Tourism Catherine Martin and Minister of State with responsibility for Special Education Josepha Madigan.
"A minister doesn't just serve a single constituency, they serve the entire state as a whole. I look at the portfolio I have been asked to cover by the Taoiseach, that's where my priority will be. It won't be for one individual county above another," he said.
He described the Damien English controversy which led to his resignation as a Junior Minister as a "very difficult episode".
"It throws a huge responsibility on all of us in government and in politics, but particularly in Fine Gael, to show to the people of Ireland that we are working to deliver for them in the key areas that we have promised."
"Those key areas are putting money back in people's pockets, to help them through this cost-of-living crisis, addressing the really very serious energy crisis, but key amongst all is delivering affordable housing across this country and really working towards making our health system improve."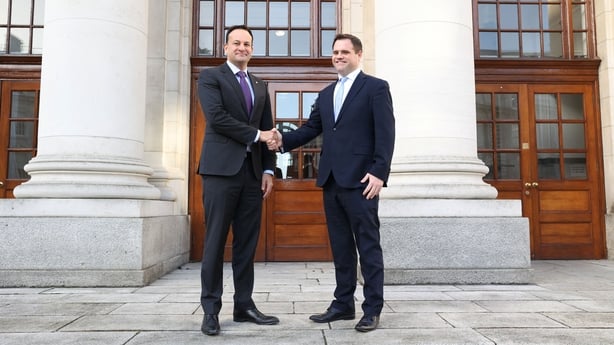 ---
Read more: FG stalwart Richmond in first junior minister role
---
Taoiseach Leo Varadkar said that Mr Richmond "is an exceptionally capable politician and parliamentarian", and while "a first-time TD" has "served a full term in the Seanad".
Mr Richmond "worked closely with Irish industry on preparing for Brexit and dealing with its impact on supply chains," Mr Varadkar added.
The Taoiseach said he has "asked Neale to work closely with ministers Simon Coveney and Heather Humphreys on maintaining Ireland's strong employment base in the face of challenging global conditions".
Mr Varadkar said Minister Richmond will also "continue his focus on ensuring that the work permits system is operating effectively and allowing essential staff to come to Ireland".
He said Mr Richmond "will also be responsible for seeing through the reforms I initiated as Minister including sick pay and the move to a National Living Wage."
Neale Richmond's post as Minister of State is with the Department of Enterprise, Trade & Employment, and the Department of Social Protection.
Mr Richmond is well-regarded within Fine Gael.
Insiders believe that he was overlooked for promotion during the recent Cabinet reshuffle, which saw a number of backbench TDs appointed to the ranks of junior minister.
Prior to becoming an elected representative, Mr Richmond worked as a Projects Manager for the European Movement Ireland, and held posts in both the Oireachtas and the European Parliament.
Additional reporting: Sinead Spain