Neale Richmond comes to his new job as Minister of State with responsibility for Employment Affairs and Retail Businesses with a solid Fine Gael pedigree.
The 39-year-old has been a party activist since his days in University College Dublin.
A native of Ballinteer in Co Dublin and educated at Wesley College in Dublin and UCD he was chair of Young Fine Gael branch during his time at university.
He graduated with a BA in History in 2004 and an MA in Political Science the following year.
On leaving college he worked for Gay Mitchell MEP in the European Parliament. Colleagues say he remains very well connected in Brussels and has considerable expertise in European affairs.
On returning to Dublin, Mr Richmond worked for Olivia Mitchell TD in the Dáil and during this time forged strong links with party members in Leinster House who were impressed with his work ethic, his communication skills and his grasp of the detail on complex issues.
He was first elected to Dún Laoghaire-Rathdown County Council in 2009 representing the Glencullen-Sandyford local electoral area. He was re-elected for a second term in 2014.
In April 2016 he was elected to the Seanad on the Labour Panel where he became the Fine Gael spokesperson on European Affairs and carved out a niche for himself frequently commenting for the party on Brexit-related issues.
In the 2020 general election he successfully ran for the Dáil in the Dublin-Rathdown constituency.
It was an impressive performance for the party securing two out of the three available seats.
Mr Richmond and his party colleague Josepha Madigan both secured 15% of the first preference vote, an excellent vote management exercise and both were elected on the sixth count.
He describes himself as a keen sportsman and he remains a playing member of Old Wesley RFC. He has also competed in a number of charity boxing matches.
He lives in Stepaside in south Dublin with his wife Babs and their two children.
---
Read more: Neale Richmond to replace English as junior minister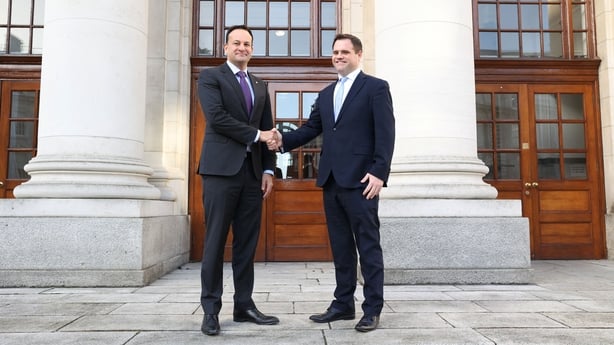 Party colleagues say he is a popular member and his appointment will be very well received.
Although he is a first time TD he is seen as someone who has served a long political apprenticeship from his time as a Parliamentary Assistant.
He is described as hardworking and able and many were disappointed there was no role for him in the reshuffle in December.
It is thought the party leadership was keen to address this and felt Mr Richmond was a clear fit for the Enterprise role given his previous work on Brexit and international issues.
Former Fine Gael Minister for Justice Charlie Flanagan describes him as a "political natural."
He says: "Neal is a very serious politician, consumed by issues and policies. He was the obvious choice for the role.
"He spends his weekends on the doorsteps meeting constituents but is also a detail man and has garnered considerable expertise on trade and other issues."
In his new role he will work under Minister for Enterprise Simon Coveney.
The two previously worked together on Brexit related issues when Mr Coveney was Minister for Foreign Affairs so they will know one another well.
Minister Coveney said he was very sorry to see Damien English go, as he "paid a very high price" but he said he is "happy to welcome Neale Richmond to the Department."
Mr Coveney points out there is now "a good regional spread" across his department with the senior minister from Cork and junior ministers Darragh Calleary and Neale Richmond from Mayo and Dublin respectively.
The regional spread is a theme picked up on by Michael Ring TD, for different reasons.
He says Mr Richmond's appointment is "well deserved" and he wishes him the very best of luck in the role but he is "disappointed a Mayo TD did not get the call".
Mr Ring says Mayo is the only other constituency in the country with two Fine Gael TDs.
He says Dublin-Rathdown now has two Fine Gael ministers but neither of the Fine Gael Mayo TDs have a portfolio.
"Fine Gael secured 39.5% of the first preference vote in Mayo in the last General Election, based on that I thought that we would be entitled to a ministry," he said.