Taoiseach Leo Varadkar has said that Damien English has paid "a big political price".
Deputy English resigned as Minister of State at the Department of Enterprise, Trade and Employment following revelations on The Ditch website about a planning application he made in 2008.
Speaking in Belfast, Leo Varadkar said that, "Even though this happened 14 years ago when he wasn't a minister, there is a requirement on anybody in the public service to abide by rules and regulations, and engage correctly and appropriately with public bodies."
The Taoiseach added that he doesn't think it is necessary for Damien English to resign as a TD.
"Ultimately, it will be for the people of Meath West to decide if they want to re-elect him in the next election, if he runs, and I hope he does," Mr Varadkar said.
He insisted that the fact there have been multiple resignations from this Government demonstrates that "accountability does happen".
"I often hear people say that nobody in Ireland ever resigns. We have had four resignations and ministers have been held to account", the Taoiseach said.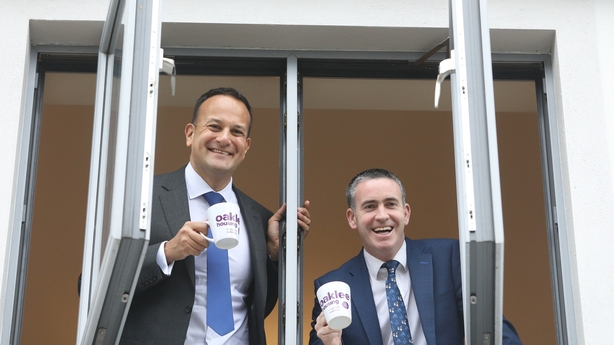 In a statement the Fine Gael TD said: "Yesterday in an online article, questions were raised about my planning application from 14 years ago.
"I reviewed this application, made in 2008, and it is clear to me that I failed to inform Meath County Council about ownership of my house in Castlemartin.
"This was wrong, not up to the standard required and I apologise for doing so."
In 2008, Mr English and his wife had applied to build a bungalow in Cookstown in Co Meath.
As part of the Local Needs assessment in the planning application, Mr English had stated that he resided in the family home at Castlemartin and had done so for the previous 30 years and that he did not own a dwelling in Co Meath and had not owned a dwelling previously.
The decision to grant planning permission was made on the basis that he "satisfied the Local Housing Need criteria in relation to rural housing as per the Meath County Development Plan 2007-2013", according to the Meath County Council Planning Report on his application.
In a statement, Taoiseach Leo Varadkar said Mr English offered his resignation last night.
"He informed me that 14 years ago, when applying for planning permission, he made a declaration to Meath County Council that was not correct.
"It was his view given the circumstances that his position was not tenable. I agreed and accepted his resignation."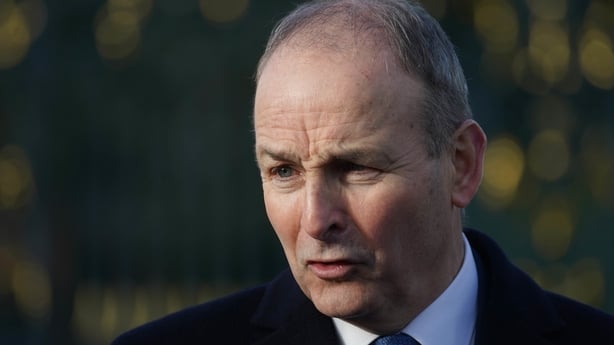 'The right decision'
Tánaiste Micheál Martin said Mr English "was a good minister", but he made "the right decision" to resign.
Speaking in Co Down, Mr Martin said: "I think he took the right decision in light of the issue that had arisen, albeit 14 years ago, I think he made his decision himself, from what I understand, and he came to the Taoiseach and indicated the situation.
"I think it's very difficult personally for him. He's been a good minister and a good parliamentarian. I've known him for quite a number of years.
Mr Martin said the Taoiseach contacted him at 12.20am to tell him about Mr English's resignation.
He added: "There is an obligation on politicians in terms of issues like this in terms of declarations and so on, just to make that very clear."

Earlier, Minister for Further and Higher Education Simon Harris said Mr English's swift resignation is a "reflection of him as a person".
Speaking on RTÉ's Today with Claire Byrne, Minister Harris said Mr English "didn't seek to justify or explain ... but rather took the swift and difficult decision to resign".
His resignation will have "saddened people across Fine Gael and across the political divide", Mr Harris said.
There are "very clear rules" in place for any office holder in relation to annual returns, he added.
"Those returns are published, scrutinised and available for any members of the public to see."
Minister of State for Community Development, Integration and Charities Joe O'Brien said he thinks Mr English made the right decision to resign.
Speaking on RTÉ's Morning Ireland, Mr O'Brien said: "It is clear that his behaviour was not up to standard of what is expected, rightly expected of all of us. I think he has made the right decision today."
---
Read more: Damien English's resignation avoids protracted controversy
---
'The right call'
Sinn Féin leader Mary Lou McDonald also said Mr English made the right decision in resigning.
Speaking on the same programme she said that "this is now the I think the second Minister of State to resign and it seems the newly reshuffled Government is in some respects following the pattern of the last one at ministerial resignations.
"But I think Damien has made the right call."
Labour's Spokesperson on Education Aodhán Ó Ríordáin said Mr English's resignation demonstrates that people in public life need to be "an awful lot more serious about their declarations, because what he did was wrong".
He said the resignation does not help the stability of the Government.
Mr Ó Ríordáin said that "we can't expect members of the public to be truthful in their applications, and filling out the forms if those in public eye aren't doing it as well. So, there has to be a much higher standard for those of us in political life. In terms of Government, I would hope that this doesn't happen again.
Aontú leader Peadar Tóibín said Damien English did not have a choice and had to resign.
Speaking to RTÉ's News at One, he said the issue of rural housing is a "very contentious" one.
"Many, many people want to live in their communities beside their families and are refused planning permission every year," he said.
"This is a very key issue and it's important that the law makers in this country, don't become the law breakers.
"Elected reps must be accountable and they have to adhere to the same standards as everybody else."