Minister for Foreign Affairs Simon Coveney has described the situation between Russia and Ukraine as enormously serious.
The threat of Russia invading Ukraine is being taken incredibly seriously by the EU, the US and the UK, he said.
Speaking on RTÉ's Six One News, he said an invasion by Russia could result in the first land war in Europe in many decades, which could result in an enormous loss of life and disruption right across the continent of Europe.
He said this is why Ireland has been talking about the need to defuse tensions and to focus on diplomacy and political dialogue as opposed to military build-up.
Ireland would continue to be that voice, he added.
The minister said the EU was absolutely unified about the deterrent that needs to be put in place to ensure that Russia thinks very deeply before it would invade Ukraine.
Ireland is advising against non-essential travel to Ukraine, the Taoiseach told the Dáil today.
Micheál Martin said this country is appealing for a de-escalation of tensions as "thousands and thousands of Russian troops" have massed on the Ukraine border.
Ireland supports a diplomatic resolution based on a rules-based international order which respects the territorial integrity of states and democracy, he said.
These are Ireland's principles and Russia should respect that, he added.
He also said the planned Russian military exercise off the Irish coast next month was unwelcome and said it was not a regular occurrence even it if is technically legal.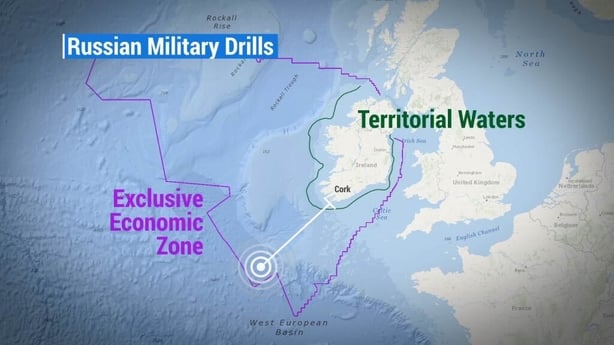 Tánaiste Leo Varadkar earlier said he does not think the planned Russian naval exercises off the Irish coast represent a military threat to Ireland.
However, he added that they are "particularly unwelcome" given the rising tension in Ukraine.
Mr Varadkar said any fishermen planning to protest should not put themselves at risk.
Tánaiste @LeoVaradkar says the Russia-Ukraine situation is very serious and 'there is a real fear that we could see a land war on the continent of Europe'. He says a planned Russian exercise off the coast of Cork and Kerry is unwelcome but not illegal | https://t.co/WXwqSDcWgj pic.twitter.com/pVVtgoNsvY

— RTÉ News (@rtenews) January 25, 2022
The Irish South and West Fish Producers Organisation said some of its members plan to peacefully disrupt Russia's plans to conduct a military exercise in waters off the Irish coast next month.
CEO Patrick Murphy described the area as "very important" for fishermen and said they want to protect biodiversity and marine life.
'War is looming in Europe' - Byrne
Minister of State for European Affairs Thomas Byrne said that there is "war looming in Europe".
Mr Byrne said: "This is really a moment of great danger in Europe at the moment and I'm not sure that we are fully apprised of the seriousness of the situation, that there is war looming in Europe and I think it is extremely, extremely worrying."
Speaking on RTÉ's Today with Claire Byrne, he urged people to avoid traveling to Ukraine.
"We are advising people not to go to Ukraine at the moment on all non-essential business or travel, whatsoever," Mr Byrne said.
Diplomatic efforts have been ongoing for months to prevent an escalation of conflict, he said.
He said that Ireland along with the European Union is showing "100% full solidarity with Ukraine" and the opening of the Irish Embassy in Kyiv last August was a "very, very important signal of relations between Ireland and another sovereign, independent country".
Mr Byrne said that he is very concerned about the Russian exercises off the west coast of Ireland.
"As Minister [Simon] Coveney said and said it directly to the Ambassador, Russia is not welcome here, this is very, very worrying as to what they are doing," he said.
He said that the "difficulty that we have" is that they are entitled to do this under international law.