The Minister for Foreign Affairs Simon Coveney has apologised to an Oireachtas committee over what he described as the "political fiasco" surrounding the appointment of Katherine Zappone to a UN role.
However, he maintained that she never asked him for a job.
Sinn Féin said that all options remain on the table when it comes to the question of a possible no confidence motion in Minister Coveney.
Mr Coveney was facing further questions from the Committee on Foreign Affairs over the appointment of Katherine Zappone to a special envoy role last July.
Addressing the committee this morning, Mr Coveney said that due to the "sloppiness" of some of his answers to legitimate questions last week, they were back at the committee again.
He said he hoped to bring clarity to outstanding issues once and for all.
Mr Coveney told the committee that since last week, he had asked that all documentation available in his department be publicly released early to facilitate as detailed, accurate and comprehensive a presentation as possible today.
---
Read More:
Zappone told of UN role more than four months before Cabinet agreement
Tánaiste releases details of Coveney, Zappone texts over envoy role
Open competition for future special envoys, says Taoiseach
---
The minister said that in recent weeks a lot has been said and written about him in the context of Ms Zappone and her proposed appointment, and that he contributed to much of that criticism and commentary.
He said that he has had the privilege of being in public life for 23 years as a TD, MEP and government minister.
'Due to the sloppiness of some of my answers to your legitimate questions last week, we're back here again in order to, I hope, bring clarity to outstanding issues once and for all' @simoncoveney tells Oireachtas committee examining envoy appointment | https://t.co/SHMhNjOh48 pic.twitter.com/xwvFKQfQpq

— RTÉ News (@rtenews) September 7, 2021
Mr Coveney said that he has made mistakes on that journey, but this is the first time that his integrity has been questioned on his political actions.
He said this issue has rumbled on for too long and should have come to an end with a clear and credible explanation before now.
Following today's committee meeting, Sinn Féin TD John Brady said "all options remain on the table" regarding the possibility of a no-confidence motion in Mr Coveney.
He said what needs to happen now is the Taoiseach Micheál Martin taking control of the Government, and explaining how he will stamp out cronyism.
He added that former minister Katherine Zappone owes the Oireachtas committee, and the public, an explanation about her role in the special envoy controversy.
Zappone texted for advice over working with USAID - Coveney
During the meeting earlier, Mr Coveney said Ms Zappone did not ask him for a job at any stage, but did text him for advice on 22 February about the possibility of working with the United States Agency for International Development (USAID) on women, gender equality and LGBTQ issues, asking whether he could make an introduction for her.
"That's all she looked for from me at that point and I didn't respond," he said.
He said the idea of Ms Zappone playing a role for the Government came about from a short conversation he had with his department's secretary general, Niall Burgess, on 24 February.
"I hadn't spoken to Katherine at that stage. The Sec Gen responded positively, but said he wanted to take some time to think about it," he told the committee.
He then told Ms Zappone of that conversation in a phone call on 26 February and agreed to come back to her when the secretary general had any update.
He said Niall Burgess came back to him a few days later to say that the Biden administration would be appointing a Special Envoy for LGBTI+ Rights and that he was interested in the department exploring the benefits of such a role for Ireland.
"So it was in that context that I raised the possibility of a special envoy role with Katherine Zappone and asked her if she'd be interested in such a role should the department develop and recommend it," he said.
The minister said that phone call was on 3 March and it triggered a text to him from Ms Zappone the following day enthusiastically thanking him for the opportunity.
"But it wasn't a job offer at that stage, as I made it very clear that the concept needed to be developed by the department, which is exactly what subsequently happened as the files show," he said.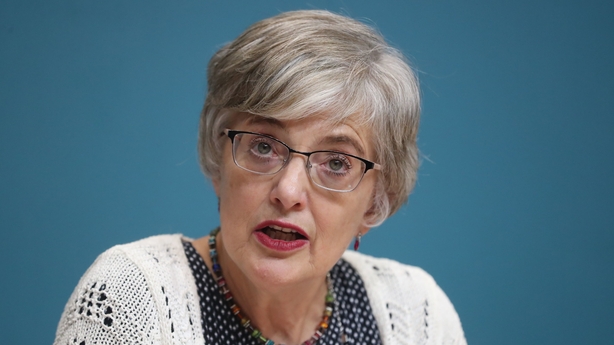 The minister conceded that he should have been clearer with Ms Zappone on the extent of the work needed in the department before a formal roll could be offered to her.
"I have made mistakes in recent weeks, in failing to convincingly explain how this role came about, and therefore contributing to what has become a political embarrassment for the Government," he said.
The minister said that despite that, the latest documents will confirm his department's due diligence on the potential benefits of this role for Ireland.
In his statement to the committee, Mr Coveney said that he did not speak to Ms Zappone again until 19 July, despite the fact that she had been looking for updates.
He said that that brief conversation was just to confirm her meeting with Mr Burgess in Dublin to try to finalise matters.
Mr Coveney said that in the meantime, the department did what he described as extensive work: a 'food for thought paper' on 25 March; a paper on envoys in EU, the US and the UK on 29 March; an initial concept note on 18 April and ultimately a 'Special Envoy Terms of Reference Document' in July.
He said that the department is now reviewing the role and appointment process of special envoys for the future and that he agrees with the Taoiseach that from now on, should a special envoy be recommended, they should ensure an open competitive process to fill any such position.
'Cooling off' period
Fianna Fáil TD Barry Cowen asked if Ms Zappone was required by legislation to observe a one-year "cooling off" period after she finished in government, saying the legislation surrounding the "cooling off" period was essential in this matter.
In response, Mr Coveney said he did not see any conflict of interest on the part of Ms Zappone in relation to the UN role.
Mr Cowen asked the minister whether he was now saying that when Ms Zappone texted him [in March] to say she was delighted with the offer - the "offer" was a concept, which she interpreted as a job offer. Mr Coveney agreed.
He said that it would have been helpful if he had responded to her text to clarify that it was not a job offer at that stage, it was simply a concept that may materialise later.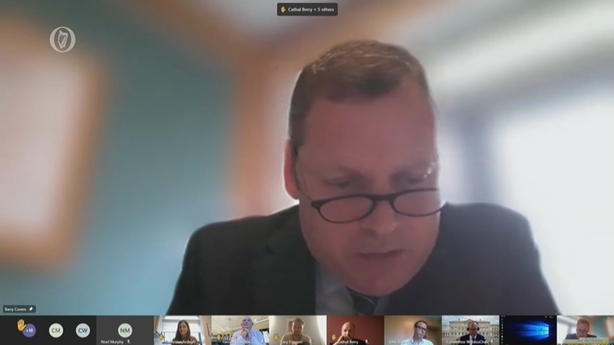 Mr Cowen asked the minister whether he acknowledged that it appeared from the documents released yesterday that Ms Zappone played a part in defining the specifications for the job in the intervening period, to which the minister said: "No."
Mr Coveney said that at no point did he discuss terms and conditions with Ms Zappone and he specifically asked the department to do that.
Sinn Féin TD John Brady said what has been uncovered is plain old fashioned political strokes.
"Minister you misled the committee last week when you said you did not relay anything to Katherine Zappone," he said.
Mr Brady said what he thought the minister was trying to do now was to fix the documents to fit a "wholly unbelievable narrative".
He put it to the minister that this job was offered and it was accepted. In response, Minister Coveney said that that was an interpretation that Mr Brady was trying to put on it.
Coveney questioned on three issues
Three main issues were put to Mr Coveney - how the job of special envoy was created, whether lobbying had taken place, and the deletion of texts in the context of Freedom of Information.
On the job, Social Democrats TD Gary Gannon said it was clear from a message sent by Ms Zappone on 4 March, in which she spoke of an "incredible opportunity", that she felt she had the job - even though Minister Coveney maintained it was only a concept at the time.
On the deletion of a text with Tánaiste Leo Varadkar, Minister Coveney explained it happened before any Freedom of Information requests were received.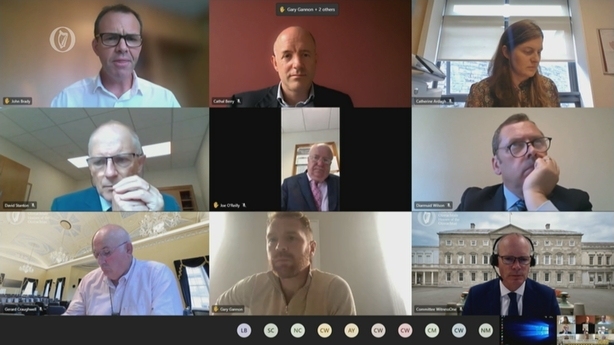 Asked by Fianna Fáil's James Lawless, Minister Coveney clarified that he did not delete messages related to Government business, as this was the property of the department, but did if it related to other matters that had been concluded, due to security concerns.
On the issue of lobbying, Sinn Féin's Lynn Boylan said most people watching proceedings at home would see it as lobbying given that Ms Zappone was in touch with Paschal Donohoe, Mr Coveney, Mr Varadkar and Ireland's UN Ambassador.
Minister Coveney said he never felt under any pressure from Ms Zappone, nor viewed her contact as such.
Ms Boylan said that for any "ordinary Joe or Jane Soap" watching on, what they would see is somebody who has access to very senior politicians and has availed of that access in order to secure herself employment.
In response, Mr Coveney said that it would have been helpful, particularly now with the benefit of hindsight, if after her enthusiastic texts he had gotten back to her and clarified that there was no done deal.
He said that at no point had he got back to her to encourage her, and that if anything, he didn't correspond with her.
'Extreme economy of truth'
Sinn Féin TD Sorca Clarke put it to the Minister for Foreign Affairs that he had misled the Cabinet and misled the committee through what she said was "an extreme economy of truth".
She said she was deeply concerned that any minister would seek to use the committee in what appears to be an effort to "save his own political neck".
In response, Mr Coveney said: "You're essentially accusing my former Sec Gen of lying as well, if what you've just outlined is your position.
"All I can say is the sequence of events as they happened, are as I have outlined them today. The Freedom of Information release backs that up."
Fianna Fáil Senator Catherine Ardagh asked Mr Coveney whether he still believed that he wasn't lobbied for this role because it was remarkable how many people were contacted in relation to the role.
In response, Simon Coveney said that he saw the text messages that came from Katherine Zappone to him as an enthusiastic person who wanted to get an update.
He said that he didn't see it as lobbying and he didn't feel any pressure.
Ms Ardagh's party colleague Barry Cowen that it appeared there was clear and obvious lobbying surrounding the role. Mr Coveney said he could understand why the public looking at this affair as it has unfolded would interpret this in such a way.
He said that the way he viewed the situation was that Ms Zappone was hugely enthusiastic about the opportunity and was looking for regular updates.
He said that he was not sure there has ever been another appointment that has had the level of scrutiny that this particular appointment has had.
After two hours and ten minutes, the committee closed with Mr Brady saying Ms Zappone needed to be invited to attend at the earliest opportunity.
There can be no doubt in the public's mind about how appointments are made in the future - Martin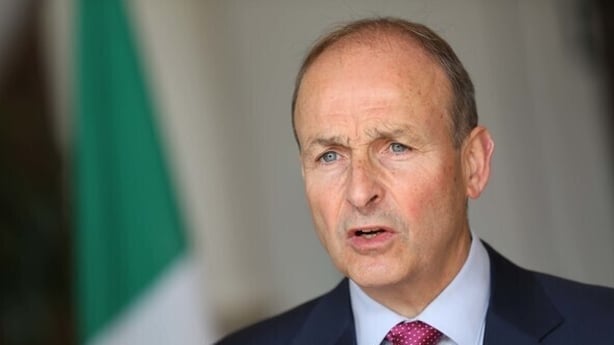 In a statement released this evening, the Taoiseach Micheál Martin said: "Minister Coveney has now given his account to the Oireachtas Committee on the chronology of events that led to the appointment, joined by his former Secretary General.
"That said, lessons need to be learned by Government on the handling of this issue.
"Firstly, any position of special envoy offered in future should only come through a fully open, transparent and advertised competition.
"There will also be a full review of the role of special envoys and their use by Government.
"Perception does matter in public life and appointments must be, and seen to be, fully open and transparent.

"There can be no doubt in the public's mind about how appointments are made by Government in future," said the statement.
Up to Taoiseach to decide sanctions - SF
Earlier this evening, Sinn Féin deputy leader Pearse Doherty said it is up to the Taoiseach to decide what sanctions are appropriate following Mr Coveney's account of the sequence of events.
Speaking on RTÉ's Drivetime, he said "the question is what is the Taoiseach going to do about it, what is he going to do about rooting out cronyism at the heart of Government, what is he going to do in relation to restoring credibility".
He said they want to hear from the Taoiseach about his position on this.
He said "the Taoiseach has heard this story, has heard him try to peddle this narrative, which doesn't stand up to scrutiny, which is flatly contradicted by the documents".
The destruction of Government records that are subject to the Freedom of Information Act, "is a serious issue in itself", he added.
He described the Minister's comments at today's Oireachtas Committee as "an elaborate cock and bull story" which "nobody believes and it's flatly contradicted by the facts, by the documents, by the release of the Freedom of Information request that we got yesterday".
Additional reporting Paul Cunningham, Helen Donohue