Labour party leader Alan Kelly said there were "serious issues" as to who knew what in the run up to the appointment of Katherine Zappone as a UN special envoy.
Ms Zappone served as Minister for Children in the last Fine Gael-led government, but lost her seat in Dublin South-West in the 2020 general election.
Her appointment as special envoy in July was strongly criticised by the Opposition and also caused tension between the coalition parties after Micheál Martin said he was not given advance notice before it was brought to Cabinet.
Ms Zappone later decided to decline the position, saying at the time, "it is clear that criticism of the appointment process has impacted the legitimacy of the role itself".
Speaking on RTÉ's Today with Claire Byrne, he said the issue at the heart of Ms Zappone's appointment is not about the appointment itself but that "one side of the government is acting where they are so arrogant they feel they don't have to notify another part of government regarding their plans".
He said Taoiseach Micheál Martin is "willing to put up with anything" and his authority is completely undermined.
---
Read More:
Tánaiste says Coveney willing to offer further clarification on Zappone appointment
Coveney says Zappone did not lobby him for envoy role
Tánaiste releases details of Coveney, Zappone texts over envoy role
'Mistakes were made' over Zappone appointment - Coveney
---
"It is obvious Fine Gael knew all about this issue a significant period beforehand."
He said there are also other issues relating to Freedom of Information requests and leaks said he finds it "unbelievable" that Minister for Tourism, Culture, Arts, Gaeltacht, Sport and Media Catherine Martin said the leaking was an internal matter for Fine Gael.
Mr Kelly also described issues of "mistrust and transparency" within Government and a Taoiseach that is "afraid" of taking on Government partners "because of the consequences for his tenure".
Speaking on the same programme, Deputy Martin said it is not appropriate that the Tánaiste and Minister were texting about Ms Zappone's appointment ten days before it was brought to Cabinet.
She said the leaking of the information of the appointment was "an internal matter for Fine Gael" and "not the way to do business."
Minister Catherine Martin later clarified the comments made on that programme, referring to a leak from Cabinet as "an internal matter for Fine Gael" .
Ms Martin said she was referring to the fact that the leak related to a Fine Gael memo and she said that the leaking was a Government-wide issue.
Earlier, Fianna Fáil TD Barry Cowen said the Taoiseach needs to address the issue regarding the "content" of the texts shared yesterday by Leo Varadkar over the UN role for Ms Zappone.
The texts show that Ms Zappone inquired on 16 July with Mr Varadkar whether he had heard anything about the post.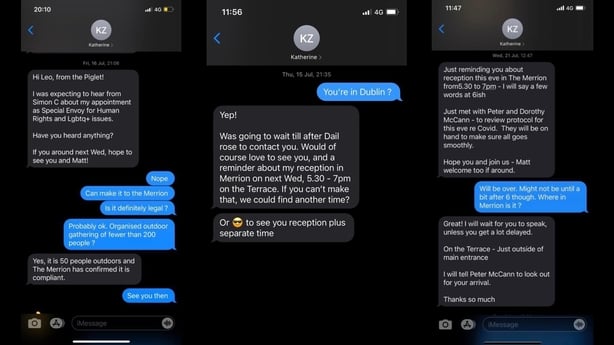 He raised the matter with Mr Coveney in a text message on 19 July, who said that Ms Zappone was to be the Government's "Special Envoy for 'Freedom of Expression and Human Rights' (with a focus on LGBT)" and that she seemed happy with the role.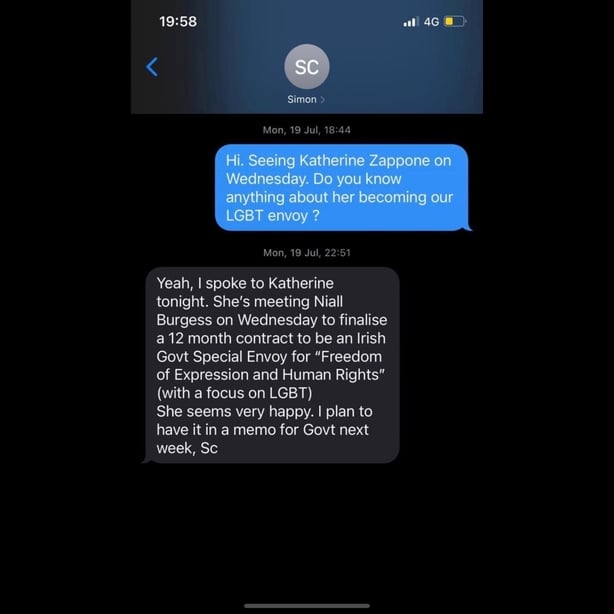 The full details of the appointment were not made available until the day of Cabinet the meeting on 27 July.
Mr Coveney said yesterday that he had deleted the text messages with Mr Varadkar as his phone had been hacked previously and he believed it was prudent to clear his phone regularly.
Speaking on RTÉ's Morning Ireland, Mr Cowen said that while he accepts that Mr Martin has said that no texts should be deleted if they contain Government business, he believes he needs to "acknowledge" the content of those texts.
He said he did not allude to the "startling information" within the texts, "the amount of knowledge that was known by the parties involved" and that a contract and agreement had been reached with Ms Zappone while no one else was aware of it.
Mr Cowen said it has put the Taoiseach in an "invidious position" where he was told some weeks ago that Fine Gael ministers were only aware of this issue on the day of the Cabinet meeting and now that does not appear to be the case.
"Not only that but quite detailed information was shared between the Tánaiste and Minister for Foreign Affairs in relation to the issue."
He said all three parties need to meet and resolve this issue "for once and for all" and get on with the business of Government.
Mr Cowen would not be drawn on whether the Taoiseach should push for resignations.
"The Taoiseach, in his mind and in many other minds, was very decisive on matters of similar natures in the past. Let the Taoiseach decide how he wants to deal with this issue now," he said, referencing his own situation of being "sacked" last year.
"During the course of the issues concerning the matter for which I was held responsible, I was told this issue was dominating the public domain and was getting in the way of Government business. Some would argue this is getting in the way of very difficult Government business too."
Social Democrats co-leader Róisín Shortall said the controversy raises serious issues about the behaviour of ministers and the operation of the government that the Taoiseach must address.
She said Mr Martin needs to "get a hold of this situation", adding that there seems to be the attitude among some Fine Gael ministers "that rules are there for other people and if you are a minister you can do what you like".
She said that the whole appointment process in relation to Ms Zappone raises concerns about lobbying and questions about whether the appointment was "an insider job".
Sinn Féin leader Mary Lou McDonald said the Taoiseach needs to insist on full accountability from his government colleagues, saying he was clearly blindsided in what she called "the latest installment of insider, crony, cosy politics around Fine Gael particularly and the Government".
She said Sinn Féin has written to the chair of the Oireachtas Committee on Foreign Affairs to insist that Minister Coveney returns without delay and give a "full, frank and credible" explanation of what transpired in relation to the Ms Zappone's appointment.
Zappone appointment should have been handled differently - Harris
The Minister for Higher and Further Education has said that everyone across Government, and among the three parties in government, accepts that the process to appoint Ms Zappone as a UN special envoy should have been handled differently.
Simon Harris said it was important to "put some sense of perspective on this."
He said Minister Coveney had appeared before the Committee on Foreign Affairs earlier this week and answered questions for two hours.
Mr Harris added that Mr Coveney volunteered information in relation to text messages between him and Mr Varadkar and that he expected Mr Coveney to robustly provide clarifications and rebuttals to the assertion that he has mislead any committee.
Mr Harris said that Mr Coveney is "an exceptional politician that has served our country so well and continues to do so .... I think we need now to allow the clarification to be provided and to try, once and for all, to provide all of the information so that people can move on".
The Minister for Children has said "there is room for Minister Coveney to clarify the timelines", in which the Tánaiste was aware of the proposal to appoint Katherine Zappone as a special envoy.
Roderic O'Gorman was speaking in Tuam, Co Galway, where he's meeting survivors from the former mother and baby home in the town.
He said he was in the habit of keeping text messages sent to him.
The Minister added that "everyone accepts the process here, in terms of the appointment of Katherine Zappone as a special envoy, was not how politics should be done".
"Both the Tánaiste and Minister Coveney have apologised for that and I think that's important," he said.
"I know in light of Minister Coveney's testimony to the Joint Oireachtas Committee and subsequently the publication of the Tánaiste's texts, I think there is, maybe, room for Minister Coveney to clarify the timelines in which the Tánaiste was aware of this particular proposal."
Minister O'Gorman said it was important to "clear the air, in terms of that element".
He said the proposed role was one that was important and "should have been brought forward by Cabinet in a way that gave it its due regard". But he said now the whole idea had been "sullied by this process".