Minister for Foreign Affairs Simon Coveney is to appear before an Oireachtas Committee next Tuesday, to answer further questions on the appointment of Katherine Zappone as special envoy and the related text messages.
Mr Coveney had earlier asked to appear before a committee as soon as possible to provide clarifications requested by opposition parties.
The minister also revealed earlier that his phone was compromised in 2020, saying that EU foreign ministers were contacted using his device's identity during the hack.
In a lengthy letter to committee chairman Charlie Flanagan, Mr Coveney insisted he was not trying to conceal texts with the Tánaiste.
"If I was trying to keep texts from the Tánaiste secret I would not have been the one to tell the committee about those same texts," he wrote.
However, he admitted that he did not know last Tuesday why the Tánaiste had asked him by text on July 19 about the proposed UN role for Ms Zappone.
"What I did not know in the committee was why the Tánaiste had initiated this text conversation. However his other text messages with Katherine Zappone, also released by his office, show that she had told him about the upcoming role in Foreign Affairs."
He added: "My recollection was, and still is, that the Tánaiste's reason for texting me was that he was meeting Katherine Zappone and wanted to know what was going on," he wrote.
Explaining why he clears his text messages regularly Mr Coveney said his phone was compromised in 2020.
"What is not known is that some of my foreign minister colleagues across Europe were contacted using my phone's identity as a front during the hack incident," he said.
The Minister said the matter was dealt with by his department and the gardaí.
"As a result of this incident and others, I work on the basis that very few telecommunications are completely secure," he said.
Mr Coveney also rejected any suggestion that he mislead the committee when he addressed it on Tuesday.
We need your consent to load this rte-player contentWe use rte-player to manage extra content that can set cookies on your device and collect data about your activity. Please review their details and accept them to load the content.Manage Preferences
Tánaiste Leo Varadkar earlier said Minister Coveney is willing to offer further clarifications on the ongoing controversy surrounding his decision to appoint Ms Zappone as UN special envoy.
But Sinn Féin's spokesman Matt Carthy said the now scrapped appointment of Ms Zappone has represented the worst forms of cronyism and cover-up.
The Department of Foreign Affairs' file on the entire matter is now set to be released on or before this day next week.
But even within the Government there is pressure continuing to build on this issue.
---
Read More:
'Serious issues' as to who knew what - Kelly
Tánaiste releases details of Coveney, Zappone texts over envoy role
Coveney says Zappone did not lobby him for envoy role
'Mistakes were made' over Zappone appointment - Coveney
---
Ms Zappone served as Minister for Children in the last Fine Gael-led government, but lost her seat in Dublin South-West in the 2020 general election.
Her appointment as special envoy was strongly criticised by the Opposition and also caused tension between the coalition parties after Micheál Martin said he was not given advance notice before it was brought to Cabinet.
Ms Zappone later decided to decline the position, saying at the time, "it is clear that criticism of the appointment process has impacted the legitimacy of the role itself".
Yesterday, Mr Varadkar outlined the text message communication he had with both Mr Coveney and Ms Zappone about the special envoy role.
On 16 July, Ms Zappone asked Mr Vardakar in a text whether he had heard anything about the envoy role.
He responded "nope".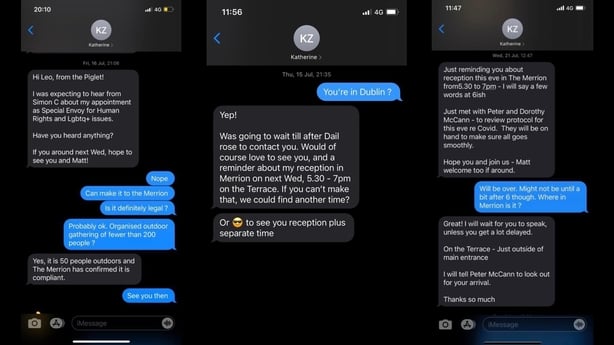 Mr Varadkar asked Mr Coveney about the role in a text on 19 July, to which Mr Coveney responded that he had spoken to Ms Zappone about the job of being a "Special Envoy for 'Freedom of Expression and Human Rights' (with a focus on LGBT) She seems very happy. I plan to have it in a memo for Govt next week".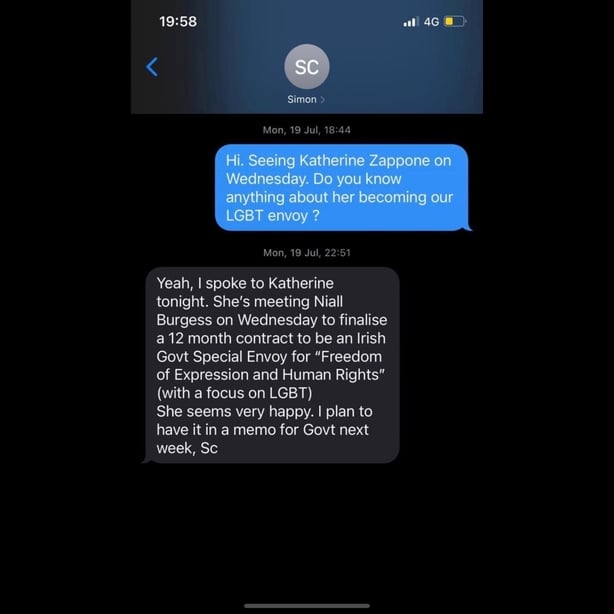 Both Ms Zappone and the Tánaiste also discussed the role briefly on 21 July at an outdoor function in the Merrion Hotel, at which he expressed his support.
The full details of the appointment were not made available until the day of Cabinet the meeting on 27 July.
Mr Coveney said yesterday that the reason he deleted text messages with Mr Varadkar regarding a meeting with Ms Zappone was because his phone has been hacked in the past.
Speaking to reporters in Dublin, Mr Coveney said: "I change my phone every year. I've been hacked and I'm the Minister for Foreign Affairs and Defence - so I think it's prudent that I clear my phone fairly regularly."
'I don't think that the situations are comparable'

Taoiseach says the dismissal of Barry Cowen as Minister in 2020 and questions over Simon Coveney regarding the special envoy appointment are not comparable, because Mr Coveney is prepared to answer questions in the Oireachtas. pic.twitter.com/urTVDXjvno

— RTÉ News (@rtenews) September 2, 2021
Varadkar in apology over FOI issue
Meanwhile, the Tánaiste has apologised for his Department last month failing to release information requested by journalists about the decision to appoint Ms Zappone as a UN special envoy.
In a statement, Mr Varadkar said all letters and emails had been checked at the time and no records had been found.
The Tánaiste said he was on annual leave at the time and he was not contacted for his phone records.
He said procedures would be put in place to ensure this does not happen again and the records would now be sent to the journalists.
Speaking in Northern Ireland, where he is holding private talks with political leaders and members of the business community, Mr Varadkar said that from his point of view, he thinks he has dealt with the matter and "I published all the records that I have which I believe verify my account".
He said he was only in contact with Mr Coveney on one occasion about Ms Zappone's appointment.
Mr Varadkar said that what should have happened is that either he or Mr Coveney should have flagged the appointment to the Taoiseach and Green Party leader Eamon Ryan "because it was potentially politically sensitive".
He added: "In the past special envoys were appointed without even going to Cabinet, but this one was politically sensitive and it was a mistake on my part and his part that one of us didn't flag this to the leader of the Green Party and Taoiseach and I acknowledged that mistake weeks ago, and apologise for it."