Fianna Fáil's Barry Cowen, who has been at the centre of controversy over a drink-driving ban he received four years ago, has been sacked from his post as Minister for Agriculture.
In the Dáil this evening, Taoiseach Micheál Martin said that the President, on his advice, had terminated the appointment of Mr Cowen as a member of the Government.
Mr Martin said the garda file relating to Mr Cowen's drink-driving offence had raised issues that required more explanation.
He said it was untenable for members of Government to address these concerns in the Dáil while Mr Cowen was refusing to do so. The issue, he said, had become damaging to the ongoing work of Government.
Mr Cowen said he was "surprised and disappointed" by the move. He said the decision to remove him from office had undermined his entitlement to fair process.
(1) The Taoiseach informed me this evening by phone that he was removing me from office as Minister for Agriculture.
I am both surprised and disappointed with this decision.

— Barry Cowen (@CowenBarry) July 14, 2020
The former agriculture minister, who was in office for just 17 days, strenuously denies any allegation that he attempted to avoid a garda checkpoint in 2016.
He did receive a three-month road ban at the time for drink-driving for which he apologised.
The Taoiseach spoke with his coalition partners, Tánaiste Leo Varadkar and Green Party leader Eamon Ryan, this evening.
The Fine Gael leader said the question of Mr Cowen's position was a matter solely for the Taoiseach to adjudicate on. Mr Varadkar, however, did support the decision by the Fianna Fáil leader to ask Mr Cowen to resign.
Speaking on RTÉ's Prime Time, Minister for Foreign Affairs Simon Coveney said the Taoiseach had no longer confidence in the Minister for Agriculture and said there has clearly been some change in this case and with what happened.
"It could be something that Barry Cowen said to the Taoiseach today, I'm not sure," Minister Coveney said.
Tonight, the Opposition have been asking what changed in the hours following the Taoiseach's apparent support for Mr Cowen earlier and his sacking tonight.
Sinn Féin's Pearse Doherty said: "It's clear that Barry Cowen had serious questions to answer and it was also clear that he was unwilling to come to the Dáil to answer those questions. 
"What happened in the intervening period when he [Taoiseach Micheál Martin] went from backing his minister at 2pm to sacking his minister before 9pm?"
The leader of the Labour Party said he is "glad" that the Taoiseach had taken this "decisive decision".
Alan Kelly said: "We really need to know what has changed since a few hours ago, when the Taoiseach was defending Barry Cowen steadfastly inside in the Dáil.
"Something has changed in relation to the information around this whole saga."
Mr Kelly called on Mr Martin to "come out clearly and tell us what that is, that informed his decision to take this action".
We need your consent to load this YouTube contentWe use YouTube to manage extra content that can set cookies on your device and collect data about your activity. Please review their details and accept them to load the content.Manage Preferences
---
Read more
Barry Cowen's political career and recent controversy
Watch: Taoiseach's full Dáil statement
---
In the Dáil this evening, the Taoiseach said it was "a very sad day, for Barry, his family and for me".
He continued: "He has been completely clear and unambiguous regarding his drink-driving offence, he gave a personal statement to this house on July the 7th in which he talked about the stupidity of his actions. 
"He accepted what he did was absolutely wrong and he apologised to all members.
"I accepted that his remorse was genuine and I accepted his apology. 
"When he was first confronted with the allegations Minister Cowen was immediately clear and emphatic about his drink-driving offence and understood the need to acknowledge this. 
"However, he was equally clear and emphatic that one detail of the allegation he was being presented with was completely untrue, namely that he sought to evade gardaí at the time."
Mr Martin said that they have had "extensive discussions on this point last evening and again this morning when he shared with me for the first time the actual garda record under dispute".
The Taoiseach added: "Following these discussions and having seen the garda report this morning, it was my view that it raised additional issues requiring further explanation and clarification."
The Fianna Fáil leader said he made this clear to Mr Cowen and gave him space today to consider the matter further.
However, he said Mr Cowen decided not to address the matter publicly and will not make a further statement on the issue in the Dáil.
Mr Martin said: "This decision has created a situation where legitimate doubts and additional questions are being raised, and Government colleagues are expected to address these.
"This is simply untenable," he added.
Mr Martin said he believed that Mr Cowen had an obligation to come before the Dáil, and that the issue was damaging to the ongoing work of Government.
He added: "Throughout this I am conscious that there are important and legitimate legal processes under way where Deputy Cowen is questioning the accuracy of the garda record and seeking to establish how his personal information became public.
"I have sought to respect these processes and I would ask that colleagues do the same. This decision I have made is without prejudice to those proceedings."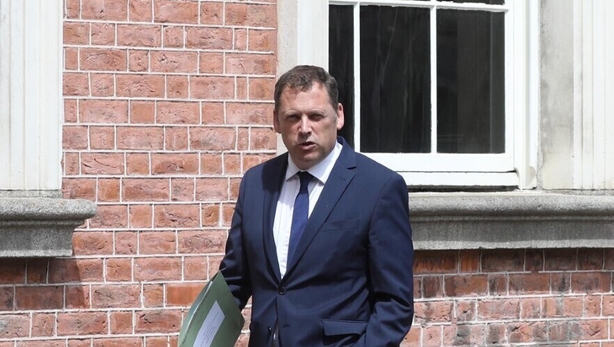 On Twitter tonight, Mr Cowen said the Taoiseach had informed him by phone that he was being removed from the office. "I am both surprised and disappointed with this decision," he said.
(1) The Taoiseach informed me this evening by phone that he was removing me from office as Minister for Agriculture.
I am both surprised and disappointed with this decision.

— Barry Cowen (@CowenBarry) July 14, 2020
Mr Cowen continued: "Previously I furnished the Taoiseach with all the facts about my drink-driving conviction and the story that the Sunday Times proposed to publish about my alleged evasion of a garda checkpoint.
"In doing so I provided him with confidential details about my interaction with An Garda Síochána.
"I have made my position on these matters known publicly and I have acknowledged my wrong doing for something that occurred four years ago.
"I have sought an explanation - not as a government minister but as a citizen - as to how details relating to the incident were leaked to the media.
"The authorities have agreed to investigate the matter.
"One point warrants emphasis: at no time did I attempt to evade the gardaí. Had I done so, the charges brought against me would, quite correctly, have been of a different tenor to those with which I was charged.
"I am responsible for the offence with which I was convicted four years ago not for an inaccurate garda entry on Pulse about that event.
"Ten days ago and this afternoon the Taoiseach believed my failure of 2016 didn't warrant my removal from office but he now appears to have changed his mind based on a Pulse report I gave him this morning.
"It is important to re-emphasise that report was leaked in contravention of the protections that I and every other citizen is entitled to expect in respect of their interaction with the Gardaí.
"Unfortunately the decision of the Taoiseach to remove me from office, when he supported me this afternoon in the Dail, has undermined and potentially prejudiced my entitlement to fair process."
The Taoiseach is set to appoint a new Cabinet minister tomorrow.