Shocked. Stunned. A bolt from the blue. Just some of the words Fianna Fáil TDs and senators used to describe the announcement that Barry Cowen had been sacked as Agriculture Minister by Taoiseach Micheál Martin.
But after those initial reactions of surprise, there was also some hard analysis.
One Fianna Fáil deputy told me the drink-driving story was becoming a "distraction" from a Government attempting to deal with Covid-19 and economic recovery.
Another remarked: "When you are on the front page of a Sunday newspaper, for two weeks in a row, then you know you are in trouble."
One observed that "Barry had been in tricky territory since Sunday".
Fianna Fáil is still raking over the coals of the Cowen affair.
When the story first broke about a drink-driving incident in 2016, which was not disclosed to the party leader, the Agriculture Minister gave an abject apology to the Dáil.
When a follow-up story revealed a garda report, suggesting an apparent effort to evade a checkpoint, Barry Cowen strongly disputed the version of events and announced he was taking legal action.
Government sources indicated that the investigation could take weeks.
His party colleagues looked on and felt: well, let's see where this goes.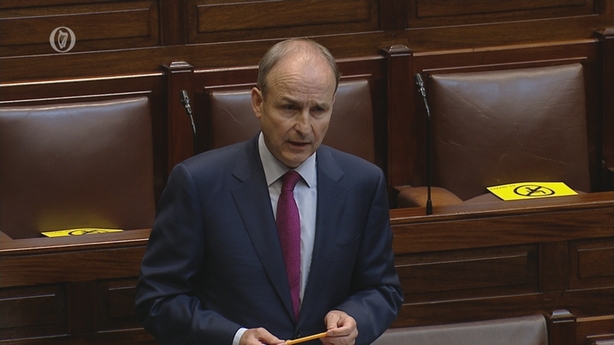 The key moment appears to have arrived when Taoiseach Micheál Martin read the actual garda report into the Cowen incident yesterday morning.
The two men had met the previous night, but Mr Martin's judgement appears to have been that it simply was not tenable for the minister to continue after reviewing the garda file.
It seems to have weighed on the Taoiseach that it was not possible for the minister to continue to refuse to answer any questions in public about a matter of significant seriousness for several more weeks.
But the big question being asked again and again by Fianna Fáil TDs and senators is this: Why did the Fianna Fáil leader appear to back Barry Cowen on Tuesday afternoon in the Dáil, but then sack him a few hours later by phone?
One deputy, speaking for many, said he was really surprised because the Taoiseach had dealt "very well" with the questions posed by Sinn Féin leader Mary Lou McDonald in the Dáil chamber on Tuesday afternoon.
He thought it was "straight forward" that the legal process would take a few days more to reach a conclusion. But then - suddenly - Mr Cowen was gone. Why?
One long-time Fine Gael deputy opined that Mr Martin had "asserted his power" by taking this "decisive" action.
Senior Fine Gael sources were very clear last night to state that the sacking was "solely" a matter for the Taoiseach.
But political life, brutal at times like this, rolls on.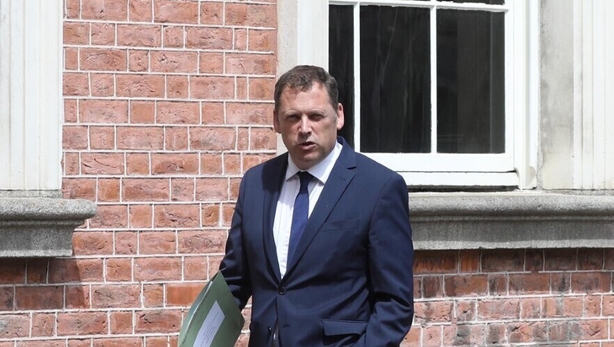 Last night's sacking poses a big question for today: Who will the Taoiseach appoint to replace Barry Cowen?
It's widely accepted that a Cabinet appointment will be made early enough for the successful candidate to participate in a Cabinet meeting this evening.
Most believe the agriculture job will go to the Chief Whip Dara Calleary - the man unexpectedly passed over for a senior ministry just a couple of weeks ago.
However, others point to the fact that Donegal deputy and former agriculture spokesperson Charlie McConalogue could take over the job with ease.
An outside bet would be Tipperary TD Jackie Cahill - the former president of the Irish Creamery Milk Suppliers Association (ICMSA).
If Calleary does get the job, then his former position of Minister of State to the Cabinet would need to be filled. It's widely regarded as a very tricky and important job.
The majority view is that it will be a Fianna Fáil member currently serving as a Minister of State.
Two names regularly being mentioned are Anne Rabbitte and Jack Chambers - both of whom were part of the Fianna Fáil negotiating team for the programme for government.
Another possible appointment is Robert Troy - someone who ran a very successful Seanad election campaign for the party.
If the Chief Whip comes from the Junior Ministerial ranks, then a backbench TD will subsequently secure promotion.
Among the names doing the rounds were James Lawless, Niamh Smyth, and James Browne.
However with every appointment - there is a disappointment.
And that was the word used by Barry Cowen himself to describe his sacking as agriculture minister.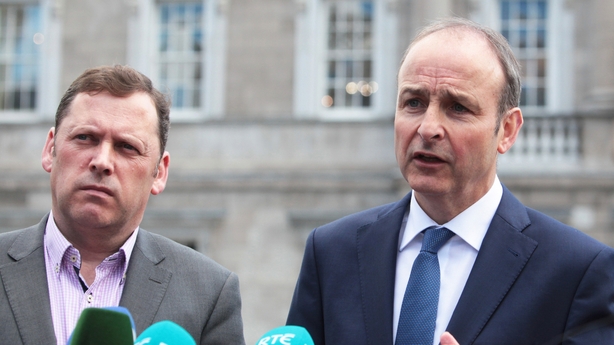 The Taoiseach will know only too well that by being decisive, a political leader can create significant internal problems.
Only time will tell just how much of a problem he created for himself by sacking Barry Cowen.