Arlene Foster has confirmed she will leave the Democratic Unionist Party when she steps down as First Minister of Northern Ireland.
Ms Foster also said that if new party leader Edwin Poots appoints a new ministerial team on Tuesday, she will step down immediately as first minister.
She had previously said she would stay in the role until the end of June.
Speaking to reporters as she visited pupils at Banbridge Academy, Mrs Foster was asked what she will do if Mr Poots announces his team on Tuesday.
"My reaction is that I will resign as well because I have my ministerial team in the Executive with me, we have worked very closely together," Mrs Foster said.
"If Edwin decides that he wants to change that team, I will have to go as well because I can't stay with a new ministerial team of which I have no authority, and that would be wrong."
In an interview with BBC's "Newcast podcast", Ms Foster said that her ousting from the party was brutal "even by DUP standards".
"I think that said a couple of days after what had happened I said that politics is brutal, but even by the DUP standards, it was pretty brutal.
"In terms of what happened, I had absolutely no idea, and was telephoned by a close colleague and told that this was happening on Monday evening, and then by Tuesday morning, it was all in the papers," she said.
Last night, Mr Poots said relationships with the Irish Government are "really, really bad" and claimed it would "starve" the people of Northern Ireland of medicines and the food on their table.
He was speaking after he was formally ratified as leader following a lengthy meeting of the party's executive council.
Mr Poots said that he respects the Taoiseach, but took aim at the Tánaiste Leo Varadkar, Minister for Foreign Affairs Simon Coveney and the Northern Ireland Protocol.
He said they "took photographs of blown up border posts to impose upon Northern Ireland people a harshest form of customs, and an internal market that doesn't exist anywhere else in the world".
"They're going to starve Northern Ireland people of medicines, no less, cancer drugs and other materials such as the food that's on our table.
"And I'd say that's a shame on the Irish Government that they done that. And that belongs to Fine Gael under the leadership of Leo Varadkar and Simon Coveney. So relationships are really, really bad with the Irish Government as a consequence," he said.
Today, he said that he hopes to speak with Taoiseach Micheál Martin in the next few days.
Mr Poots struck a more conciliatory tone towards the Irish Government, saying "I don't have any issue, as a unionist, working with my friends and colleagues in the Republic of Ireland.
"And I'd hope that they will work with me to ensure that they do not punish Irish or British people living in Northern Ireland, in the way they're currently doing and that's something they really need to reflect on and withdraw from."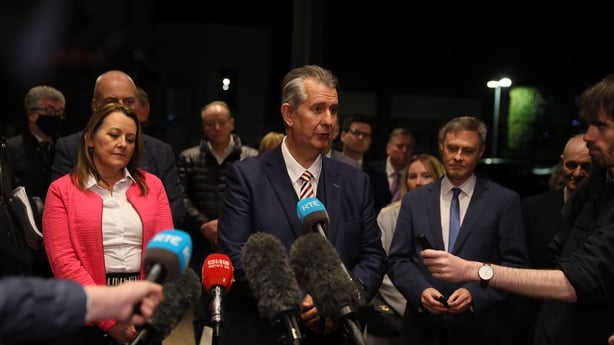 Executive meeting
The party's Executive met at a Belfast hotel to vote to formally ratify the new leadership team of Mr Poots and Paula Bradley, after outgoing leader Ms Foster was ousted during an internal revolt.
The vote was an open ballot.
Before Mr Poots could give a victory speech to the executive, several high profile party members, including Ms Foster, Jeffrey Donaldson, Diane Dodds and Gareth Robinson, walked out of the hotel.
Mr Poots said the DUP was not a divided party. He said there was a contest and the contest had been decided and that the party will move forward in a united way.
Ian Paisley Jr said: "There are issues in the party we have to resolve and we will resolve them, and we are being honest about them."
He said "leadership transfer hurts" and that he knew that better than anyone. "It killed my father," he said, speaking of his father former DUP leader Ian Paisley.
Sammy Wilson said that a change in leadership in any political party will "always leave some people bruised" and "people will get hurt in that process".
He said he did not always agree with Ms Foster, but she did great things for the party and made great sacrifices.
"Change will always leave someone bruised" - Sammy Wilson speaking after the DUP meeting this evening @rtenews pic.twitter.com/EibPdqjRoZ

— Laura Hogan (@LauraHoganTV) May 27, 2021
---
Read more: Signs of agreement on NI Protocol soon as talks continue
---
Resignation
Shortly after the meeting, one executive member from Ms Foster's Fermanagh South Tyrone constituency resigned from the party after 20 years.
Paul Bell said that "the treatment of Arlene Foster" brought him to this decision.
Mr Bell said that unionism was in a bad place and that his own party had "wielded the knife" and "publicly assassinated" it's own leader.
He said that the election of a new leader was not the problem, but rather that a number of MLAs and MPs "decided to go behind her back".
A Member of @duponline from Fermanagh/South Tyrone Paul Bell just walked out of the meeting and announced his resignation from the party following the ratification of Edwin Poots as leader @rtenews pic.twitter.com/yNSLWX6zN9

— Laura Hogan (@LauraHoganTV) May 27, 2021
Mr Bell said that the election of Mr Poots would be a "real problem" for the DUP and he said they would shed "tens of thousands" of votes as a result.
Mr Poots said Mr Bell had been a very loyal member of the party and that he hoped to speak with him in the near future.
"Sometimes people don't like the outcome and they do things in the heat of the moment. I have a lot of respect for the gentleman," he said.
Meanwhile, Tánaiste Leo Varadkar says he is "not going to get too concerned or too bothered" by the comments from Mr Poots.
He congratulated Mr Poots on his election as leader of the DUP, adding that he "somebody we've worked with in the past" and that Minister for Foreign Affairs Simon Coveney worked very closely with him on getting the Northern Ireland Assembly restored.
The Tánaiste acknowledged there are "some practical differences with the Northern Ireland Protocol.
"When it comes to the Northern Ireland Protocol, I've never wanted any barriers to trade north or south, between Britain and Ireland, or between Northern Ireland and Great Britain.
"The protocol was put in place because there had to be checks somewhere and we felt it was better to have those checks at one or two ports as opposed to locations where there is a land border and I stand over that decision to protect the country from a hard border."
Additional reporting PA