A small but all too public social media wave of resignations from young and idealistic grassroots members, including one high-profile councillor.
Ongoing personal disputes from different wings of the party over Eamon Ryan's wafer-thin leadership race win against Catherine Martin still bubbling just under the surface.
An officially innocent affiliate group within the party being viewed suspiciously by some in headquarters as a Trojan horse for a future splinter organisation and eventual electoral rival.
A party leader who, despite having a mainly positive public image and the support of most of his TDs and senators, is the subject of sniping from some TD colleagues who accuse him of "hiding" in his department bunker instead of addressing concerns.
Slumping support levels in repeated opinion polls just nine months after a historic electoral high point, in a manner which while different to 2007-2011 echoes what happened the only previous time the Green Party entered government.
Concern over the scale of the recent Climate Action (Amendment) Bill, which is seen by many as symbolising the internal party difficulty of idealism versus coalition compromise and pragmatism.
And a national crisis involving one of the most tragic periods in modern Irish history that, in part due to the less than fast leaping to its defence by Fine Gael and Fianna Fáil, is now seen as directly linked to the party itself.
It is safe to say, all is not entirely rosy in the Green Party's electoral garden.
Since the party's surge in May 2019's local and European elections and its subsequent 12-seat success in February's general election, almost a decade after it lost all TDs in 2011, the Green Party has faced dilemma after dilemma.
After being part of the most drawn-out government formation talks in the history of the State, with a Government only being formed 140 days after the election itself, it eventually voted by a far higher than predicted 76% to join forces with Fianna Fáil and Fine Gael - a decision which irked a vocal minority.
A leadership contest between long-standing leader Eamon Ryan and his deputy Catherine Martin which swiftly followed eventually saw Mr Ryan retain his role by just 48 votes out of 1,940 ballots, a microscopic majority, which for some members has not definitively ended the long-term race.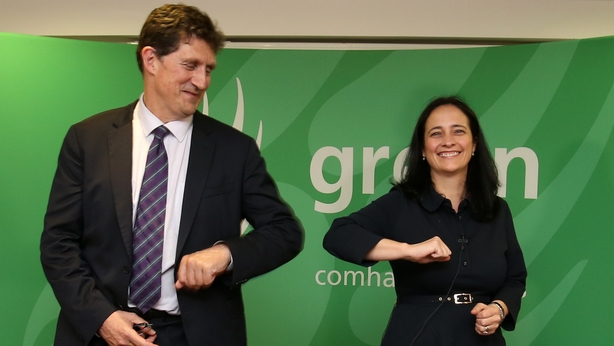 And, while in May 2019 and February this year its environmental policies were at the forefront of political debate, the Covid-19 crisis has unceremoniously shoved them out of the spotlight, leaving some concerned the Green Party is not getting what it needs out of being in coalition.
On the surface, the Green Party is enjoying a high-water mark moment, with Mr Ryan, Ms Martin and Roderic O'Gorman holding seats at Cabinet and Pippa Hackett, Ossian Smyth and Malcolm Noonan safely ensconced as Ministers of State.
It also has 12 TDs, more than any previous point in its history, four senators, 48 councillors and two MEPs, giving it a strong base on which to build, and given the near Dáil dead heat between Fianna Fáil, Fine Gael and Sinn Féin, has a rare opportunity to push its climate action agenda.
They are strong statistics that support the view by high-ranking party pragmatists that existing issues are being overblown and that internal critics simply need to hold their nerve, and at times their nose, in the bumpy first few months of Government before benefiting when the pandemic eventually ends.
But the fact such a question even exists just four months after stepping into the corridors of power has given a significant minority of party members reason to believe those issues must be addressed before they become a genuine problem.
Idealism and resignations
The recent controversy over the mother-and-baby homes commission bill is, for a number of Green Party members at different levels of the party who spoke to RTÉ News on condition of anonymity, a symptom of this developing issue rather than a one-off blip.
During the week-long crisis, Minister for Children and Green Party TD for Dublin West Roderic O'Gorman found himself in his first real ministerial storm, resulting in a situation where, whether accurately or not, many party members feel he had to argue a point that is counter to what the party would have said in opposition.
The issue was eventually resolved with confirmation the records would not be sealed and that both survivors of the facilities and researchers can access them.
But for a number of Green Party members, it was the final straw, with the party confirming between 50 and 80 mainly younger members resigned over the issue, many of whom explaining so, where all good private political rows now take place, on Twitter.
The situation echoes what occurred after the publication of the Climate Action (Amendment) Bill in early October, which one TD said is meant to be the cornerstone of the Green Party's reason "for going into Government, but instead it rightly got a 'meh' response from NGOs, and I think for me all my fears about going into Government have started coming true".
A senior Dublin-based TD who supports being in Government told RTÉ News the issues mainly come down to "communications failures" and that "we didn't explain our position well".
The TD said that while "of course we're concerned when people leave" the reality is "most of us want to be an action party, not a talking only party" and suggested some of those who have resigned were not serious about being in Government in the first place, despite the party voting strongly in favour of the entering the coalition at the end of June.
Another TD also said the reality is while the Green Party has already made mistakes in Government, no coalition is smooth sailing, and that many of those who are leaving or considering doing so are not being honest with themselves about the need for a degree of pragmatism when in Government in order to get most, but not all, of your demands over the line.
But for others who believe the Green Party's rise in the past 18 months has been largely due to a surge in support from a younger, more left-leaning support base who felt their voices were being heard, downplaying such frustration is a mistake.
They say that many high-profile members of this branch of the party, including European elections Midlands-North West and Mayo general election candidate Saoirse McHugh, and Cork city councillor Lorna Bogue, have now left over issues that while individual in nature, consistently come back to the disputed claim their views are being dismissed instead of taken on board.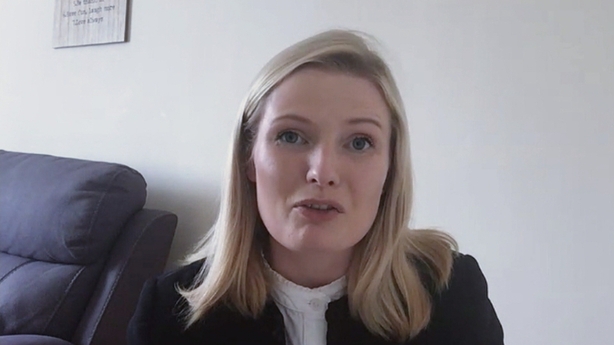 And, they argue, regardless of the practical pragmatism realities of power ignoring this situation will only spell trouble for the party in the medium to long-term.
Speaking to RTÉ News this weekend, Cllr Bogue reiterated that her decision to resign from the party early last week was specifically because of the mother-and-baby homes bill controversy.
But she added it is also about a claimed disconnect between the party hierarchy and its grassroots which is not being fully acknowledged.
"I've not been treated well by the party, I've not been listened to," she said. "I'm happy to compromise, I've spent six years in the party compromising so I'm well aware of the need to do it, but I don't think we're being listened to, we're being talked down to."
The view is shared by Young Greens chair Tara Gilsenan and Queer Greens chair Tiernan Mason, both of whom expressed their concerns about the situation in the party in a joint letter resigning from their positions and the party itself last week.
"We had hoped that we could fight to make a difference and to hold the Green Party to account, but in our short time as chairpersons we have realised that our efforts have been in vain and that the concerns we have raised have been going unheeded.
"While we understand the constraints that come with being the smallest party in a coalition, we have found ourselves dismayed to see our elected representatives vote against party policy, even outside the constraints of the programme for Government, again and again.
"We have fought against the party voting for evictions during a pandemic, against sealing the mother and baby home documents, against rushing a lacklustre climate bill through and against voting against our own policies in general. We have not been successful," the joint letter read.
Some high-level members of the party have suggested this concern is mainly being voiced publicly by potential future election candidates who are keen to keep their profile and green agenda credentials up while taking small steps away from the party's Government decisions itself so as to limit any potential damage to themselves.
But when similar concerns are also being raised privately within the party, such an argument does not entirely explain what has been happening since the general election.
In early autumn, media reports surfaced of "toxic" WhatsApp rows between party members in group chats - with Dublin Lord Mayor and Green Party chairperson Hazel Chu having to interject at one stage to ask members not to celebrate any colleague leaving the party, something long-time members say they have never seen occur before among the Greens.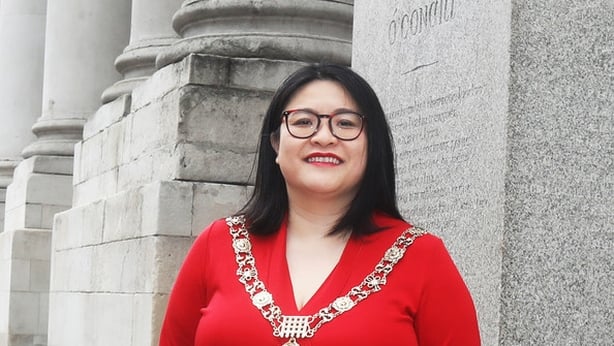 The concern is further underlined by the fact the party's membership and complaints committee is currently looking into a small number of bullying allegations and "cold cases" from the recent past.
One TD dismissed the issues, saying some of the disputes simply amount to claims of "policy bullying" and have been entirely overblown, adding rows over what is achievable in the short-term is nothing out of the ordinary for an idealistic party which now has to come to terms with the rules of being in power.
But for another TD, it is swiftly becoming a case of members being pushed into accepting only one view from the party, saying: "There was a lot of acrimony around the programme for government and us going in, and we've never lanced that boil by allowing people to air their views ... Someone said recently the Greens will eventually split between left and right, but the right won't see it coming. That's common sense to me."
Just transition
"I'm very worried about the inter-generational relationships within the party, particularly among the most active members," Cork city councillor Oliver Moran, one of a number of members keen to acknowledge concerns within the party, told RTÉ News.
"This time last year, the University College Cork Greens were the largest political society on campus. This year they couldn't fulfill the minimum requirements to be a society. They feted people like [former Green Party members] Lorna Bogue and Saoirse McHugh."
Cllr Moran is the secretary of the Just Transition Greens, a group which like the Young Greens and other groups is an affiliate of the actual Green Party and whose actions since being formed in July are being watched closely by supporters - and, it has been noted, party headquarters itself.
The Just Transition Greens group was ratified by the Green Party's executive committee in the weeks after the Fianna Fáil-Fine Gael-Green coalition was formed and is officially focused on creating "a space for continued association between the party and party members who choose to leave due to going into coalition".
As part of this official approach, members of the Just Transition Greens do not have to be members of the Green Party, with Cllr Bogue telling RTÉ News she is continuing as co-chair alongside Northern Ireland Green Party member Lauren Kendall.
Currently, the Just Transition Greens have 462 members, including 327 who are also members of the Green Party or are recent resignations, 102 people who say they are not a member of any other political party and 31 others who are members of rival political parties.
Those figures - and the 116 people who "virtually" attended the Just Transition Greens inaugural convention in September - compare to almost 4,000 members of the Green Party itself.
But, while it is relatively small and officially exists only to allow "a space for continued association" between the party and people leaving it due to the decision to enter Government, the group's actions are being watched closely by the party proper.
Speaking to RTÉ News, a number of senior Green Party members said the Just Transition Greens were ratified by an executive committee which was "anti-coalition" and which has since been re-constituted with a different mix of members.
Parallels have also been drawn with the role of Momentum in the British Labour Party during Jeremy Corbyn's tenure, while one senior member suggested that while "there are good people and strong activists" in the new group "some are the worst critics and they could be on a collision course with us" over time.
That suggestion may be over-blowing the situation at present, but a Just Transition Greens members' survey seen by RTÉ News shows that, of the respondents:
58% of the affiliate group's members are under 35 and 83% under 44
22% joined the Green Party in the past year and 78% in the past five years
61% have either left the Green Party or are considering doing so
63% voted against the programme for Government
While it is a relatively small group compared to the party itself, none of those figures are what the party hierarchy will want to hear.
And although the Just Transition Greens have made no public pronouncements of potentially running candidates itself in the future, its existence would answer a burning question of where high-profile people who leave the party may eventually find a home.
Referencing an online "regathering" meeting last Monday of the affiliate group in the wake of public resignations over the mother-and-baby homes controversy, Cllr Moran told RTÉ News that many Just Transition Green members currently feel uncomfortable in the Green Party itself.
"Contrary to what people sometimes imagine, parties aren't homogeneous places. They are always places of differences of opinion.
"It's not that this cohort feel different. It's that they feel maligned. The messages in the party from the likes of Hazel Chu, having to spell out to people not to cheer resignations, is a symptom of that.
"Saoirse [McHugh] and Lorna [Bogue] were among our strongest and most successful candidates. Lorna was a reforming force within the party when it was at its lowest point. I don't know how many local election candidates owe their seats to Saoirse's performance on Prime Time in May 2019.
"Parties are built on people and relations, more than they are built on policies. There must be a deep re-discovery of that to undo what a cohort of very important members are feeling," he said.
"Deep rediscovery" of members "feelings" is one way of putting it. But another interpretation came from a senior Green Party member who said the party has previously had a problem with wolves at the door given Eamon Ryan's comments about reintroducing the animals into rural Ireland.
Now, if suspicions about the Just Transition Greens prove accurate, it has a potential electoral wolf lying at its feet in the living room.
Dáil fault lines
The grassroots and local government concerns among the Green Party's membership are to date not being reflected in any significant split among the parliamentary party of TDs and senators.
But that does not mean fault lines are not emerging within Leinster House and the Convention Centre either, with all not entirely well at the top echelons of the party either.
Disagreements and a degree of infighting are common practice in the rarified atmosphere of national politics, with no party ever having all TDs and senators fully on board at the same time.
Just ask any TD of any party after a behind closed doors parliamentary party meeting.
The Green Party is, therefore, no different. But it is where the disagreements are coming from that is the source of some internal concern.
"I think there's the pro-co [pro-coalition] wing and the no-co [no coalition] wing, and that's never really been resolved," one TD told RTÉ News.
"For a while things were okay, and Eamon scraped through [the leadership race], but there is some bitterness from people here and it's showing," said another, both highlighting issues which are continuing to pull at the party's hierarchy.
In the immediate aftermath of February's general election, it quickly became apparent no two-party combination would be enough to form a government due to the near dead heat number of seats won by Fianna Fáil (38 including the Ceann Comhairle Seán Ó Fearghaíl who was automatically returned as a TD), Sinn Féin (37) and Fine Gael (35).
With Labour and the Social Democrats reluctant to go into power or join a Fianna Fáil-Fine Gael combination respectively, this opened the door for the Green Party to begin talks.
Those talks eventually led to a programme for government, which was backed by 76% of Green Party members - far in excessive of the two thirds majority needed under the party's constitution.
In theory that should have been the end of the argument, with Eamon Ryan indicating as much when he said after the programme for Government vote "there is a sense of responsibility on us [the party] now because we have a job to do".
But politics is never that simple.
While TDs and senators opposed to forming a Government with Fianna Fáil and Fine Gael were in a significant minority in the parliamentary party, the wafer thin nature of Eamon Ryan's subsequent 48-vote leadership race victory over Catherine Martin meant their disgruntlement could not be entirely pushed off the table either.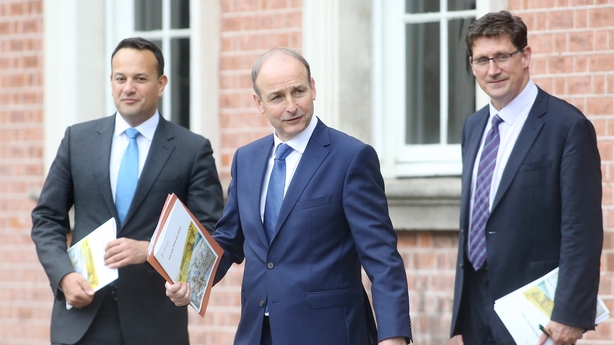 Over the following four months, "bickering" over Government decisions and a claimed lack of feedback from Cabinet members; back-biting over what one TD said was Eamon Ryan's "fiefdom" of 10 advisors; and concerns the rumblings of discontent among some sections of the grassroots membership are not being listened to have been to the forefront of behind the scenes discussions.
One TD dismissed the issues, saying while there was "disagreement" over entering Government and the leadership race "once it's over you return to one public voice instead of giving out on Twitter or Facebook" and that "if people don't stand up together we'll be eaten by the wolves", without clarifying if the wolves referred to those in opposition or the Green Party's coalition partners.
But another TD said the "overly optimistic" nature of senior members of the party when responding to legitimate concerns is a problem, while a third TD said the apparent slowness in the party hierarchy to support Roderic O'Gorman during the mother and baby homes controversy is further example of a growing problem, saying "where was Eamon in this, we need to be stronger on getting our position across".
It may have been an innocent joke, but the latter issue was underlined on Saturday night when Neasa Hourigan, a TD who has previously voiced her opposition to going into coalition, retweeted a satirical Mallow News article about Tánaiste Leo Varadkar's GP contract difficulties picturing Eamon Ryan and headlined "Green Party Ask Leo Varadkar To Explain His Actions If It's Not Too Much Trouble Sorry For Asking", by tweeting:
"I shouldn't laugh, but..."
No crisis, yet. But not exactly a ringing endorsement of the party hierarchy when rumbles of discontent are being heard further down the line.
As ever with the Greens, it's all about the future
Of course, idealistic differences and second thoughts after taking the plunge into the pragmatic pool of power are, ultimately, nothing new.
It happened to Labour in 2011-2016, at times to the Independent Alliance in 2016-2020, and even to the Green Party itself in 2007-2011 when it fell from holding steady at six TDs for the decade leading up to 2011 to a complete national political wipe-out which has taken almost a decade from which to recover.
The Green Party is unlikely to have to worry about a sudden snap general election until, at the earliest, the Covid-19 pandemic is over.
But when an election does eventually come around again, many of the issues being privately expressed now risk publicly coming to the surface, an issue which is unlikely to be in the best interest of any party trying to argue its case again to the electorate.
Current Cork city councillor and senator during the 2007-2011 government Dan Boyle told RTÉ News that while problems exist in the party - just like any party - he believes the Greens are stronger now and in a better position to avoid the pitfalls of power than a decade ago.
He said there are still more people joining the party than leaving it, and that those who are resigning are mainly - although, he acknowledges, not exclusively - people who do not have a long-term connection to the Greens.
Ultimately, Cllr Boyle's point is that despite its problems, the Green Party remains a solid entity that can retain its base next time around.
But with the party falling from 12% to 4% in October's Ipsos/Irish Times opinion poll, and Mr Ryan's personal satisfaction rating also falling by 13% to 27% in the same survey, nothing should be automatically taken for granted.
Depending on who you ask, the Green Party is either coping with the inevitable problems of an idealistic party entering Government and has no choice than to allow some of its branches to be trimmed back if it is to grow, or it is naively ignoring a growing swarm of political green flies eating up its electoral garden base.
For a party which prides itself on sensible forward thinking, there is much to think about.