Sinn Féin's housing spokesperson has published a new bill that would ban co-living, which he says the Minister for Housing, Darragh O'Brien, can do with the "stroke of a pen".
Eoin Ó Broin said the proposals would also ban the ability of one minister to unilaterally change planning laws without a vote.
He said the current co-living regulations allow for living spaces of 12 square metres – which he said is the average size of a car parking space – at a current market price of €1,300 per month.
Deputy Ó Broin said: "The idea that anybody thinks it's a good idea to rent out living spaces that would have a bed, a kitchenette and a toilet in an equivalent space of a car park for €1,300 a month is not living in the real world."
He said he knows of ten applications in Dublin so far for co-living developments.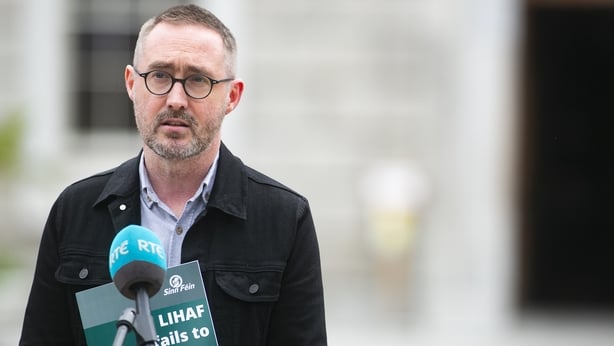 Deputy Ó Broin criticised Minister O'Brien for announcing a review into co-living, saying if he thought it was "bonkers" when he was opposition, surely he thinks it is bonkers now.
"By announcing a review, what Darragh O'Brien is saying – even if he does ban it in a couple of months' time – is anybody that was thinking of doing one of these developments, they should go and do it now, because that is the only way to guarantee the uplift in the value of the land."
Deputy Ó Broin said they would also remove the lower design standards for build-to-rent apartments.
"The idea that renters should have lower standards than owner occupier apartment dwellers makes no sense", he said, adding that it is contrary to the Government's own national planning framework and good architectural design.
Co-living involves residents sharing facilities such as kitchens, living rooms and leisure rooms.
The former housing minister, Eoghan Murphy, changed planning laws two years ago to allow for the controversial living arrangement.
There have been protests at the Fumbally Lane development in Dublin's Liberties, which was given planning permission in March.
Housing campaigners say the development should not go ahead due to concerns over Covid-19.
The plans involve a 144-bed hotel and a 69-room co-living complex.
It would be run by London-based co-living company, The Collective.