The Taoiseach has warned that the planned full reopening of pubs on 20 July could be delayed.
Micheál Martin said the Government is worried about scenes in Dublin over the weekend where social distancing and, in some cases, opening hours were not being complied with.
He said: "We have to put public health first. That is the overarching issue. The only way we can get the economy back is if we keep Covid-19 down. Any change to this would be a disaster for the country.
"There is an obligation on everyone to behave."
Speaking on Cork's 96FM, Mr Martin said this would be discussed at a meeting of the Cabinet today, where a formal decision on travel restrictions is expected to be made.
The Taoiseach said the public health advice is extremely cautious about opening up for travel and a methodology is being drawn up around which a 'green list' of countries could be drawn up.
However, he said, given international volatility countries that would have made a safe list two weeks ago would not make it today.
"The overarching objective is to suppress the virus and keep it down. There is a fear that international travel would re-ignite the virus and cause spikes to happen."
The matter of foreign travel and pubs was discussed at Cabinet this afternoon.
Advice to people to avoid all non-essential overseas travel is to remain in place until 20 July.
The Government said a "green list" of countries to which Irish people can travel will then be published.
Taoiseach Micheál Martin said a cautious approach to international travel was being adopted as the possibility of a second wave of coronavirus was a real concern.
---
Read more:
Majority of pubs complying with Covid-19 rules - Harris
Latest coronavirus stories
---
We need your consent to load this rte-player contentWe use rte-player to manage extra content that can set cookies on your device and collect data about your activity. Please review their details and accept them to load the content.Manage Preferences
On the reopening of schools, in this morning's interview Mr Martin said his priority is to get as many as possible open and a spike could jeopardise this.
He also said that there is a backlog in dealing with non-Covid 19 cases in the hospital system and capacity has to be kept free to deal with these.
Asked about his first week in office, the Taoiseach said he knew in advance that the day he would be making the appointments that "the honeymoon would end very quickly".
He agreed that some people were not just disappointed but angry too, however he said the key issue for the general public is to continue to suppress Covid-19.
Mr Martin said he did not know and was not aware of the Minister for Agriculture's drink driving conviction and that Barry Cowen had not made him aware of it at the time.
It is understood that Minister Cowen has asked the Ceann Comhairle if he can make a Dáil statement about the 2016 incident. 
Asked about MEP Billy Kelleher's breach of the quarantine regulations by attending his election at the Convention Centre, Mr Martin said it did not register with him on the day.
He said his own family did not attend because of the restrictions on domestic travel.
"He has acknowledged he shouldn't have done that and he has apologised."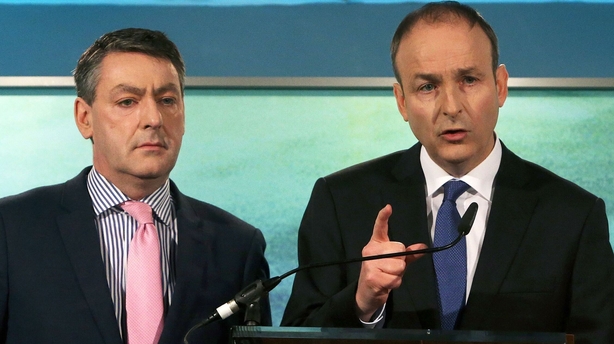 Mr Martin said he did not know that Mr Kelleher was going to be there. He said politicians are classed as essential workers but "there was no need for him to be at the meeting".
Mr Martin was also asked about Louise O'Keeffe and the commitment from former taoiseach Leo Varadkar to give victims access to a State redress scheme.
He said he is very well aware of this situation and it would be addressed.
"The review of it is being progressed so hopefully we will be able to deal with that quickly. Certainly within the next short while. I have been speaking to the Minister for Education and I will talk to the Department of Education, and we will get moving on it.
"When we have something to announce I will announce it.
"I know the issues, and I am very committed to trying to get a resolution of that for those who are in particular difficulty as a result of what happened and who have financially received nothing at all and were not really in a position to avail of the outgoing ex-gratia scheme," the Taoiseach said.