Publicans have been warned that the full reopening of pubs on 20 July could be delayed if public health rules are not strictly applied and adhered to.
The Acting Chief Medical Officer, Dr Ronan Glynn, this evening said they are a few days out from the next phase and that these decisions are based on the daily data on the disease.
It comes after footage emerged of large crowds drinking outside some pubs in Dublin city centre at the weekend.
However, the Garda Commissioner has said that the vast majority of the licensed premises were complying with the Covid-19 regulations.
Street furniture being used by outdoor drinkers will be removed, according to Dublin City Council's chief executive.
Owen Keegan told a meeting of councillors that this was all the city council could do about the problem of on-street drinking witnessed over the past couple of weekends.
"But we certainly should not be facilitating it," he added.
Mr Keegan said enforcement officers would be out at night-time and any furniture being used by people drinking alcohol would be removed.
The Taoiseach has warned that the planned full reopening of pubs on 20 July could be delayed.
Micheál Martin said the Government is worried about scenes in Dublin over the weekend where social distancing and, in some cases, opening hours were not being complied with.
He said: "We have to put public health first. That is the overarching issue. The only way we can get the economy back is if we keep Covid-19 down. Any change to this would be a disaster for the country.
"There is an obligation on everyone to behave."
Garda Commissioner Drew Harris earlier said most pubs have complied with Covid-19 restrictions after they reopened under Phase 3 of the lifting of restrictions.
He said gardaí visited 6,000 licensed premises over the weekend and the vast majority were in compliance.
Asked about scenes of crowds drinking outside pubs in Dublin city centre, he said that was a single incident and was dealt with as a public order situation.
Mr Harris was speaking following a meeting with Minister for Justice Helen McEntee at Slane Garda Station this morning.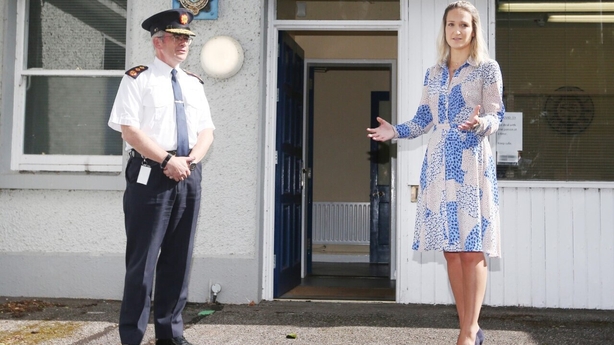 He said gardaí had seen publicans working very hard to comply with regulations.
Minister McEntee said the vast majority of citizens and businesses have complied with regulations.
She said there were some scenes over the weekend which were disappointing and urged everybody to comply with public health regulations.
She said that "we have come so far, we have made such great progress, and while we have been able implement measures and bring them forward, what we don't want is to have to re-implement any of those measures we have relaxed over the last while".
Asked about publicans who may have been in breach of the guidelines, the minister said she thought everyone is really trying their best.
She said if some premises continue to disregard the regulations further measures would have to be taken, but the approach had been about working with people and she hoped that would continue.
We need your consent to load this rte-player contentWe use rte-player to manage extra content that can set cookies on your device and collect data about your activity. Please review their details and accept them to load the content.Manage Preferences
---
Latest coronavirus stories
Martin warns 20 July reopening of pubs could be delayed
---
Earlier, a former professor of Population Health Medicine warned that large public gatherings will inevitably lead to more spikes of the coronavirus,
Prof Joe Barry said scenes in Dublin over the weekend, where groups of people were seen drinking on the streets, were predicable given the ability under law for premises to sell alcohol for takeaway.
Speaking on RTÉ's Morning Ireland, he said the situation at the weekend did not allow for proper contact tracing and most young people do not really observe social distancing.
He said it is very hard for pubs to enforce Fáilte Ireland guidelines and there are weaknesses in legislation, which have always led to problems with alcohol consumption.
The Licensed Vintners' Association said the scenes witnessed on Dublin's Dame Lane at the weekend were "shocking and disgraceful" and should not be happening and called on gardaí to investigate.
Donall O'Keeffe said while it is not illegal for pubs to sell alcohol from a hatch, takeaway alcohol cannot be consumed within 100 metres of the pub.
He said it is very difficult for pubs to enforce that rule and gardaí must intervene to deal with it.
He said there is a weakness is the legislation in this regard but that on street drinking has been a problem "forever" but it has now become a worrying and dangerous problem.
Mr O'Keeffe said that the situation seen at the weekend is a separate issue to pubs reopening and publicans are working hard to follow guidelines and comply with public health advice.
The CEO of the Vintners' Federation of Ireland said a "small minority" of publicans are not following the guidelines that were issued on the reopening of pubs, and they should be warned that their licences will be revoked if this continues.
Speaking on RTÉ's Today with Sarah McInerney, Padraig Cribben said gardaí should "bring as much pressure as they can".
Mr Cribbin also said that "in hindsight" all of the pubs should have been allowed to open at the same time.
He said "a pent up demand" contributed to the large crowds who wanted to access pubs at the weekend.
"We are now seeing 45% of pubs open so that means that a very big crowd were trying to get into places with restricted numbers. If all of them were open we would see less of what we are seeing."
He said the allowance of alcoholic drinks to be taken out of pubs is a major contributing factor to the number of people drinking on the street.
"This should be stopped right now. If this is not done in a controlled manner then this is aggravating the scenes we saw on Saturday night. When you have very big crowds it is very difficult for the gardaí implement that but the easiest way to implement it is not to allow it in the first place," he said.
Licensed premises reopened last Monday under Phase 3 of the roadmap to kickstart the economy.
At present, pubs are only allowed to serve alcohol to customers who purchase a "substantial" meal costing at least €9.
In a tweet, Minister for Higher Education Simon Harris urged people to "keep using our cop on" saying "we've come too far to go back".
C'mon everyone. We've come too far to go back. Great to see our economy reopened & social life resuming but let's keep using our cop on & common sense. We owe it to each other, to those families who have lost loved ones, to the local business we want to keep open & to our kids https://t.co/zcoeWkETUg

— Simon Harris TD (@SimonHarrisTD) July 5, 2020
Additional reporting Colman O'Sullivan and John Kilraine