Three party councillors representing Fine Gael, Fianna Fáil and the Green Party have expressed doubts that the programme for government will be passed by their members.
Speaking on RTÉ's Prime Time, Green councillor Lorna Bogue said it will be difficult for this deal to get through their parliamentary party.
"There isn't very much in the way of commitments in this particular deal," she said.
Fianna Fáil councillor Shane Curley echoed this view, and said he waited to read the programme for government, and after doing that, said he cannot stand over it.
He said he struggles to see how it will get through his party.
Fine Gael councillor Jim Finucane said it will be "challenging" to get this programme for government through their members.
Speaking on the same programme, Green Party TD Ossian Smith said he was not going to prejudge the outcome, but said the delivery of this programme for government depends on the will of the incoming government, and they want to deliver.
He said it is important for the government to have a "delivering and monitoring" structure.
Mr Smith said his focus during negotiations was on what things can happen during the lifetime of this government, such as if public transport can work efficiently and if your house can be insulated properly.
He said there is general acceptance from everyone that austerity was the wrong thing to do in the last recession, and this time it will be a focus on economic stimulus, which he is happy about.
"We are going to have a stimulus in the economy that is going to be good for the environment as well," he said.
Meanwhile, the Minister for Communications and Climate Action, Fine Gael TD Richard Bruton, said the incoming government will "transform the economy".
"It is only with government intervention we will save jobs and make bold changes."
He said they have created a climate action plan and framework where every minister will be expected to deliver on it.
He said those targets have to happen before 2025.
In terms of the 7% carbon emissions reduction, Minister Bruton said it is going to take time for certain initiatives such as wind energy to be put in place, and there is "no magic bullet".
Meanwhile, Ossian Smith said the 7% reduction is not going to happen every year, but they want to try to get some things instigated right away, such as solar power.
Fianna Fáil's spokesperson on Finance, Michael McGrath, has said the focus of the incoming government has to be about getting the country moving again and supporting businesses and getting people back to work.
"That is the elephant in the room for the incoming government."
---
Read:
Micheál Martin receiving 'strong messages of support'
Concerns over 7% emissions target in programme for govt
Taoiseach warns of political crisis if deal rejected
---
Some Green Party councillors in Cork and Dublin are already poised to vote against the programme for government, amid growing reservations within the party over entering power.
Green councillor for Midleton, Liam Quaide, said the deal is vague and lacking in clear commitments, and he is leaning towards voting against the agreement.
He joins Cork city councillor Lorna Bogue in potential opposition to the programme for government deal.
Prominent Dublin councillor Peter Kavanagh also said he is set to reject the programme.
The environmental group Extinction Rebellion said it is opposed to the programme for government - an indication that younger Greens may reject the deal.
The Green Party's former deputy leader, Mary White, has urged younger members to "temper idealism with pragmatism" and allow the party to enter government.
Party rules dictate a two-thirds endorsement from the membership must be attained before the Greens can enter power.
Green Party members must register by 1pm tomorrow in order to vote on the proposed programme for government, ahead of a special party convention on Thursday.
The results of the Fianna Fáil, Fine Gael and Green Party membership votes on the deal will all be announced on the same day: Friday, 26 June.
A Green Party spokesperson has also confirmed that between 650 and 700 Green Party members in Northern Ireland will have a vote on the proposed programme for government.
MLA Claire Bailey abstained in the Greens' parliamentary vote on the deal.
Cllr Quaide told RTÉ's Drivetime: "From the media leaks yesterday, the deal sounded very promising. However, the details gave rise to a lot of concerns.
"Crucially, across the entire programme for government, there's a lot of vague language - 'we'll consider, review, examine', instead of clear timelined, costed commitments which is what our negotiating team sought and what our members would expect.
"This requires a great leap of faith in the two parties - which is particularly challenging with Fine Gael, who have brought us unprecedented crises in housing, health and the environment in an economic boom.
"So we're now expected to trust they'll radically change course during a deep recession without seeing where that money will come from or timelines," he added.
Cllrs Quaide and Bogue were two of four Cork-based Green Party councillors to initiate a leadership challenge against Eamon Ryan last month - writing a letter to deputy leader Catherine Martin asking her to challenge for the position.
A third, Cllr Oliver Moran, said he will make up his mind at the party's special convention on Thursday.
"We have a convention on Thursday when details of the deal will be debated in depth by party members and representatives. I'm going to hold on forming an opinion until then. But I'm currently leaning towards 'no'," he said.
Cllr Quaide also expressed concern over provisions for mental health and disabilities in the agreement.
South Dublin councillor for Clondalkin and Green Party spokesperson for the Gaeltacht Peter Kavanagh told RTÉ he too is set to vote against the programme for government, due to what he sees as a lack of specifics on climate targets and inadequate provisions for the Irish language.
When asked what would convince him to vote otherwise, Cllr Kavanagh responded: "It would be a tough job. I'd really like to see some commitments on carbon reductions for the lifetime of this government. I would like to see it outlined exactly how much we will do in the five years that we are there.
"At the moment, what I see in the programme for government seems to disproportionately affect the most vulnerable and it doesn't seem to completely agree with our social justice mandate. Whoever wants to pick up the phone to me will have a tough job," he said.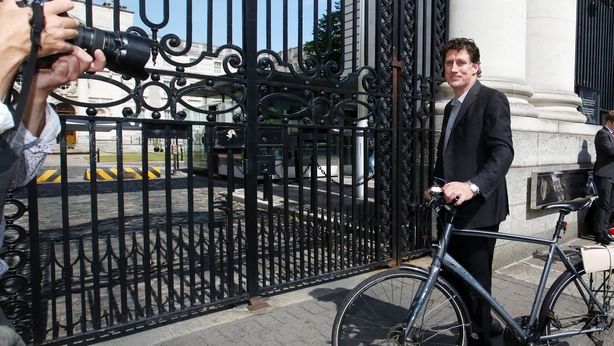 Green Party councillor in Clare, Róisín Garvey, said she is prepared to vote for the deal, "even though it isn't perfect", while Fingal county councillor David Healy - a government adviser the last time the Green Party was in power - says he will back the deal.
Cllr Dan Boyle - an ex-TD - told RTÉ's Morning Ireland earlier that he too will vote in favour of the agreement.
The Green Party's membership has swollen from approximately six or seven hundred to 3,000 over the last two years, with a significant number of younger members coming in through the Extinction Rebellion protests.
Extinction Rebellion this evening confirmed it is not supporting the programme for government. The environmental group said it opposes the deal as "emission reductions targets and timings are not in line with what scientists are telling us we need to do to limit climate change catastrophe".
It also says "the principles of climate justice are not upheld in the programme for government".
Younger Greens are expected to largely reject the deal - with former election candidate Saoirse McHugh dismissing it as full of "woolly management speak".
But one party grandee appealed for the youth wing of the party to rethink.
"The idealism of the young Greens and the idealism of young members of the party is absolutely fantastic. But you have to temper idealism with pragmatism, and politics is all about pragmatic decisions," said Mary White, the former Green deputy leader, who also served as a minister of State.
"If we don't go in, we wait another five years perhaps, and we don't go in again as we don't find the perfect partner. There's never going to be a perfect partner. You have to compromise. I do believe this is a marvellous chance to implement policy at a critical time for our country," Ms White told RTÉ's Drivetime.
She confirmed she will vote in favour of the deal.
Taoiseach Leo Varadkar has warned of a political crisis if members of Fianna Fáil, Fine Gael and the Green Party do not endorse the proposed coalition agreement, with the Green Party's two-thirds endorsement requirement likely to cause the most political anxiety of all three membership votes over the coming days.
"It really depends how the various factions within the Green Party are going to split, but at the moment the two-thirds majority just seems a very high bar," warned political researcher Claire McGing.
We need your consent to load this rte-player contentWe use rte-player to manage extra content that can set cookies on your device and collect data about your activity. Please review their details and accept them to load the content.Manage Preferences
Additional reporting: Barry Lenihan