Leo Varadkar has said Fine Gael is ready to agree a joint government formation document this week - but that he cannot speak for Fianna Fáil.
He said if the document is agreed, they will then approach other parties to see if they are willing to form a new government.
Mr Varadkar said he does not envisage a second election and that he does not even know how an election would be conducted in the current circumstances.
He said Fine Gael had given other parties two months to form a government but he said they could not do that.
Mr Varadkar also said he would not expect a party to enter government unless their core agenda was part of the government's mission.
He said if an agreement is reached between Fine Gael and Fianna Fáil, they would then reach out to the Greens, Labour and the Social Democrats but he said no party would be bullied into going into government.
Fianna Fáil and Fine Gael are meeting again today for further discussions on government formation.
The document will not be a programme for government, but will instead contain broad outlines of key policy areas.
Dealing with the Covid-19 emergency and stimulating economic recovery will be at its centre.
It will also cover housing, health and climate change.
---
Read more
Could team of free-thinking Independents form part of next govt?
Kelly says other parties should form a 'stable government'
---
The intention is to share the agreed paper with the Green Party, Labour, the Social Democrats and independents to get their input.
It is hoped it might persuade one of those three parties to reverse their opposition to going into such an arrangement.
The next stage would be detailed negotiations.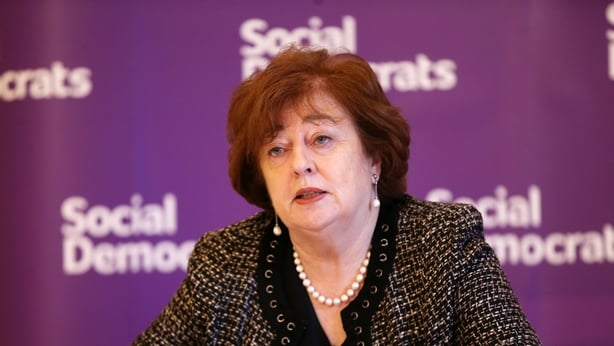 Any deal would still have to be passed by party members, meaning there is still some time to go before a new government might be formed.
Speaking this morning, one of the co-leaders of the Social Democrats said any new government had to be one that takes the right decisions for the next five years.
Catherine Murphy said that any partners in a coalition must be compatible and government formation now is very important because this government will still be in place in 2024.
She said the Social Democrats would look at the framework document, but added there are a lot of things that are unknown at this point, including the approach of the European Union.
Meanwhile, Fianna Fáil TD for Galway West Éamon Ó Cuív has said there is serious disquiet in the party about entering into a "four- to five-year" government arrangement with Fine Gael.
Mr Ó Cuív told RTÉ's Morning Ireland that "the options have been artificially narrowed... to present us with this choice only of government".
He said "we need to treat people as equals in this process" and a number of groups and parties have been excluded "including the joint biggest party in the Dáil".
He called for a need for consultation with "a much broader section of the Dáil".
Mr Ó Cuív suggested a strong majority is needed in the short term, saying a national government is one option to get a consensus to deal for the period of the Covid-19 health and economic crisis.
Additional reporting: Maggie Doyle