The new Labour leader Alan Kelly has indicated that his party will stay out of government, however he has said he will continue to engage with all parties.
In a statement, Mr Kelly said that Labour had been clear since the general election that it was up to other parties to take their responsibilities seriously and it was up to them to form a stable government.
He added: "It seems that some parties are more interested in playing politics than solving the crisis the people of this country face."
The comments come as Fianna Fáil and Fine Gael are working on a joint document to present to other political parties in order to get a third party involved in government formation along with independents.
The Tipperary TD said that in a time of crisis, Labour would offer constructive support for the national effort as he said it had done.
Mr Kelly won the runoff vote against rival Aodhán Ó Riordáin by 1,047 votes to 868 in a result announced last night.
Around 2,000 Labour party members voted in the leadership election.
In the statement, Deputy Kelly said he believed the party had a bright future which would take vision, hard work and dedication.
"Our job is to convince voters that Labour will focus and fight on the things that really matter to them, especially in the uncertain times ahead."
He added that the election of five new party Senators had boosted their parliamentary party. 
We need your consent to load this rte-player contentWe use rte-player to manage extra content that can set cookies on your device and collect data about your activity. Please review their details and accept them to load the content.Manage Preferences
Speaking in Tipperary today, Mr Kelly accused the Green Party of 'stepping off the pitch' and said he was very disappointed with them.
"They have their climate change agenda which they talk about so much, well now is their opportunity with the seat numbers they have to step up, get back on the pitch, and engage with other parties to form a Government.'
When it was put to him that Fianna Fáil, Fine Gael, the Regional Technical Group and themselves would also have the numbers for a stable government, Mr Kelly would not be drawn, restating his view that it was up to the four parties to form a government.
"If people want to talk to the Labour Party, as always - as we have traditionally and historically put the country first - we will always engage and talk to other people, but the numbers aren't going to change and we believe that the next government will have to be formed through a combination of those four parties."
Asked if he would consider a confidence and supply arrangement from the opposition benches, Mr Kelly said he once again said he believes the government has to be formed from the four parties but that the party would be open to talks.
Asked if he has already been approached, he said that he has received a lot of correspondence in the past 24 hours which he has not got through yet, but the Labour Party "has always put the country first and we will engage and talk to people".
New Labour leader Alan Kelly keeps his powder dry - for now
Earlier, the former Labour president Proinsias De Rossa urged the party to consider going into Government with Fine Gael and Fianna Fáil, saying "there is nothing to be lost by negotiations and potentially much to be gained".
Mr De Rossa made the request in a detailed email to Labour TDs and Senators on the eve of the party's leadership campaign, which was won on Friday evening by party TD Alan Kelly.
In the email, seen by RTÉ News, Mr De Rossa said the party should "seriously re-consider the apparent decision" to rule itself out of any potential coalition.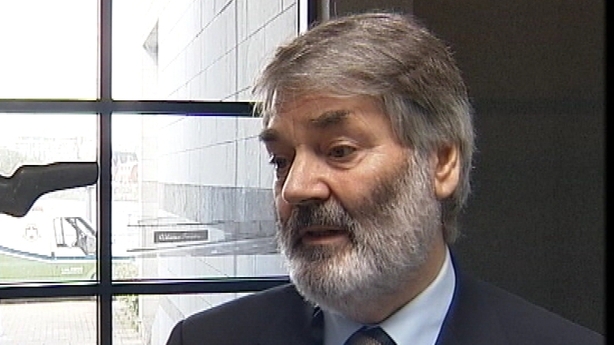 The former party president, TD and MEP said it is the only way Labour can "survive" as it otherwise risks being "overwhelmed by the Sinn Féin juggernaut" in opposition.
"I want to urge you to seriously re-consider the apparent decision of the party at national level to avoid, not only government, but even the negotiations that would establish whether or not we could have sufficient key elements of our manifesto to justify or not our participation in government," Mr De Rossa wrote.
"There is nothing to be lost by negotiations and potentially much to be gained.
"For me the survival of the party is extremely important as the only democratic party of the left in Ireland, but that is not the issue in this decision.
"In my view in the current circumstances we can survive and grow better as a party in government than in opposition, whereas in opposition we could be overwhelmed by the Sinn Féin juggernaut whose enormous financial resources and Leninist discipline will be extremely difficult to counter.  
"As for the Greens, they have clearly not got the political courage to fight in government for their market driven vision.
"Wouldn't it be wonderful to be in government leading the implementation of a New Social Green Deal, which would re-orientate the Irish economy to address the multiple existential crises Ireland and the global community are facing.
"This opportunity will hardly arise again for a very long time," Mr De Rossa's email read.
He also wrote that he does not believe "Fianna Fáil and Fine Gael along with a mixed bag of Independents" will realistically "reduce economic inequality" in Ireland.
He concluded: "Let's negotiate a strong programme for government based on our excellent manifesto 2020, while taking account of the current crisis and its aftermath, and include mechanisms to ensure its delivery, with a clear understanding of where the red lines are.
"I know how difficult it can be to take the bric-bats; but I also have experienced the wonderful feeling of being thanked for having made someone's life a little bit better by decisions made in government. That, I imagine, is what drives us all to participate in politics."
Mr De Rossa, who served as a TD between 1989 and 2002 for the Workers Party, Democratic Left and Labour, was part of the Fine Gael-Labour-Democratic Left "rainbow coalition" between 1994 and 1997 before merging Democratic Left with Labour in 1997.
He was subsequently named as Labour president, a position he held until 2002, and represented Labour in the European Parliament from 1999 until his retirement in 2012.
While he has since left frontline politics, his interjection is likely to add further to suggestions Taoiseach Leo Varadkar and Fianna Fáil leader Micheál Martin may target Labour in the coming weeks to help it form a majority government.
Former Labour leader Brendan Howlin ruled out going into government in the days after February's general election, a position also taken by leadership contender Aodhán Ó Ríordáin and the party's parliamentary party at a private phone meeting this week.
A number of Labour TDs and senators have said although there is no strong interest in entering government, if a proposal was put to the party by Fine Gael and Fianna Fáil members may need to consider it instead of dismissing it out of hand.
Fine Gael, on 35 seats, and Fianna Fáil, on 37, have a combined 72 seats in the 33rd Dáil, and need the support of other groups to form a majority government.
Their main options include Labour on six seats, the Green party on 12, the Regional Independents group on nine seats and the Rural Independents group on six seats.
The Social Democrats on six seats have ruled themselves out of any coalition involving both Fine Gael and Fianna Fáil, while Mr Varadkar and Mr Martin have both ruled out Sinn Féin on 37 seats.
It has now been 55 days since the general election took place on Saturday, 8 February.
Additional reporting: Fiachra Ó Cionnaith