Coy is not exactly the first term that springs to mind when you think of Alan Kelly.
The Tipperary TD, affectionately known to friends, foes and sometimes himself as 'AK47' on account of his no-nonsense style, has a reputation as a rough and ready politician who is as able to take a punch as throw one in any parliamentary fist fight.
He infamously remarked in a Sunday Independent interview in January 2016 that power is "obviously a drug, anybody who says that power isn't attractive is telling you a lie, it suits some people, it doesn't suit others, I think it suits me".
He has never hidden his desire to become Labour leader, an intention he first publicly announced during a high-profile Late Late Show appearance in 2016 before failing to gain enough support to run, meaning he had to wait until round two on Friday evening to finally achieve his goal.
He made it known in late 2017 he believed Brendan Howlin risked being unceremoniously shoved from power - by whom, it was never quite said - unless the party's poll ratings improved, responding to a question from journalist Sarah McInerney if he would give him six months: "I would say less than that."
And, as any sparring partner at the Dáil's public accounts committee, health committee or the floor of Leinster House knows all too well, he is not one to keep people guessing as to what is on his mind.
To be suitably blunt, Mr Kelly does not do coy.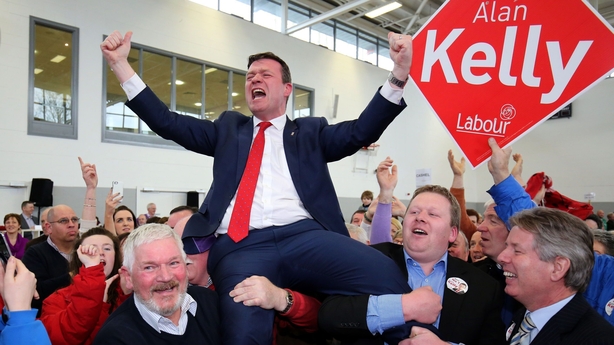 Which makes it all the more interesting why, for now, some believe coy is exactly what he is being.
Labour leader says other parties should form a 'stable government'
In both the lead-up to his successful election as Labour leader in a 54.7% to 45.3% victory against fellow TD Aodhan O' Ríordáin on Friday night and its immediate aftermath, Mr Kelly has pulled rather than thrown his knock out trademark punches.
Far from charging the gates of Government Buildings to get his power fix by helping Fine Gael and Fianna Fáil bridge the gap between them and a workable coalition, as some may have expected, Mr Kelly has instead demurred.
Echoing the words of his predecessor Brendan Howlin who said in the aftermath of the general election Labour should not enter government; beaten leadership race rival Aodhan O Ríordáin; and the views expressed earlier this week from what is now his parliamentary party; Mr Kelly has instead shifted the intense shine of his long-sought spotlight elsewhere.
Where, you might ask? Well strangely enough, to his rivals.
In a statement on Saturday afternoon, less than 24 hours after winning the leadership race, Mr Kelly said it is up to other parties, not Labour, to solve the post-general election conundrum.
"When it comes to forming a government we have been very clear since the general election that it is up to other parties to take their responsibilities seriously and it is up to them to form a stable government.
"It seems that some parties are more interested in playing politics than solving the crisis the people of this country face," his statement read.
For many, the comment has been interpreted as a case of coalition question answered in that Labour's new leader has made it clear it is not his responsibility to form a government. Typically blunt, Alan Kelly putting it up to his opponents, right?
But for others, there is a new-found coyness in the Tipperary TD's remarks, particularly his reference to the fact he will "of course continue to engage with all parties" and that "in this time of crisis Labour will offer constructive support for the national effort as we have done over the few weeks".
And it is a coyness that could become crucial in the coming weeks rather than days, as the now 55 days and counting search for a workable post-general election government begins to slowly reach another make or break stage.
While Fine Gael (35 seats) and Fianna Fáil (37 seats) have in recent weeks come to the conclusion they need to forget past differences and come together if they want to get into power without Sinn Féin (37 seats), the reality is they need help from others too.
Although both parties are currently finalising the first skeleton document outlining how their potential government might work, their combined 72 seats is still eight short of the absolute minimum required for a functioning Dáil majority - a reality acknowledged by Taoiseach Leo Varadkar and Fianna Fáil leader Micheál Martin in separate media appearances this week.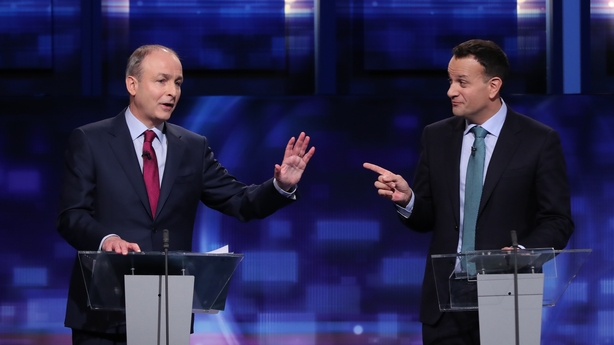 The Greens (12 seats) are seen as the easiest route to power for Mr Varadkar and Mr Martin, but are still focussed on a national unity government of all parties and groups.
The Social Democrats (six seats) could be a useful bridge to within touching distance of the 80 seat requirement, but remain resolute in their insistence they will not join a coalition that includes both Fine Gael and Fianna Fáil.
And, while they are officially open to discussions, Sinn Féin (37 seats) is still being stoically ignored by Fine Gael and Fianna Fáil, with Fianna Fáil's health spokesperson Stephen Donnelly telling RTÉ Radio on Saturday his party has "moved past" thoughts of any deal with Mary Lou McDonald.
It leaves few alternatives, with the Regional Independents (nine seats) and Rural Independents (six seats) seen within both Fine Gael and Fianna Fáil as alternatives only if another party comes on board, given the nature of Independent blocs.
Alan Kelly has been in national politics for a decade - including three as minister for transport and two as minister for environment, community and local government - and is no slouch when it comes to negotiation tactics.
As such, it will not have been lost on him that with Fine Gael and Fianna Fáil's options running out, it is not in Labour's interest to rush to the rescue straight away.
Putting the spotlight on rival parties such as the Greens, Social Democrats and others only to potentially see them wilt before attention turns back to Labour - a party which has experience of forming lasting deals with both Fine Gael and Fianna Fáil - does his party no harm.
And while his comments on Saturday must be taken as a truthful expression of his and his party's reluctance to consider forming a part of any coalition, particularly when other rivals which could otherwise throw stones from opposition are still available, times of crisis and calls for doing something in the national interest can often change the political mood music.
For now, Alan Kelly's public utterances on Saturday are in tune with those of the vast majority of his colleagues, with Labour's TDs and senators agreeing during a phone call meeting earlier this week they have no urgent desire to go into government.
This was confirmed to RTÉ News by a number of those who took part in the phone call who said there was an "overwhelming" view the party should remain in opposition.
However, one politician who took part in the phone call added that there remains a view internally in Labour that if Fine Gael and Fianna Fáil provided them with a structural or policy document, then regardless of public comments the party "can't not engage".
And it should be noted that view is not a lone voice, with others with less skin in the game more than simply hinting about what they believe should happen next.
In an e-mail to party TDs, senators and unsuccessful general election candidates on Thursday, the eve of the Labour leadership race result, former Labour president, TD and MEP Proinsias de Rossa broke his relative public silence since retiring in 2012.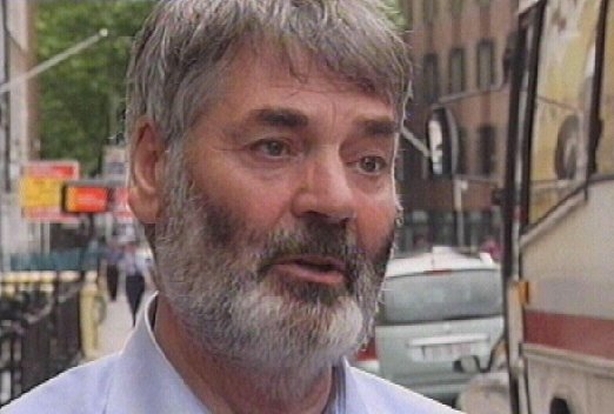 No stranger himself to forging deals in times of political quagmire, given his role in the 1994-1997 Fine Gael-Labour-Democratic Left "rainbow coalition", Mr de Rossa urged colleagues to consider going into government.
"I want to urge you to seriously re-consider the apparent decision of the party at national level to avoid, not only government, but even the negotiations that would establish whether or not we could have sufficient key elements of our manifesto to justify or not our participation in government.
"There is nothing to be lost by negotiations and potentially much to be gained.
"For me the survival of the party is extremely important as the only democratic party of the left in Ireland, but that is not the issue in this decision.
"In my view in the current circumstances we can survive and grow better as a party in government than in opposition, whereas in opposition we could be overwhelmed by the Sinn Féin juggernaut whose enormous financial resources and Leninist discipline will be extremely difficult to counter.
"As for the Greens, they have clearly not got the political courage to fight in government for their market driven vision.
"Wouldn't it be wonderful to be in government leading the implementation of a New Social Green Deal, which would re-orientate the Irish economy to address the multiple existential crises Ireland and the global community are facing.
"This opportunity will hardly arise again for a very long time," Mr de Rossa's e-mail read.
It is unknown what response he was given, but Mr de Rossa's comments and just as importantly the fact they were leaked by some party members should not be dismissed out of hand, particularly as they give an added depth to Labour's public remarks.
For now, Alan Kelly and Labour - just like, it is worth recalling, the now firmly entrenched in Government Buildings Fine Gael in February - is stepping back from possible government formation talks to allow rivals the opportunity to do it instead.
Whether that remains the case in the weeks to come will be carefully watched by those in Leinster House.
Despite the coy surface image, no one should mistake the fact that 'AK47' is loading his political guns. The only question is, will he soon be shooting from the opposition trenches, or the government barricades?