After a six-hour meeting of its parliamentary party, Fine Gael has said it is "preparing to go into Opposition".
The parliamentary party met today for the first time since its poor showing in the General Election in which it lost 12 seats.
Speaking on the plinth outside Leinster House tonight, party leader Leo Varadkar said Sinn Féin has the largest party and that the onus was on them to form a government and deliver on the "extraordinary promises" they made during the election.
Mr Varadkar said if Sinn Féin fails to form a government, then the onus passes to Fianna Fáil.
He said he accepted responsibility for the party's general election campaign but said the future is about leading the party into opposition.
After parliamentary party meeting, Fine Gael leader Leo Varadkar says onus is on Sinn Féin to form a government and to deliver on "extraordinary promises" they made during election | Read more: https://t.co/laAIpB3mSV pic.twitter.com/fcyZSDUfXp

— RTÉ News (@rtenews) February 17, 2020
The Fine Gael leader said on Thursday his name would go forward to be nominated as Taoiseach but that he did not expect to be elected.
A statement from Fine Gael tonight said that Mr Varadkar "relishes the challenge to lead a strong and effective Opposition for the benefit of the country".
It added: "There will be no negotiations on a Programme for Government without a further mandate from the parliamentary party", which will meet again next week.
We need your consent to load this rte-player contentWe use rte-player to manage extra content that can set cookies on your device and collect data about your activity. Please review their details and accept them to load the content.Manage Preferences
Earlier today, Sinn Féin leader Mary Lou McDonald said her party remains determined that what she called an "alternative and new government of change" can be created.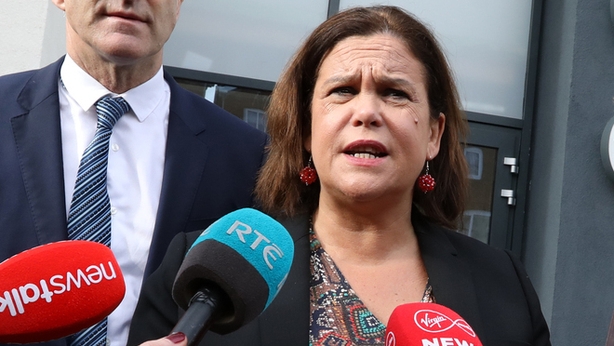 She said they will intensify efforts in conversations with other parties and independents.
Ms McDonald said there was a left-wing block and they needed to figure out if they could rule from a minority position as they did not want to be tight on numbers.
She said talks would continue this week and would deepen from generalities to specifics.
Ms McDonald said they had been talking to independents and would meet some this week.
She said "people had voted for the party to be in government" and she described the idea of Fianna Fáil and Fine Gael being returned as "unthinkable".
Fine Gael meeting which ran for six hours has concluded. The party is keeping its options open on a coalition with FF as a last resort, it seems @rtenews

— Mícheál Lehane (@MichealLehane) February 17, 2020
---
Read more: 
Election 2020 headlines
Greens to invite parties to policy talks
The tactics of the post-election talks
---
Some of the smaller parties also met today, with the Solidarity/People Before Profit group speaking to the Green Party.
Richard Boyd Barrett of People Before Profit later said: "Our main message to Eamon Ryan today was that the Green Party should not put Fine Gael or Fianna Fáil back in power."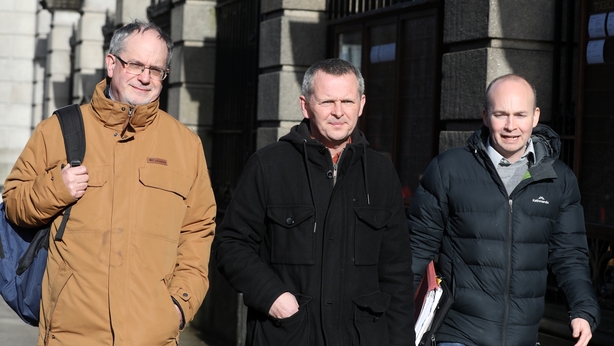 Speaking outside Leinster House, he said there is an overwhelming mandate for change and "we want to see that movement for change not sabotaged by a return to power of Fianna Fáil and Fine Gael."
Mick Barry said people who took part in the climate protests called for system change not climate change and that they would urge the greens to "close the door" on any deal with the "defenders of that system".
Paul Murphy said the vote for the Green Party is about the urgent need to avoid climate catastrophe and that the Solidarity/PBP group have a significantly more far-reaching programme.
He said there is a majority in society for a whole series of left-wing policies and that it would be very difficult for Fine Gael and Fianna Fáil to block that change.
Mr Boyd Barrett said even a short-lived left minority government "could very quickly give effect to the demands for change".
"We are going to defy Fianna Fáil and Fine Gael to vote against those policy changes and if they do, and sabotage the demand for change, well then we will go for another election, let the people decide."
Attention is also turning to the election of the Ceann Comhairle on Thursday.
The current holder of that office, Seán Ó Fearghaíl, is pointing to his track record in the job, while potential contenders for the post include Fine Gael's Bernard Durkan and Social Democrats Co-Leader Catherine Murphy.
Independent TD Denis Naughten has also been linked with the role.