History is written by the winner, but politics is written by whoever controls the narrative.
The saying was true during last December's British general election, which saw Boris Johnson gain a majority by sticking to a simple "Get Brexit Done" message.
It was equally true when Bill Clinton swept to the White House in 1992 on a slogan of "it's the economy, stupid".
And the narrative's importance is no doubt currently on the minds of Ireland's political parties too, with all sides battling to wrestle control of the post-general election story just as the real business of government formation talks begins to take centre stage.
Seven days on from the historic vote that saw Fianna Fáil, Sinn Féin and Fine Gael finish in a de facto dead heat, Micheál Martin, Mary Lou McDonald and Leo Varadkar will be acutely aware the politics of spin as much as the politics of simple numbers will ultimately decide who wins their three-way taoiseach tussle.
In an election where it could be argued the issues of health, housing and cost of living won rather than any particular party, the political focus is now turning to the talks tactics of each leader and how they position themselves in the public's mind.
With the first of what is likely to be many taoiseach nomination votes due to take place when the Dáil returns on Thursday, all parties are competing to influence voters to only see what is happening from their own narrow perspectives.
And it is not just for ego-related reasons, with the rival narratives crucial to deciding who eventually comes out on top of what are set to be marathon talks that could yet rival 2016's 70-day government formation delay record.
Sinn Féin believes it is being blocked by "arrogant" "establishment" "old boys club" parties that are refusing to do business with it, despite Mary Lou McDonald still officially saying a left-leaning government is her only objective.
Fianna Fáil is inching towards discussions with Fine Gael, the party it was so keen to remove from power just days ago, but is privately suggesting it can only do so if it has the "change agenda" camouflage of a deal with smaller parties in place first.
Fine Gael is lying back on the ropes playing dead Muhammad Ali "rope a dope" style, hoping its own tactic of publicly staying out of talks for now will benefit it in the coming weeks when - it hopes - other alternatives to its continuation in power fall apart.
And the smaller parties of the Greens, Social Democrats, Labour, Solidarity-People Before Profit and Independents?
Well, they are playing the talks tactics game too, hoping to use their newly acquired leverage to both impose their policies and to gain some much-needed medium-term political advantage.
Clear as mud, then, a week on from when Pandora's ballot boxes opened and let loose an unprecedented political stand-off on the country.
---
Listen to Fiachra's analysis below
We need your consent to load this rte-player contentWe use rte-player to manage extra content that can set cookies on your device and collect data about your activity. Please review their details and accept them to load the content.Manage Preferences
---
Sinn Féin
For Sinn Féin, there is no doubt the week since general election 2020 has been nothing short of a PR coup, both in image terms and, it hopes, real life political terms as well.
The party's surge to an historic 37 seats has undoubtedly been the story of the election, and as such has meant Mary Lou McDonald has been front and centre in any discussion on what happens next.
But there is a catch.
The party is fully aware its 37 seats in no way automatically hands it the keys to Government Buildings, with Fianna Fáil on 38 seats and Fine Gael on 35, meaning some artful spinning has become Sinn Féin's new weapon of choice.
Since the election votes were counted, Ms McDonald has emphasised her desire to form a left-leaning minority government at every opportunity, even though it would appear the numbers simply are not there for it to become a reality.
While Micheál Martin and Leo Varadkar were still trying to figure out what happened, the Sinn Féin leader sped out of the post-election blocks to seek meetings with anyone who would sit down and talk.
Solidarity-People Before Profit (five seats) TD Richard Boyd-Barrett held discussions on behalf of the group, as did Greens (12 seats) leader Eamon Ryan, while Social Democrats (six seats) co-leaders Catherine Murphy and Róisín Shortall followed suit, albeit emphasising this was part of "exploratory" talks rather than negotiations.
This limited number of potential left-leaning allies, and Labour's (six seats) decision to rule itself out of forming part of the next government, means the possibility of a radical alternative coalition has barely got off the ground.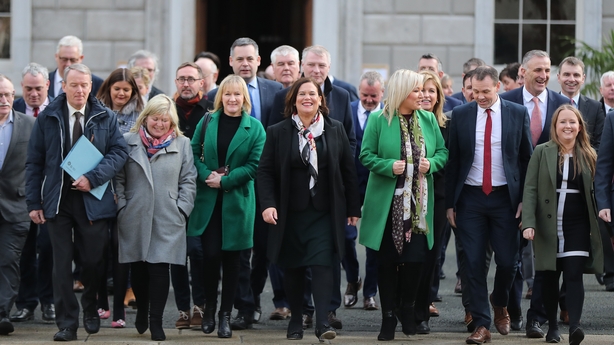 But, while Sinn Féin continues to insist this is its only focus, it is widely believed that was not Sinn Féin's real reason for the initial talks.
Last Thursday, while the left-leaning coalition dream was still firmly in place, Ms McDonald wrote to Micheál Martin seeking talks with the Fianna Fáil leader.
The timing of the letter, just hours before Mr Martin addressed a four-and-a-half-hour Fianna Fáil parliamentary party meeting dominated by, you guessed it, Sinn Féin's rise, was no coincidence, and forced Fianna Fáil to reject her advances.
Cue Ms McDonald's public annoyance at the rejection as she put on her best broken-hearted face, on Valentine's day, no less, to say Mr Martin had effectively said "I love you not".
The image Sinn Féin appears to be trying to paint with this double-edged tactic is likely to get a second coating in the coming days when, sources have told RTÉ News, the party will reach out to Fine Gael only to inevitably be rejected again.
And it will be underlined further during the new Dáil's first session on Thursday, when Sinn Féin will nominate Ms McDonald to be taoiseach fully in the knowledge she does not have the backing to win such a vote.
Sinn Féin is out in the cold for now when it comes to coalitions, then, unless Fianna Fáil is pushed into a sudden change of heart as the pressure mounts over the coming weeks.
But crucially Sinn Féin is very much in the driving seat when it comes to portraying itself as the dominant "change" politicians being blocked by the establishment, a position some believe its talks tactics are really intended to place the party.
Fianna Fáil
Fianna Fáil's own talks tactics are just as complicated, with the phrase "in politics you only hug someone to know how wide to dig the grave" to the forefront of the soldiers of destiny's minds.
In the immediate aftermath of the general election count day, Micheál Martin caused consternation within his party by appearing to dramatically open the previously welded shut door to a coalition with Sinn Féin.
Speaking to RTÉ's results programme from his Cork South-Central constituency's count, the Fianna Fáil leader responded to a question about a coalition with Sinn Féin by saying he is a "democrat" and will not ignore the public's views.
Given the sudden shift, party, and media, ears quickly pricked up, leading to over-enthusiastic claims a Fianna Fáil-Sinn Féin-plus a smaller party coalition was on the cards.
It is surprising, then, that the rest of Mr Martin's quote, namely that any coalition still needs to have a "coherent" programme for government, appeared to not be heard.
Far from opening the door to Sinn Féin, with the benefit of hindsight it appears Mr Martin was more focused on being seen to open the door, before his TD and senator colleagues slammed it shut again and added a few padlocks at Thursday's parliamentary party meeting.
This near universal response, only Éamon Ó Cuív and a small number of other backbench TDs have voiced their anger at the decision, meant Fianna Fáil as a party rather than Mr Martin as a person has rejected Sinn Féin, helping to secure Mr Martin's on-thin-ice leadership, for now.
We need your consent to load this rte-player contentWe use rte-player to manage extra content that can set cookies on your device and collect data about your activity. Please review their details and accept them to load the content.Manage Preferences
The Fianna Fáil leader's subsequent Six One News interview on Thursday, where he said he would speak with Ms McDonald to explain why coalition talks are not an option, was also designed to buy time.
It is anyone's guess whether those tactics are in Fianna Fáil's best long-term interests - with an argument still being made by backbenchers that joining with Sinn Féin could allow Fianna Fáil to suffocate its rival by "hugging" it tight and limiting its growth.
However, the move has opened the door for Fianna Fáil to start inching towards talks with Fine Gael, with Mr Martin himself saying on Six One News on Thursday this will start to happen from this coming week.
Senior party sources have openly accepted it will be difficult to avoid the image of the two establishment parties ganging up on Sinn Féin in this scenario, but believe they have a way out.
And that way is what you can expect to see from Fianna Fáil in the coming weeks.
In short, the party believes it can camouflage itself with the change agenda, by forming an agreed policy document with smaller parties like the Greens, Social Democrats, some Independents and even the currently not-interested-in-government Labour party before any real talks with Fine Gael take place.
These talks with smaller parties will begin slowly over the coming days, before gaining pace in the weeks to come, with Mr Martin flagging this road map himself during his Six One interview by saying he does not expect real government formation progress this week.
The argument, of course, is based entirely on smaller parties agreeing to sign up to being potential cannon fodder in any Fianna Fáil-led policy document, a situation that is far from guaranteed, with one Social Democrat source responding to the idea when asked by RTÉ: "Tell them good luck with that."
But, if it works, Fianna Fáil, which will, like Sinn Féin, nominate its leader as taoiseach on Thursday, also knowing it does not yet have the numbers to win the parliamentary ballot, will be able to argue it, and not Sinn Féin, is the practical change party rather than the aspirational one.
And while the situation is far from perfect as the price might be to put Leo Varadkar back into power, Fianna Fáil will hope that smaller party camouflage will allow it to sneak up on Fine Gael and smother it during any coalition pillow talk.
In politics, remember, you only hug someone to know how wide to dig the grave.
Fine Gael
Speaking of graves, Fine Gael, which looked like a corpse after the election result, is doing its level best to quietly claw its way out of the coffin.
And chief among its own talks tactics tools for doing so is the equally age-old political adage that people and nations only do what is sensible when they have exhausted all other alternatives.
Since the party's disastrous, for that is what it was, election result, which ranked as the third worst in Fine Gael's entire history, the usually media-interested party has come over all shy and, well, mono-syllable.
"Opposition" is the only word it wants to use, but not for the reason its ballot box whipping might suggest.
After effectively disappearing from the airwaves for the first few days after general election 2020, acting Taoiseach Leo Varadkar turned up on Wednesday to tell reporters at a financial sector event in Dublin Castle he is preparing to "lead" the opposition.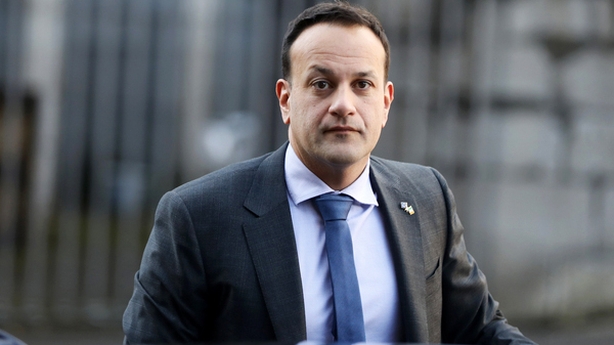 'Well done, Sinn Féin, and congratulations, Fianna Fáil, let me know how trying to form a government goes,' was the message, followed by a quick acceptance the public has voted to remove Fine Gael.
The message has been repeated at every opportunity since then, with acting Health Minister Simon Harris, acting European Affairs Minister Helen McEntee and acting Tánaiste Simon Coveney all making the point that, as the two rival parties have the most seats and the largest number of votes, they, not Fine Gael, should form the government.
The comment is designed to pile the pressure on Micheál Martin and Mary Lou McDonald to build a coherent alternative to Fine Gael, something that Fine Gael's own number crunchers have no doubt noted is easier said than done.
The fact the message has always come with the added sting in the tail that Fine Gael, unlike, the party would claim, others, does not run away from its responsibilities, is not an accident either, and should not be ignored.
In a high-stakes gamble, Fine Gael is sitting out what it believes is the first stage of government formation talks.
Mr Varadkar has said he is preparing for opposition, while the party is unlikely to nominate him as taoiseach on Thursday, although it will oppose both Mr Martin and Ms McDonald's bids.
But, far from throwing in the towel, Fine Gael's tactics intention is far more likely to be to switch the narrative so that Fine Gael will soon be seen as the only party that can ride into the rescue when no government can be formed without it.
In that scenario, it can make demands from Fianna Fáil for a rotating taoiseach position and to push its own policies like income tax cuts, improved childcare subsidies and rural broadband, all of which appeal to its, admittedly dwindling, core vote.
And it can do this while also arguing it listened to the general election result by only stepping in to 'help' when no other clear alternative was available, an approach party sources believe will give it enough political cover to cling onto power.
Which one of the talks tactics narratives is winning will come into sharp focus on Thursday, when the Dáil's newly minted 160 TDs come to Leinster House for their first official sitting.
The main business of the day will be the votes on the taoiseach nominations, with all eyes on how the Greens, Social Democrats, Labour, Solidarity-People Before Profit and Independents set out their stalls in the first of what will likely be several nomination days.
In 2016, it took Fine Gael four attempts to elect Enda Kenny, who eventually crawled over the line by a 59-49 majority, with Fianna Fáil's abstention meaning the bare minimum votes needed was 58.
Providing there are no abstentions in the 2020 version, the magic number will be 80, meaning in all likelihood this coming Thursday's Dáil votes will be merely the opening salvo in a long-running parliamentary war.
History might be written by the winner, but politics is always written by whoever controls the narrative, and for now, no one quite knows how that narrative will end.