Green Party leader Eamon Ryan has said his party would stay out of a coalition government if it did not match its policy objectives.
The Green Party - which won 12 seats in the General Election -has invited all parties to bilateral meetings this week to discuss their policies.
Asked how he felt about supporting a coalition between Fianna Fáil and Fine Gael, he said he would talk to all parties before getting "bogged down" in one option.
Speaking on RTE's This Week, Mr Ryan said the desire to avoid another election was valid, but that there should not be a coalition for the sake of making up the numbers. 
"If it is just a veneer, we won't go in. It is as clear as that. Our own members would have to decide but I don't think we would or should," he said.
"But if it is delivering substantive change, which is financed and is helping to build stronger communities, then I think we shouldn't rule it out. People voted for people to deliver on their promises and that is what we are seeking to do," he added.
The party invited all parties to bilateral talks to explore common ground on policies. They will take a day-and-a-half or two days each beginning next Friday.
They will focus on six areas: Climate, housing, Sláintecare, how to fund public services, Brexit, and how to build stronger communities. 
Mr Ryan said the talks will be exploratory and supported by the civil service and facilitated by the National Economic and Social Council (Nesc), with other agencies of the State feeding in. 
He said: "It is not negotiations, but it is giving the capability to find out where do you agree? Where do you differ? What are the obstacles and what are the opportunities? It is a safe space, its open but it is well informed." 
Mr Ryan said that when and if political parties get to the point of negotiating a coalition deal, then an assessment of the programme for government would take two to three weeks after that.
Asked about the potential involvement of the Green Party in a coalition involving Fianna Fáil and Fine Gael, Mr Ryan said he was talking to all parties.
He said: "The issue is not so much looking at the parties, but looking at what are you willing to change and what is the key deliverable change that you could agree to do in a possible programme for government.
"I think we are right to do that first, talking to all parties before getting bogged down. The only talk in the past week has not been about what you would actually do, it has been about who will talk to who and that has to change."
Green Party TD Joe O'Brien says his party will invite all other parties to bilateral meetings this week to discuss their policies. #rtetwip will be rebroadcast at 10pm on @RTENewsNow and 11.35pm on @RTEOne. pic.twitter.com/mTwwZbuogd

— The Week in Politics (@rtetwip) February 16, 2020
Speaking earlier on RTÉ's The Week in Politics, Green Party TD Joe O'Brien said the electorate wanted a government that would tackle climate change.
He said parties needed to move on from bickering and work to form a government.
Sinn Féin's Martin Kenny said he did not believe that his party had thrown in the towel too early on forming a government.
He said the electorate does not want to see a government with Fine Gael and he said the narrative from the election was change.
Mr Kenny said Fianna Fáil was hugely "out of step" with its grassroots, who he said would be happy to see the party talk to Sinn Féin.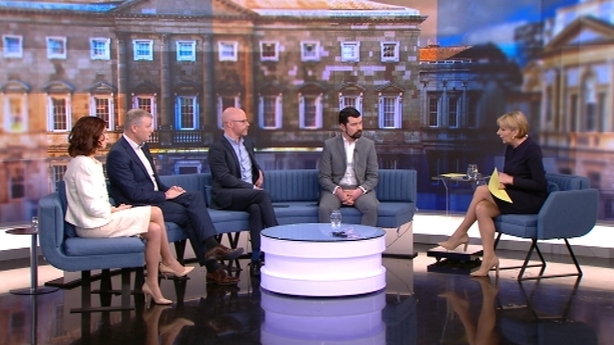 Fianna Fáil's Stephen Donnelly said people wanted urgent action in housing, climate and health.
He said his party wanted to lead a government that would address the issues, including housing and health.
Mr Donnelly said it was incumbent upon Sinn Féin to respect other parties' mandate.
Fine Gael's Hildegarde Naughton said the party would meet tomorrow to discuss the fallout from the election.
She said the party was happy to go into opposition because people asked for change and as a party Fine Gael needed to regroup and reflect on the election.
Ms Naughten said people recognised that Fine Gael was good on the economy, but that was not good enough.
She said changes in health and housing were not fast enough for people.
---
Read more
Analysis - The tactics of the post-election talks
---
Earlier, former taoiseach Bertie Ahern predicted a new government would not be formed before the end of March.
He said work on creating a "stable and sustainable" coalition had not yet begun.
Mr Ahern said a coalition between Fianna Fáil and Fine Gael would need the Green Party or the Social Democrats, along with some rural independent TDs, to reflect change.
We need your consent to load this rte-player contentWe use rte-player to manage extra content that can set cookies on your device and collect data about your activity. Please review their details and accept them to load the content.Manage Preferences
He told the same programme: "When you are putting a government together we have to look to the future as well.
"It is not just about sorting out the present position.
"It will have to take into account the election result and what is the policy formulation."
He said party strategists needed to focus on housing, homelessness and health.
"Otherwise they will lock themselves into a major problem," he said.
Additional reporting Aisling Kenny